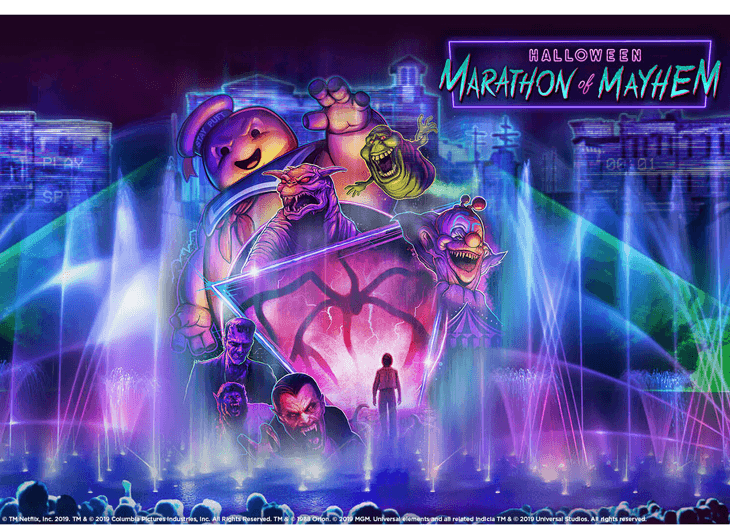 Halloween Marathon of Mayhem", una pesadilla de los 80 para no perderse en la laguna central del parque.
Por primera vez en su larga historia, Halloween Horror Nights ofrecerá un show principal en la laguna central de Universal Studios.
Universal promete un espectáculo de neón y música de horror, con escenas icónicas de las mejores películas de terror, clásicos de culto y shows de TV.
Se llamará "Halloween Marathon of Mayhem" (Maratón de locura Halloween).
Se apoyará en los tanques que inspirarán las casas embrujadas del evento que este año se basarán en clásicos del cine y la tv de la década de 1980. "Una pesadilla de los 80 que no querrás perderte".
Los asistentes podrán disfrutar de icónicas escenas de Stranger Things, Ghostbusters, Universal Monsters y Killer Klowns from Outer Space.
Para lograrlo, mezclará proyecciones sobre pantallas de agua, rayos lasers, la última tecnología y efectos especiales.
Junto al anuncio, Universal publicó la imagen de concept art que inicia arriba esta nota donde puede verse el malvavisco gigante de los Cazafantasmas, referencias a la serie de Netflix, un payaso diabólico y clásicos como Drácula o el Hombre Lobo.
El espectáculo se presentará en cada fiesta tres veces por noche, a las 10pm, 11pm y 12am.
Halloween Horror Nights está programado como evento especial en noches selectas entre el 6 de septiembre y el 2 de noviembre.
Fuente: viajeromagico