Fort Lauderdale is a city made for beach bums and nature lovers. Case in point: Fort Lauderdale Beach and Sawgrass Recreation Park, home to alligators and other Floridian wildlife. History buffs will find things to do here as well (we recommend a stop at Bonnet House Museum & Gardens or the Stranahan House). And though the Venice of America may lack the rollicking nightlife its Floridian neighbors are known for, downtown Fort Lauderdale has its charms. The Riverwalk, the arts and entertainment district along the New River, and Las Olas Boulevard host art exhibitions and concerts that might surprise you with their quality.
Las Olas Boulevard
Diverse restaurants, three museums, 10 international art galleries and 65 retail options line Las Olas Boulevard, with recent visitors saying it's the perfect place for a stroll, if not a shopping spree. But while casual walkers and window shoppers enjoy soaking in the Floridian atmosphere and overall aesthetic of the boulevard, the more intent consumer may not find this commercial street as appealing due to the high price tags. However, travelers recommended grabbing a bite above all else, as many were impressed with the quality of food and the amount alfresco dining options available. Our advice would be to make a stop here if you're planning to visit the nearby Stranahan House, Riverwalk or Museum of Art.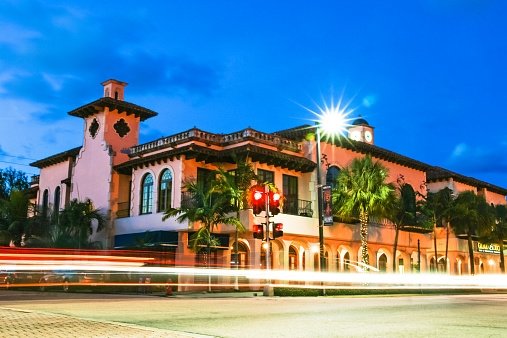 Fort Lauderdale Beach
Want a beautiful Florida beach without a crazy party scene? Fort Lauderdale Beach may be just what you're looking for. Here you'll find a calmer and less chaotic version of Miami Beach — but with the same sugary sands and crystal clear water. There are still parties, but you're more likely to find families relaxing or leisurely walking the waterline than raucous groups of college kids. Backing the shoreline, the palm tree-lined promenade bustles with visitors looking to shop and dine in the many establishments along it. There are also water sport and beach chair rentals near the shore.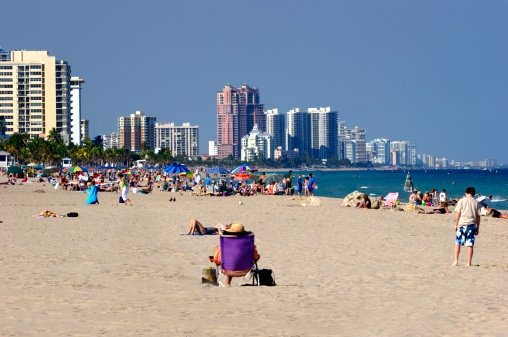 Sawgrass Recreation Park
Take an airboat tour of the Florida Everglades at the Sawgrass Recreation Park, home to a huge range of flora and fauna, including a variety of birds, fish and alligators. And prepare to be amazed (or scared) by the close-up vistas of gators and other creatures. You can even reserve an airboat tour for nighttime runs to see nocturnal animals in their natural state. Visitors can also arrange for private tours, which are longer than the normal 30-minute runs.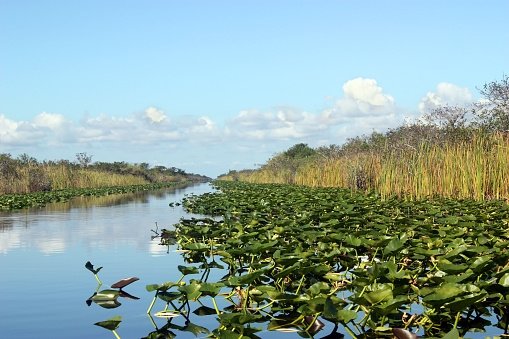 Hugh Taylor Birch State Park
Located less than 2 miles north of the Bonnet House, Hugh Taylor Birch State Park is situated between the Intracoastal Waterway and the Atlantic Ocean and boasts fun activities for all types of travelers. Those looking to get a little wet can canoe or kayak in the largest of the park's coastal dune lakes. Adventurers who want to get their adrenaline pumping can bike along the nearly 2-mile paved park drive. Meanwhile, visitors who prefer to explore by foot can hike the Coastal Hammock Trail, which snakes through a native maritime tropical hardwood hammock ecosystem, one of the last of its kind in the county. Fisherman can make a catch at the seawall while bird-watchers can have fun trying to spot any one of the 250 species that live in and regularly grace the park. There are also free ranger-guided walks that take travelers through sensitive habitats, along the beach and even to Hugh Taylor Birch's old residence, for which the park is named.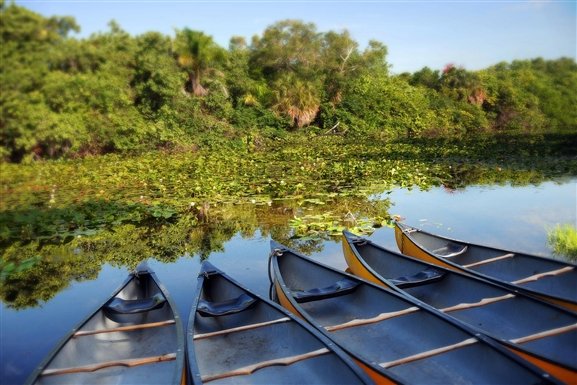 Stranahan House Museum
The oldest residence in Fort Lauderdale is now a living monument to Floridian life in the 1900s. Frank Stranahan originally constructed the house located off Las Olas Boulevard, as a trading post before making it a home for him and his wife Ivy, the city's first schoolteacher. From this spot, he met and did business with Seminole Indians who were in the area. After Ivy Stranahan's death in 1971, the building was purchased by the Fort Lauderdale Historical Society and is now a museum that provides guided tours three times a day.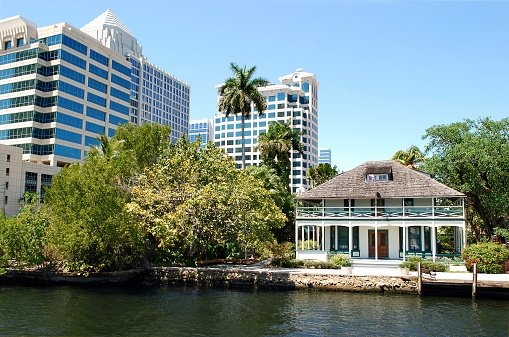 Bonnet House
This house sitting in the middle of the city has a long romantic history. In 1919, a wealthy settler gave the 35-acre property (named after the bonnet lily flower that grew on the grounds) as a wedding gift to his daughter Helen and her husband Frederic. In 1920, the newlyeds began construction of Bonnet House, hoping to build a winter getaway where Frederic could pursue his art and Helen could work on her music and poetry. But construction soon stopped when Helen unexpectedly died in 1925. Frederic didn't resume property renovations until 1931 when he married Evelyn Fortune Lilly. The new couple continued decorating the house until Frederic's death. Several decades later in 1983, Evelyn donated the house to the state's Trust for Historic Preservation, opening it to visitors for guided tours.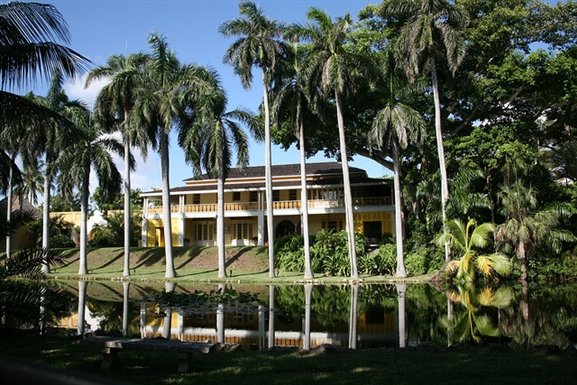 Museum of Discovery and Science
If it's a rainy day and you need an indoor activity that appeal to the kids, take them to the Museum of Discovery and Science. The museum's Ecodiscovery Center is filled with so many activities, animals and exhibits your kids may never want to leave. Get introduced to river otters, take a simulated airboat ride along the Everglades or learn more about Florida weather patterns at the Storm Center. There's also an aviation station, where kids can climb into the cockpit of a DC-9 commercial airliner, and rea dinosaur bones at the Fishy Fossils exhibit. If that's not enough, guests can venture into the 7-D capsule theater that takes visitors on a flight through the sky to learn more about the mechanics of aviation. There's also a 300-seat Imax theater showcasing documentaries and major motion pictures.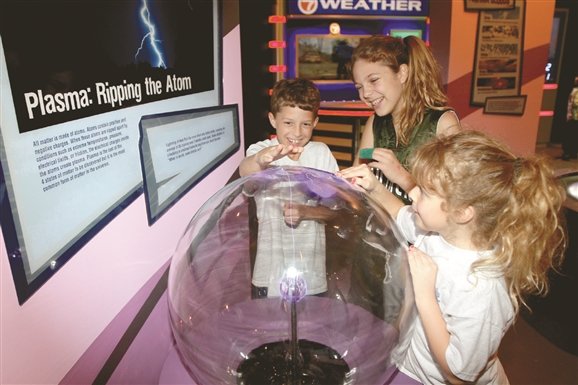 NSU Art Museum Fort Lauderdale
Las Olas Boulevard's NSU Art Museum Fort Lauderdale is a great spot to escape the hot or rainy weather, according to recent visitors. The modern art museum features more than 6,000 works from a variety of artists in its permanent collection, including the largest holding in the country of post-war and avant-garde works from CoBrA (stands for Copenhagen, Brussels and Amsterdam) artists in the country. There is also a significant amount of work from various Latin and Latin-American artists, as well as art from African, Native American and Oceanic Tribal Arts. The museum has rotating exhibits, previous of which have included the likes of Frida Kahlo and Pablo Picasso. Along with an extensive art collection, the more than 50-year-old museum also works in conjunction with Nova Southeastern University to provide art classes for visitors.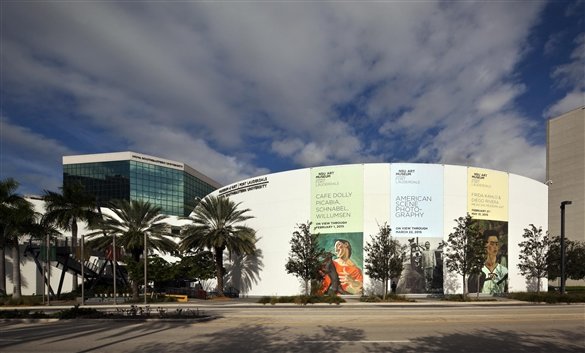 By: usnews
Conoce las maravillas naturales de Fort Lauderdale.
Desde observación de la flora y fauna en los alrededores, como mariposas y tortugas lagartos en los pantanos de los Everglades, pasando por una excursión en kayak a través de un manglar tropical, en Fort Lauderdale podrás disfrutar de la naturaleza en un sinfín de lugares excepcionales.
Parque Nacional Los Everglades y Big Cypress Seminole Indian Reservation
Toma un safari para conocer los pantanos y lagartos.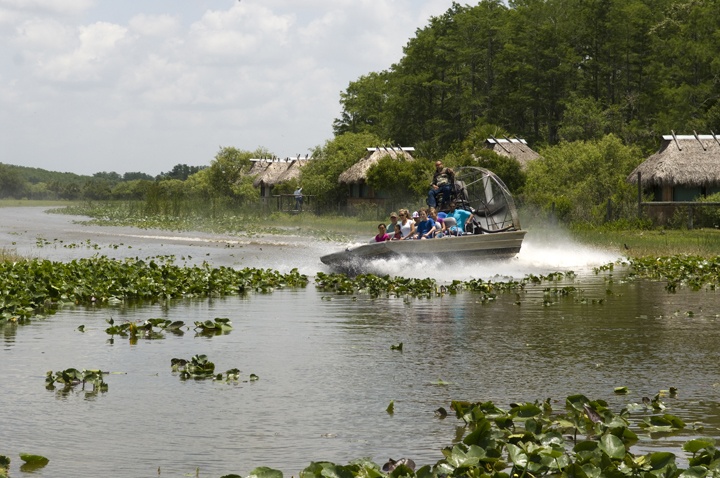 Flamingo Gardens y Wray Botanical Collection
Más de 70 tipos de aves, incluyendo los hermosos flamencos, así como miles de plantas exóticas en un área de 24 hectáreas.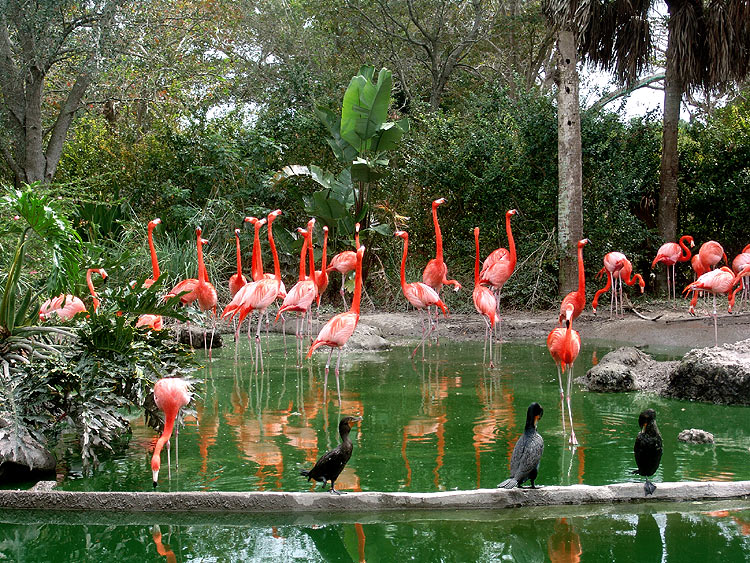 Explora en kayak, lancha o caminando, un maravilloso ecosistema con más de 1,500 manglares con increíbles senderos naturales.

John U. Lloyd Beach State Park
Localizado en Dania Beach, este parque escénico ofrece observación de aves, kayaks, lanchas, buceo y pesca deportiva.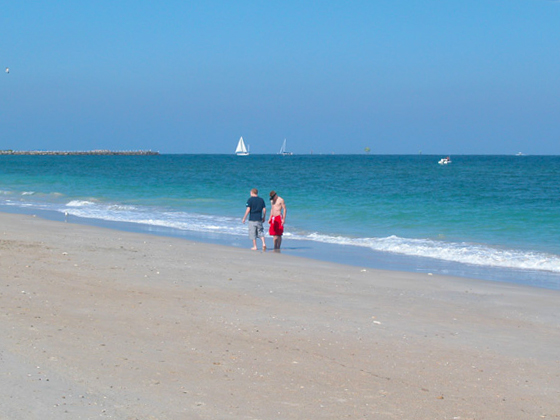 Admira un bosque pluvial con miles de mariposas, cascadas y colibríes.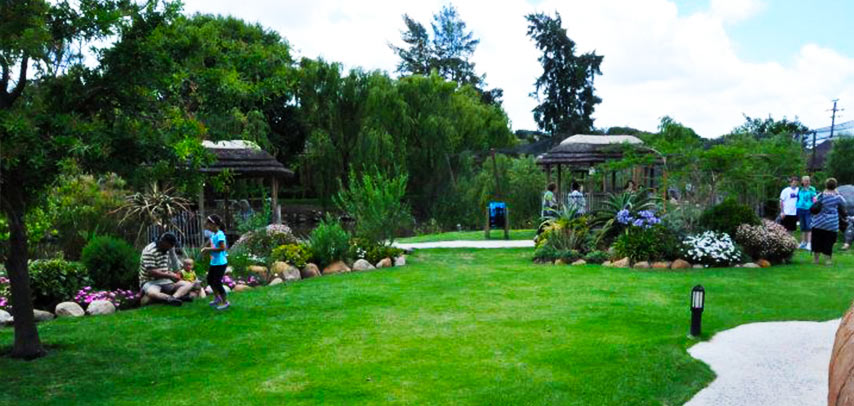 Hugh Taylor Birch State Park
Hermosa laguna de agua dulce con senderos para caminar y acceso a la playa.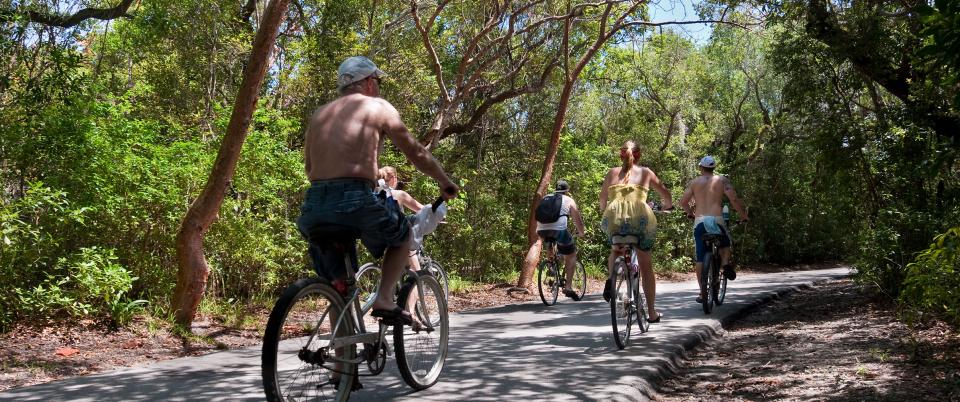 Reserva natural de más de 21 hectáreas sobre la costa con una laguna, islas y humedales para explorar.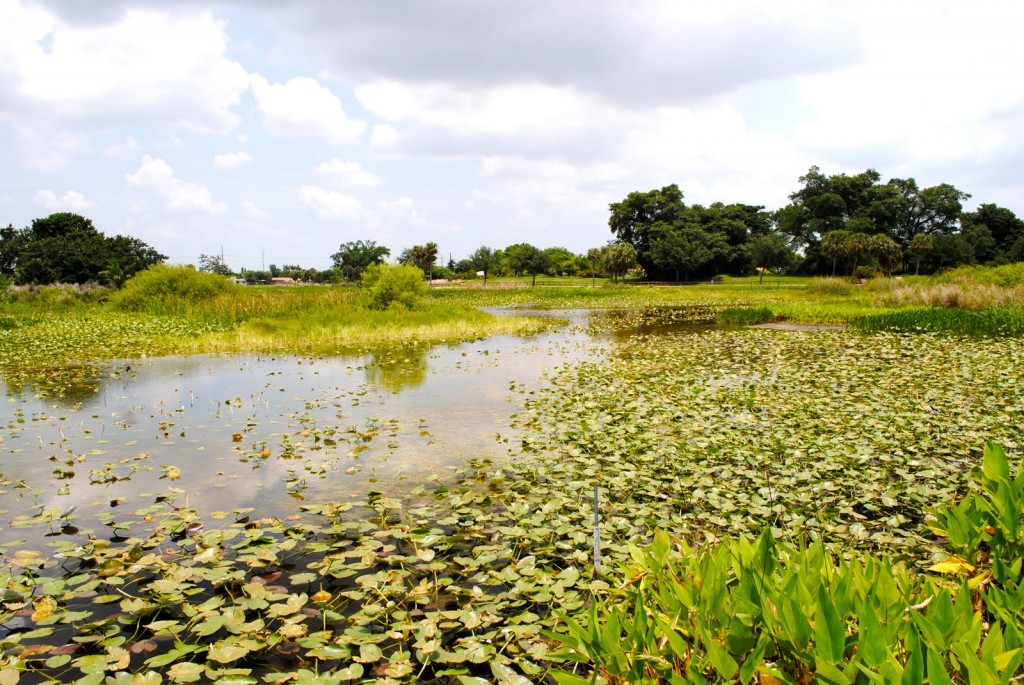 Fuente: bestday
Fort Lauderdale se ha ganado la reputación de ser el destino de vacaciones por excelencia de jóvenes que llegan en busca de fiestas salvajes durante su receso de primavera o el hogar de jubilados que desean vivir una vida tranquila; pero lo cierto es que ofrece tantas cosas para hacer que hasta podría decirse que compite con la ciudad de Miami, que se encuentra a tan sólo media hora.
Museo de Descubrimiento y Ciencia
Es el sitio perfecto para pasar un día lluvioso en Fort Lauderdale, ya que siempre hay algo emocionante para ver. Es ideal para venir con su familia ya que mantendrá ocupados a grandes y chicos por igual. El primer piso está dedicado a seres vivos y arrecifes de coral mientras que el segundo y último contiene juegos, paseos y muchísima diversión.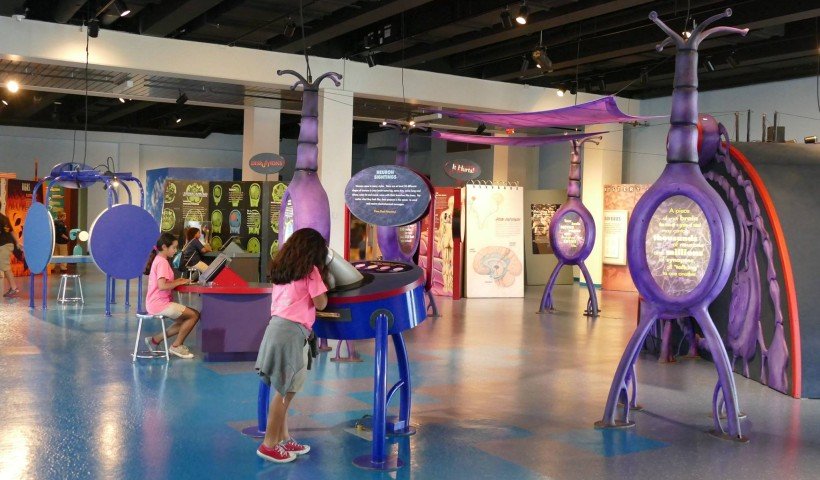 Alquile un automóvil exótico
Fort Lauderdale es una mezcla de rascacielos imponentes, gente atractiva, aguas cristalinas y automóviles exóticos. ¿Qué pensaría si le dijera que en este lugar puede cumplir su sueño de manejar o manejar un vehículo de lujo? En todas las esquinas encontrará compañías de alquiler que le ofrecen desde Lamborghinis hasta Ferraris. Con tantos días soleados y calles pintorescas, le recomendamos que alquile un convertible o descapotable en su próxima visita.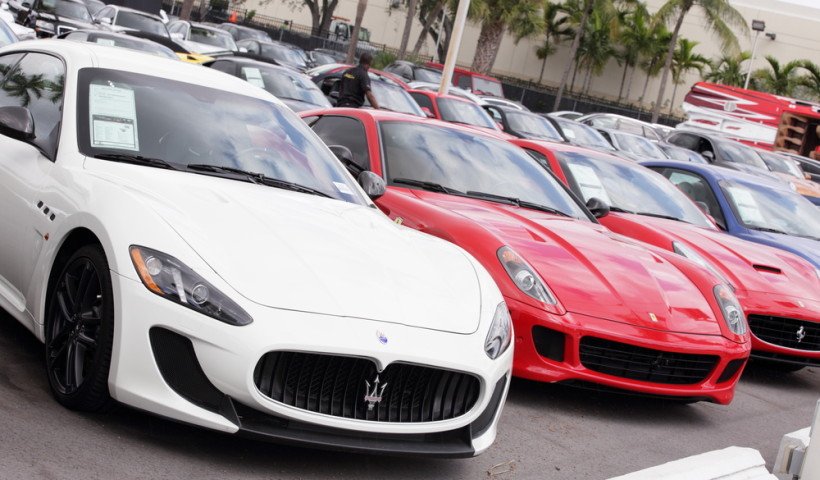 Pasee en un taxi acuático
Una de las formas más divertidas de ver Fort Lauderdale es por medio de un recorrido en taxi acuático. La famosa "Venecia estadounidense" puede descubrirse a bordo de estos vehículos todos los días y es posible descender y ascender en distintas paradas. Un grupo de conductores experimentados lo trasladará por distintos puntos importantes de la ciudad y le proveerá información útil sobre restaurantes y bares cercanos.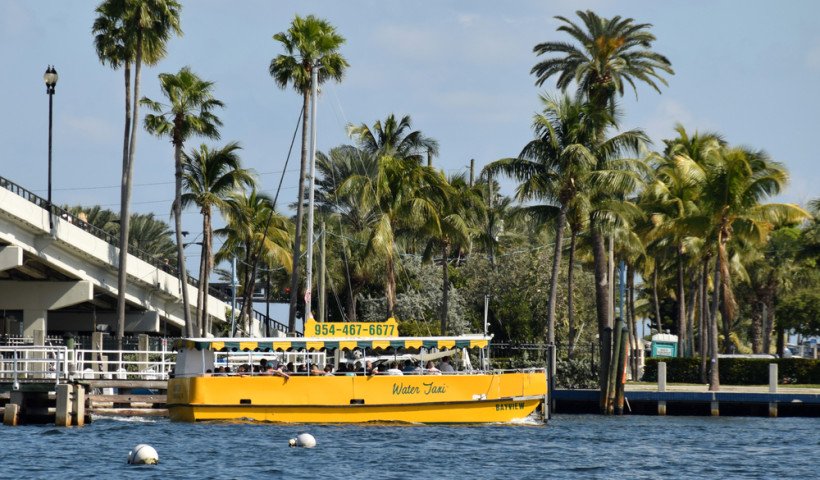 Museo y Jardines de la Residencia Bonnet
Esta residencia histórica construida en la década de 1920 yace cerca de un muelle, rodeada de jardines pintorescos llenos de plantas nativas y exóticas, que les ofrecen a los visitantes la oportunidad perfecta de respirar aire fresco y alejarse de la ajetreada ciudad. No se limite a contemplar los terrenos; la casa es una maravilla arquitectónica. Frederic Clay Bartlett, oriundo de Chicago, diseñó la estructura en 1920 y su segunda y tercera esposa hicieron sus aportes en el diseño; una mezcla de creatividad y de fantasía le dan a este lugar toque mágico.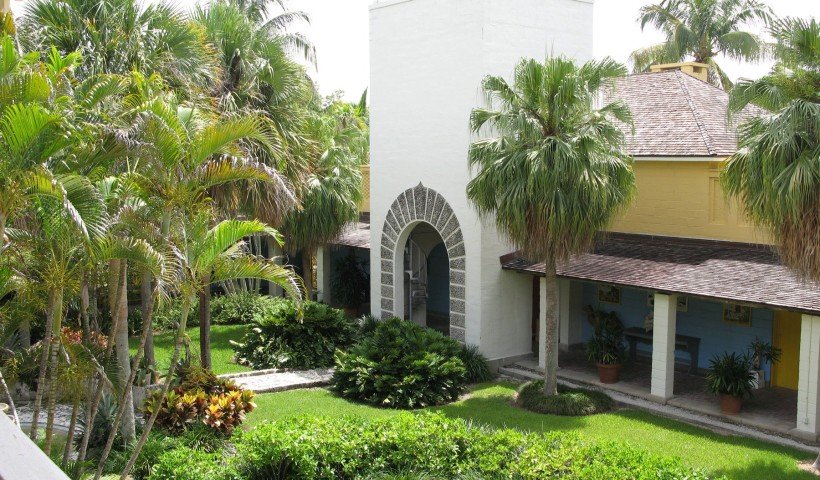 Swap Shop
Este divertido mercado de pulgas está abierto los siete días de la semana y es EL sitio para visitar en Fort Lauderdale si lo que busca es hacer compras. Es una gran opción para huir de los rayos del sol o para distraerse en un día de lluvia, ya que estará siempre bajo techo. Swap Shop se anima a redoblar la apuesta en cuanto a entretenimiento con video juegos, montañas rusas, productos para granjeros y uno de los más extensos autocines del mundo. Se la considera la segunda atracción más importante de todos los Estados Unidos, así que prepárese para vivir un fin de semana agitado.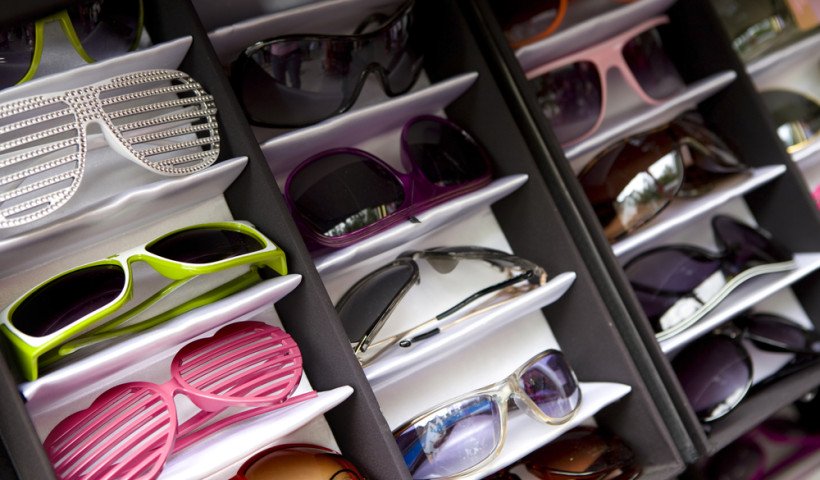 Visita a la casa de los famosos
Las opciones de cruceros son innumerables en "la Venecia estadounidense" y, honestamente, no podemos decirle cuál es el ideal, debido a que varían según precio, calidad y duración. No obstante, sí nos gustaría recomendarle un clásico de Fort Lauderdale, la visita al barrio de las celebridades. Allí podrá ver cómo viven los ricos y famosos, sacarles fotografías a sus yates y mantenerse alejado de los fanáticos y curiosos. No se pierda la oportunidad de ver las mansiones de sus estrellas preferidas mientras el capitán le cuenta historias divertidas acerca de lo habitantes y sus residencias.
Parque recreativo Sawgrass
Este lugar les permite a los visitantes explorar Everglades por medio de un recorrido en hidrodeslizador y descubrir la fauna salvaje mientras pasa un día completo aprendiendo acerca de las especies en peligro y de los terrenos que lo rodean. La excursión comienza con un paseo de 30 minutos por las aguas cristalinas con el objetivo de encontrar algún caimán que ande merodeando la zona. Un guía experimentado lo informará sobre el ecosistema y los peligros que lo acechan. La duración de esta atracción es perfecta para niños pequeños y personas que no se sienten a gusto en un bote, sin sacrificar lo emocionante de la experiencia.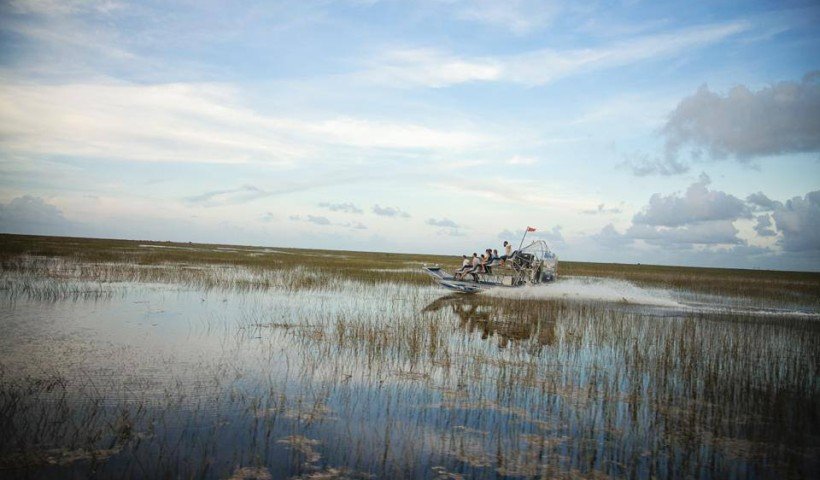 Fuente:escapehere