Branson is an Ozark city in southwest Missouri known as a vacation destination for the family. Its 76 Country Boulevard is famously full of theaters, which once housed most of country music artists, but today presents diverse entertainment.
Also along the strip Silver Dollar City, and 1800 with theme parks and live music, the monument Marvel Cave and the Dixie Stampede Dinner Theater Dolly Parton old west style.
Branson is a city in the state of Missouri. Most of the city lies in Taney County, with a small part in the west extending in Stone County. Branson is located in the Ozark Mountains. Branson has long been a popular destination for tourists from Missouri and neighboring areas.
The collection of entertainment theaters along Highway 76 Boulevard including Dolly Parton's Dixie Stampede, has increased the popularity of Branson as a tourist destination. Branson now attracts visitors from all regions of the country, especially by car or bus.
In addition to numerous entertainment theaters which Branson is famous, other local attractions include Hollywood Wax Museum, Silver Dollar City, White Water, Waltzing Waters, Mount Pleasant Winery, Stone Hill Winery, Ride the Ducks, Ziplines , Cave Tours, National Tiger Sanctuary, Go-Karts, Mini golf, horseback riding, the Butterfly Palace and Rainforest Adventure.
Ripley Auditorium is located in a building that has been made to look as if it is cracked wide open by an earthquake or other disaster, while the Titanic Museum is a half-scale replica of the famous ship and iceberg.
Branson Landing opened in the summer of 2006 on the waterfront of Lake Taneycomo in downtown Branson. The project includes the lakefront commercial space with Bass Pro Shops and Belk as anchors in a mall outdoor shopping and dining and features a Hilton hotel.
The new convention center, located between the landing and the center. The Branson Scenic Railway is located in the old warehouse, through Branson Landing.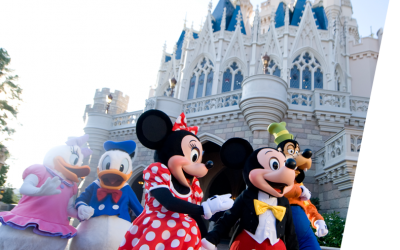 PACKAGE PRICE
$599 / Family
Geography
Branson is located at 36 ° 38'16 "N 93 ° 15'18" W (36.637706, -93.254965). White / Lake Taneycomo River forms a bend in the east and south of the city. It has a total area of ​​20.80 square miles (53.87 km2), of which 20.63 square miles (53.43 km 2) is land and 0.17 square miles (0.44 km2) is water.
Weather
Branson has a humid subtropical climate with characteristics of a continental climate.
Transportation
Roads
Mail The US Highway 65 north to south and connects to Springfield Branson north, south and Little Rock.
Air
Branson Airport mainly serves Branson, the nearest commercial airport. Before the opening of the Branson Airport was served by the largest national airport Springfield-Branson is located in Springfield. And M. Graham Clark Field is a general aviation airport located in Branson serving primarily individual engine aircraft.
Why Branson?
Branson in Missouri has a wide variety of exceptional accommodations to choose from, and here you will find many of the best properties available. There are plenty of options, depending on the type of experience you want to have while you're here. Branson offers accommodation for all tastes and budgets, no matter what kind of vacation experience you are looking for, from the campsite to the comfort of the city, you will find it in Branson.
From world-class amusement parks to fascinating museums and outdoor adventure, there's much to experience in Branson. Thrill yourself on rides at Silver Dollar City and White Water Park; step aboard Titanic Museum for the world's largest look at this historical ship; snap a picture with your favorite celebrity at Hollywood Wax Museum; play a round of golf on a championship course at Top of the Rock; or visit beautiful Table Rock Lake.
Visitors from around the world gather in Branson to enjoy all kinds of shows, entertained at many theme parks and relax on the lake, and once they arrive often realize that the biggest attraction is the spectacular scenery of Ozark mountains. And while it's impossible to miss the beauty of the hills, winding rivers, crystal lakes and the variety of plant and animal life, many visitors take longer to experience the natural world of the Ozarks.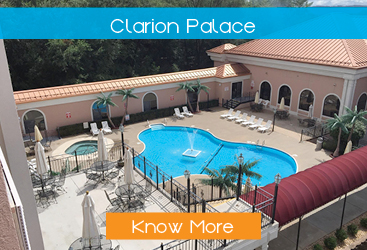 Clarion Palace
The Clarion Hotel and Conference Center & Buckingham's Prime Rib Steakhouse & The Oasis Lounge are family owned and operated. The hotel was built in 1992 and was named "The Palace Inn."
Read More