Branson is home to the best live shows and outdoor activities in the Midwest, but did you know it's also a favorite spot among thrill-seekers and daredevils?
From spine-tingling free falls to a rollercoaster that will have you head over heels (literally), real adventure begins in Branson. If you're after a grab-life-by-the-horns-and-yell "yee-haw!" experience during your visit to Branson, we have just the list to make your itinerary go from zero to 60.
Outlaw Run at Silver Dollar City
Sure, you've ridden coasters that twist, turn and flip you upside down, but we reckon you've never ridden a coaster quite like this one. Award-winning Outlaw Run packs some major giddyup — it's the second steepest and second fastest wooden roller coaster in the world, and the first (and only) wooden coaster to feature a death-defying double-barrel roll and three upside twists.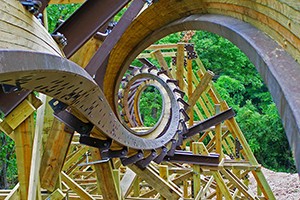 Vigilante Extreme ZipRider at Shepherd of the Hills
Enjoy the peaceful, breathtaking vistas from the tallest point in Missouri while on top of the observation deck — you can see into Arkansas on a clear day — before getting launched on Vigilante Extreme ZipRider, a thrilling, 50 mph zip line flight above the historic homestead. With enough equipment for four simultaneous runs, plan to challenge your friends and family to an ultimate race to the bottom.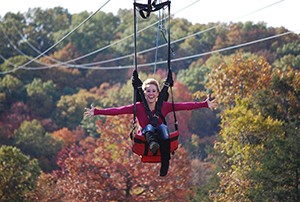 Ejection Seat at Branson Frontier Adventures
Located on the Branson Strip, a human slingshot known as the Ejection Seat launches riders 175 feet into the air, bouncing all around and upside down (again and again) until gravity finally regains control. Feel your heart pound uncontrollably as you anticipate the initial blastoff, a surprise that makes most riders wait to eat the sweets from the adjacent candy store, Chocolat, until after the ride.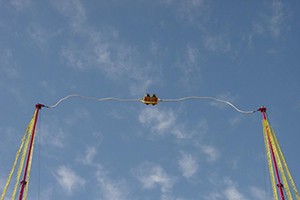 Flyboard on Table Rock Lake
Ever want to give Marty McFly's cool hover board thing a spin? Well, now you can. Flyboard Branson introduced one of the newest attractions to Table Rock Lake: Flyboarding. Surf the sky with a special board that straps to your feet (much like a wake board) and sends you soaring into the air propelled by jets of water. Despite its sci-fi appearance, the Flyboard is pretty easy to maneuver — and a ton of fun.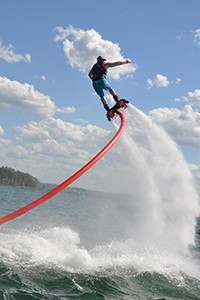 Free Fall in Wolfe Creek Preserve
Head to Blue Streak Fast Line & Free Fall Xpress for a full-throttle zip line that boasts one heck of an epic ending. Traverse the winding roads of Wolfe Mountain aboard a Swiss Army vehicle, zip across beautiful Ozark country high above the forest floor and end with a jaw-dropping free fall atop Everest, a 100-foot tall platform. Don't fret — safety is the name of the game when it comes to this attraction, so just take a deep breath and step off the plank.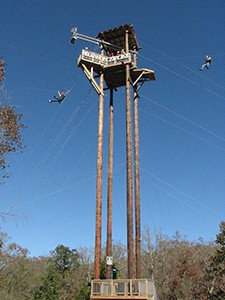 Parasail on Table Rock Lake
It's been a favorite activity among seafaring enthusiasts for nearly 20 years — and with the boat's nifty launching and landing platform, you don't even need to get wet to enjoy it. Join American Parasail on a voyage across Table Rock Lake as you soar 250 feet into the air, dangling from a parachute and watching the postcard-perfect Ozarks pass by. For added thrills, set sail in autumn and catch a glimpse of the famous Ozark foliage's red-and-gold glory.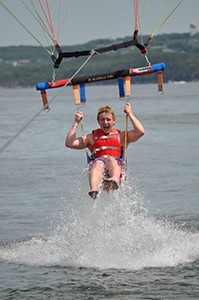 KaPau Plummet at White Water
It's the kind of liquid adrenaline rush you can only get in Branson, but don't just take our word for it — LA Times, NBC and the "Today Show" all agree and voted KaPau Plummet a must-ride water slide when it opened in 2014. This extreme adventure begins 40 feet above the ground inside a mammoth, 245-foot waterslide. Just as doubt begins to set in — the floor drops — sending you on an exhilarating, 26-feet-per-second free fall until your final splash landing.