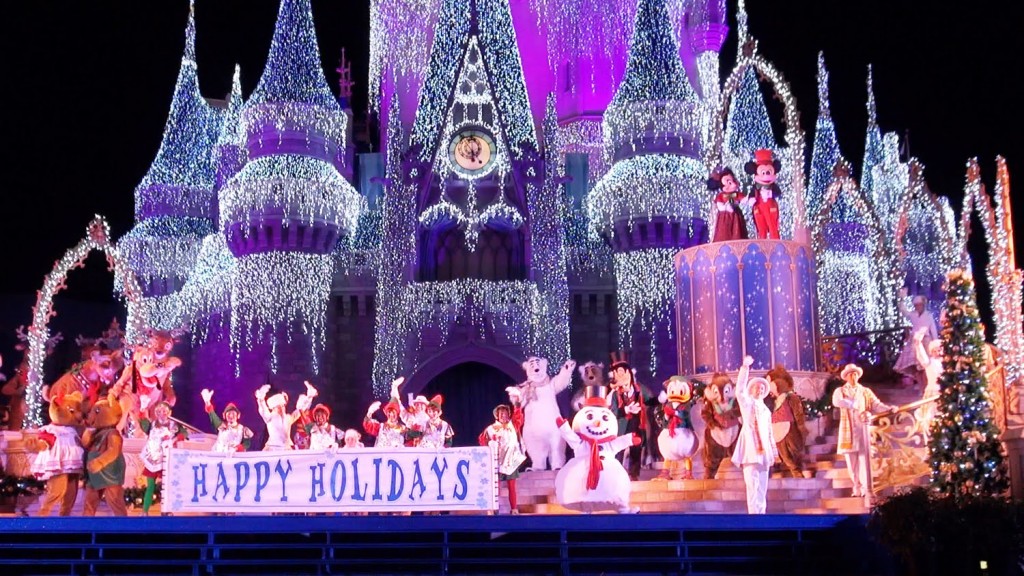 While Magic Kingdom is magical any time of year, it's especially so during the holidays when the Christmas decorations come out and everyone gets into the spirit! Of course, one of the very biggest Disney World holiday events is Mickey's Very Merry Christmas Party, and this year it is back for 21 very merry evenings! Tickets have just gone on sale, and Disney is introducing more pricing tiers and a bigger jump in cost for the most popular dates for 2016. This isn't necessarily a bad thing, as the parties have gotten more crowded in recent years.
The party is similar to Mickey's Not So Very Scary Halloween Party and is also a separately ticketed event, which means you must purchase a party ticket to attend. We've got the lowdown on what to expect at this year's party, so keep reading.
Mickey's Very Merry Christmas Party 2016 Dates
November 7, 8, 10, 11, 13, 15, 18, 27, 29
December 1, 2, 4, 6, 8, 9, 11, 13, 15, 16, 18, 22
The Mickey's Very Merry Christmas Party 2016 ticket prices range from to $86-$99 for adults and $81-$94 for children (ages 3-9) without tax. For comparison, last year's tickets ranged from $74-$82 without tax for adults and from $69-77 for children (ages 3-9). Children under 3 are free.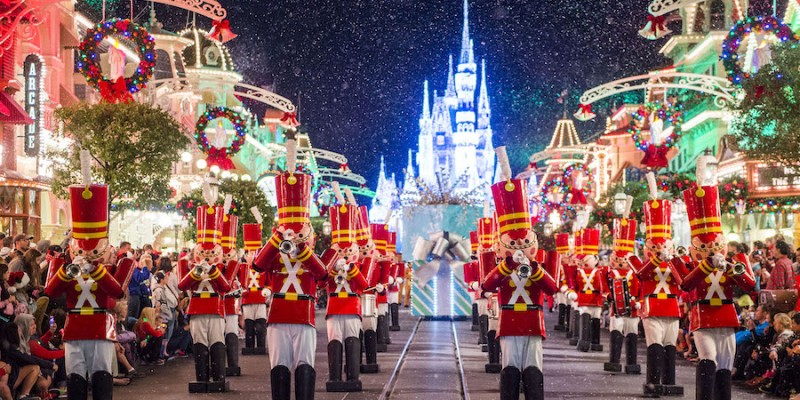 Details for Mickey's Very Merry Christmas Party 2016
The party doesn't officially start until 7 p.m. (and runs through 12 a.m.), but you can get into the park starting at 4 p.m. with your Mickey's Very Merry Christmas Party ticket. We highly recommend doing this, as this will you give you more time to ride a few rides and have an early dinner. You'll need a little extra time to get through bag check and ticketing, so have all of your bags open and your tickets handy.
Expected Schedule of Events:
A Frozen Holiday Wish, 6:15 p.m., 8 p.m.
Mickey's Once Upon a Christmastime Parade 8:15 p.m., 10:30 p.m.
Celebrate the Magic 9:15 p.m.
Holiday Wishes—Celebrate the Spirit of the Season 9:30 p.m.
A Totally Tomorrowland Christmas 7:45 p.m., 8:45 p.m., 9:55 p.m., 10:50 p.m., 11:45 p.m.
List of attractions expected to be open during Mickey's Very Merry Christmas Party 2016: 
Astro Orbiter
Big Thunder Mountain Railroad
Buzz Lightyear's Space Ranger Spin
Casey Jr. Splash 'N' Soak Station
Country Bear Jamboree
Dumbo the Flying Elephant
Enchanted Tales With Belle
Haunted Mansion
"it's a small world"
Jingle Cruise
Mad Tea Party
Mickey's PhilharMagic
Monster's Inc. Laugh Floor
Peter Pan's Flight
Pirates of the Caribbean
Prince Charming Regal Carrousel
Princess Fairytale Hall
Seven Dwarfs Mine Train
Space Mountain
Splash Mountain
Swiss Family Treehouse
Stitch's Great Escape
The Barnstormer
The Magic Carpets of Aladdin
The Many Adventures of Winnie The Pooh
Tomorrowland Speedway
Tomorrowland Transit Authority PeopleMover
Under the Sea~Journey of the Little Mermaid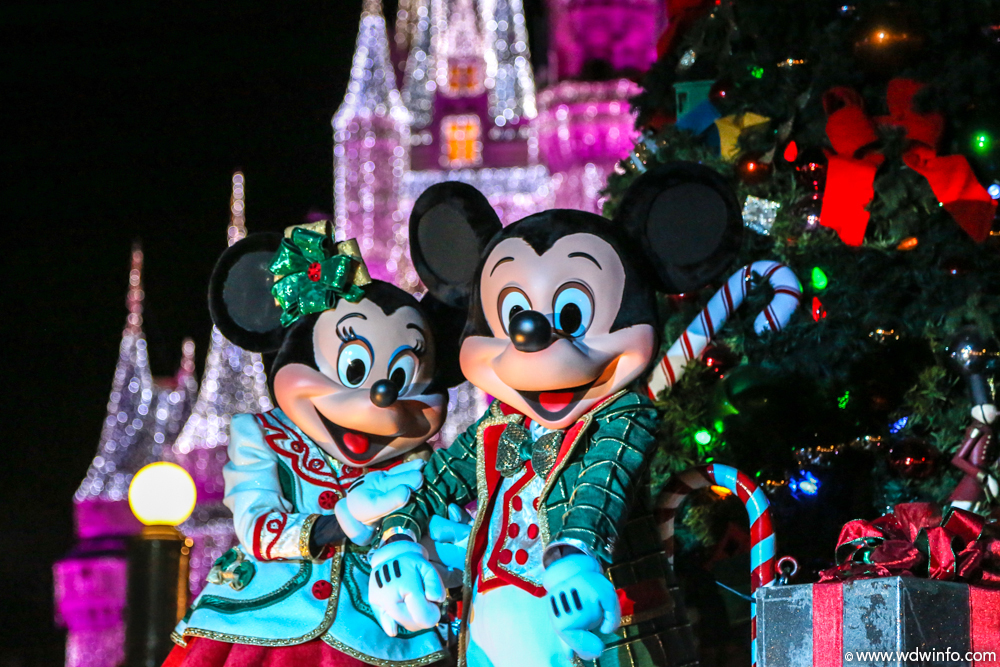 Expected Character Greetings at Mickey's Very Merry Christmas Party 2016
The most in-demand characters include the Seven Dwarfs, who are expected to take up camp at entrance to New Fantasyland near Pinocchio Village Haus, Jack Skellington near Pete's Silly Circus, and the princesses with their princes. Do note that most of the characters don't come out to their special locations until the party officially starts, but you can (and should) get in line early for the most in-demand characters. At least for the first night at last year's party, Jack Skellington started greeting guests well ahead of the party's start at 5 p.m. Over in Storybook Circus, you'll want to make time to visit, Minnie, Daisy, Donald, Scrooge McDuck and Santa Goofy. But Pumpkin King Jack Skellington will also be there, dressed in his Sandy Claws suit, and we expect he will be very popular. Arrive at least 10 minutes before 7 p.m. to be in place when they arrive.
Since you cannot use Fastpass+ during Mickey's Very Merry Christmas Party, it's most crucial to make a plan if you want to meet the most in-demand characters.
A note about the princesses: Near 7 p.m., cast members at Princess Fairytale Hall will create a second line just for party guests (yes, you will have to show your party wristband) so they can line up early to meet the princes with the princesses. Verify with the cast member that you are in the correct line. The princesses will be joining Cinderella and Rapunzel at Princess Fairytale Hall (with Anna and Elsa also in attendance in the other queue) and Snow White and Aurora in Fantasyland.
By: undercovertourist.

When to Attend, What to Wear and More
Learn all about Mickey's Not-So-Scary Halloween Party—from important dates and pricing to our official costume rules.
HALLOWEEN… WITH A DISNEY TWIST!
The witching hour's almost here, so get your favorite costume ready for Mickey's Not-So-Scary Halloween Party, a separately ticketed event in Magic Kingdom park!
Back again in 2016, it's the happiest haunting on Earth! Don't miss your chance to collect candies, sweets and frightfully delightful treats—all while the park hosts grim grinning ghosts, eerie entertainment and Disney Characters that go bump in the night.
Best of all: since the tone of this event is "not-so-scary," that means children of every age can enjoy the fun!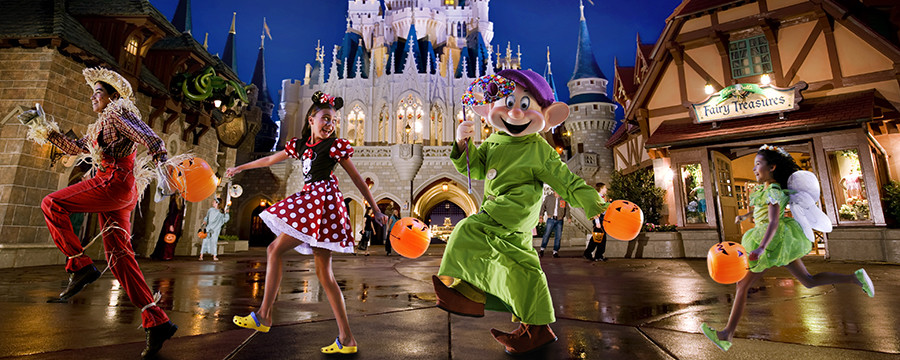 PRICING AND AVAILABLE DATES
Tickets to Mickey's Not-So-Scary Halloween Party start at $67 per child and $72 per adult (plus tax)—and the event takes place on the following dates:
September 2, 8, 11, 13, 16, 18, 20, 23, 25, 29 and 30, 2016
October 2, 4, 6, 7, 10, 11, 13, 14, 16, 18, 20, 21, 23, 25, 27, 28, 30 and 31, 2016
COSTUMES YOU CAN – AND CAN'T – WEAR
Before you arrive dressed up for the occasion, please read the official costume guidelines at Mickey's Not-So-Scary Halloween Party for children and adults.
By: disneyworld.disney.go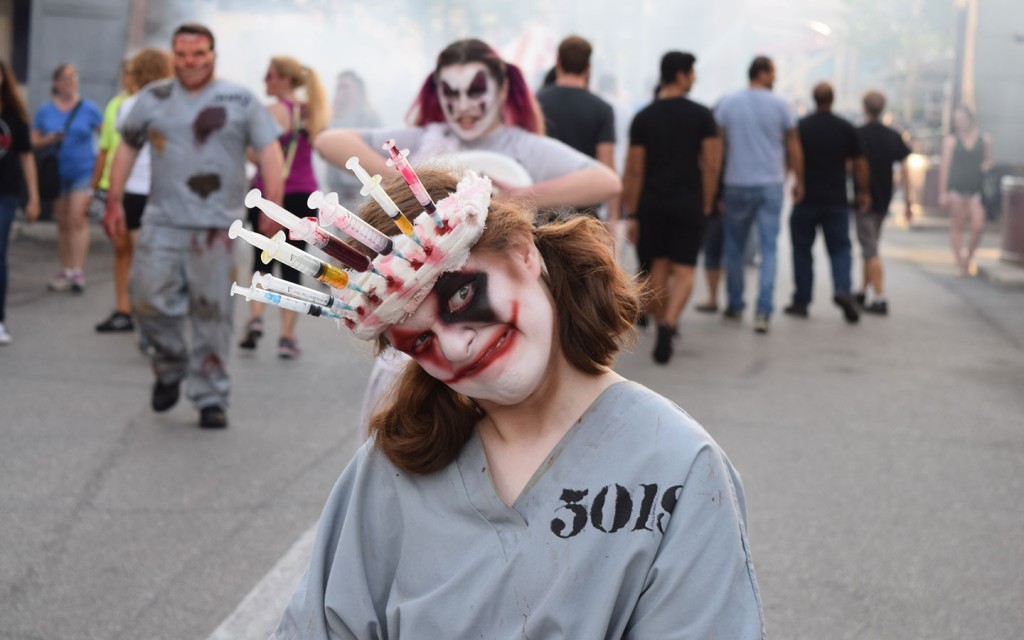 The smell of fog machines and the sound of screams in the air can only mean one thing: Universal Orlando's Halloween Horror Nights is back! This is my favorite event of the year and Halloween Horror Nights 26 is turning out to be the best one I've attended. This is my fourth year attending Horror Nights, and I've learned some tips and tricks to make the experience amazing.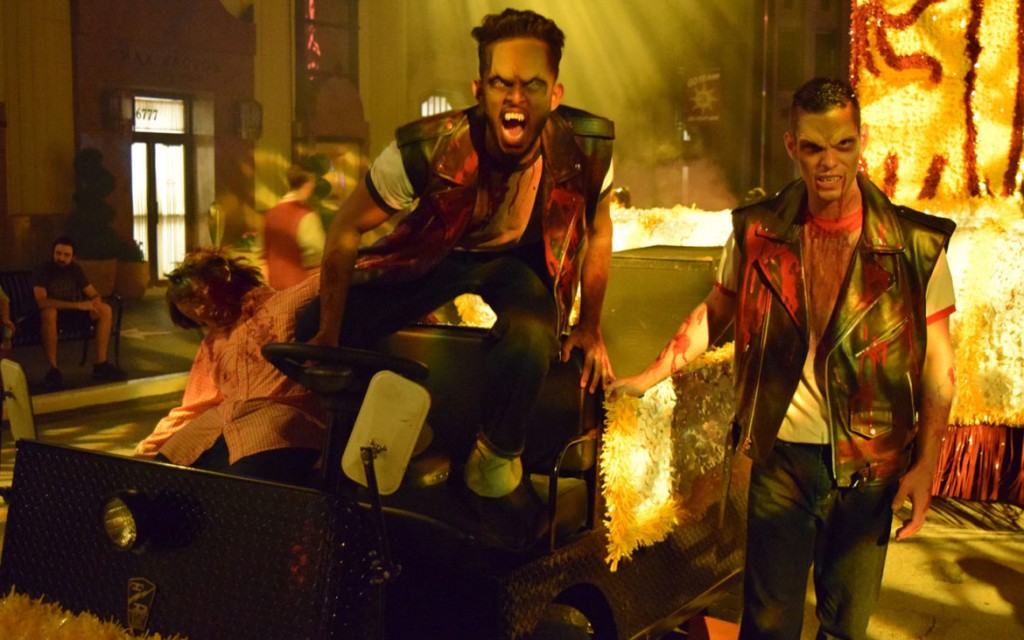 Before you go. Watch or re-watch the movies and TV shows the houses are themed for. Every house tells a different story, every room a different scene. Knowing what scenes you're walking through will enhance your Halloween Horror Nights experience.
Minimize wait times. The best way to avoid the lines is to purchase an R.I.P. Tour. You get a tour guide that will take you directly to the front of the line at every house along with other perks. The next best method is to purchase an Express Pass. Your wait times will be substantially lower than if you enter the regular lines.
Get there early, stay late. Crowds and wait times seem to be lower at the beginning and at the end of the night. A trick if you're an annual passholder or if you have admission to Universal Studios Florida during the day: before the park closes at 5 p.m., head to a holding area. They have several holding areas throughout the park, so ask a Team Member where the closest one is located. Once Horror Nights begins, you will have a head start and be one of the first in line.
Plan a house strategy. Many people come in the gates and begin their night with houses in the front of park and finish with houses in the back. I recommend doing the opposite. I always start in the back and work my way to the front. You will also find many of the houses exit near the entrance to the next house.
Don't forget about the shows. In addition to all of the haunted houses and scarezones, there are two stage shows you won't want to miss. Take a break from the scares and make sure to check out the new stage show this year Academy of Villains: House of Fear. This is my favorite and should not be missed. It is full of energy and so much fun to watch.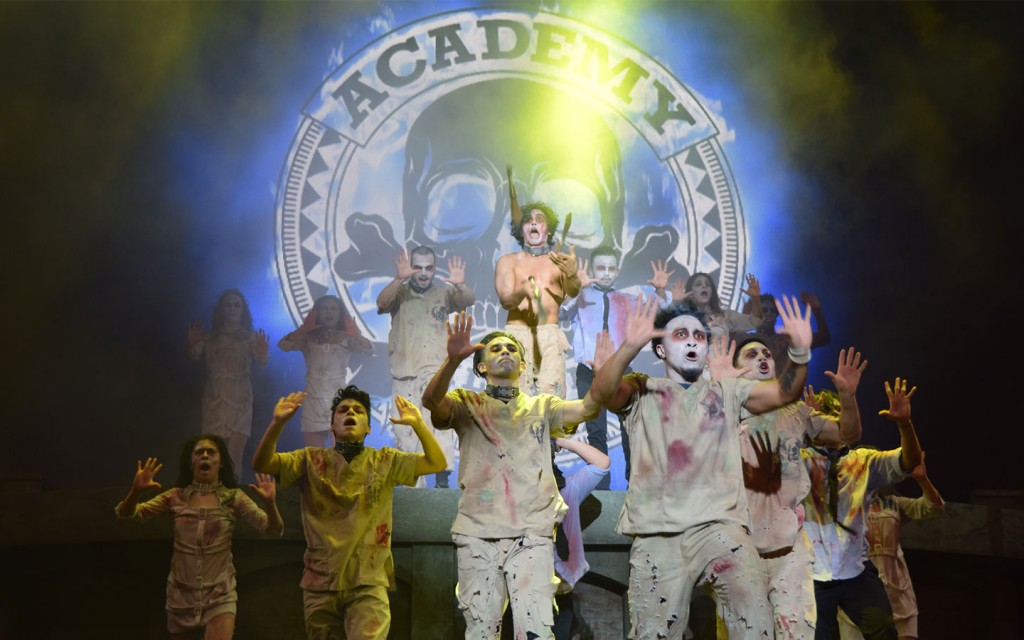 By: blog.universalorlando
Basic Preparedness Tips
Know where to go. If you are ordered to evacuate, know the local hurricane evacuation route(s) to take and have a plan for where you can stay. Contact your local emergency management agency for more information.
Put together a disaster supply kit, including a flashlight, batteries, cash, first aid supplies, and copies of your critical information if you need to evacuate
If you are not in an area that is advised to evacuate and you decide to stay in your home, plan for adequate supplies in case you lose power and water for several days and you are not able to leave due to flooding or blocked roads.
Make a family emergency communication plan.
Many communities have text or email alerting systems for emergency notifications.To find out what alerts are available in your area, search the Internet with your town, city, or county name and the word "alerts."
Preparing Your Home
Hurricane winds can cause trees and branches to fall, so before hurricane season trim or remove damaged trees and limbs to keep you and your property safe.
Secure loose rain gutters and downspouts and clear any clogged areas or debris to prevent water damage to your property.
Reduce property damage by retrofitting to secure and reinforce the roof, windows and doors, including the garage doors.
Purchase a portable generator or install a generator for use during power outages. Remember to keep generators and other alternate power/heat sources outside, at least 20 feet away from windows and doors and protected from moisture; and NEVER try to power the house wiring by plugging a generator into a wall outlet.
Consider building a FEMA safe room or ICC 500 storm shelter designed for protection from high-winds and in locations above flooding levels.
Hurricane Watch
Steps to take:
Review your evacuation route(s) & listen to local officials.
Review the items in your disaster supply kit; and add items to meet the household needs for children, parents, individuals with disabilities or other access and functional needs or pets.
Hurricane Warning
Steps to take:
Follow evacuation orders from local officials, if given.
Check-in with family and friends by texting or using social media.
Follow the hurricane timeline preparedness checklist, depending on when the storm is anticipated to hit and the impact that is projected for your location.
What To Do When A Hurricane Is 6 Hours From Arriving
If you're not in an area that is recommended for evacuation, plan to stay at home or where you are and let friends and family know where you are.
Close storm shutters, and stay away from windows. Flying glass from broken windows could injure you.
Turn your refrigerator or freezer to the coldest setting and open only when necessary. If you lose power, food will last longer. Keep a thermometer in the refrigerator to be able to check the food temperature when the power is restored.
Turn on your TV/radio, or check your city/county website every 30 minutes in order to get the latest weather updates and emergency instructions.
What To Do When A Hurricane Is 6-18 Hours From Arriving
Turn on your TV/radio, or check your city/county website every 30 minutes in order to get the latest weather updates and emergency instructions.
Charge your cell phone now so you will have a full battery in case you lose power.
By: ready.gov