The best Christmas events for kids are right under your nose! These special picks will have the littles ice skating, checking out gorgeous holiday windows, seeing renditions of the Nutcracker and working together on super fun crafts. You'll want to check out the Radio City Christmas Spectacular, stop by one of many amazing holiday train shows, grab a cup of the best hot chocolate and more.
Columbus Circle Holiday Market
Run by the same company that organizes the Holiday Market at Union Square, this alfresco fair offers much of the same merchandise as its predecessor with an emphasis on creating a European piazza atmosphere. Said to have been designed with Copenhagen and Munich in mind, the holiday hot spot is the perfect place to meet a friend, shop for the family or simply enjoy the novelty of browsing at the edge of Central Park. Look for handmade wooden puzzles, gingerbread houses and kits, and lots of sweets from local vendors. All ages.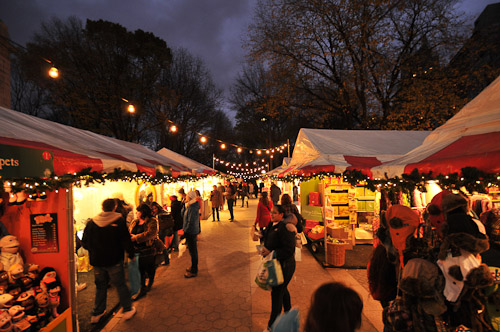 Radio City Christmas Spectacular
Every year, this holiday stalwart gets families in the spirit with Santa appearances, colorful sets and, of course, one-of-a-kind dance numbers from the impressive Rockettes. Enjoy classic routines like "Parade of the Wooden Soldiers" and "New York at Christmas," in which dancers journey through the city on a double-decker bus, and keep an eye out for exciting new additions as well. The show now incorporates advanced technology throughout, taking the audience on a wild ride via 3D glasses and a flying LED screen, and one number even sends a host of helium-filled, GPS-enabled iridescent snowflakes floating high above the audience, transforming Radio City into a sparkling winter wonderland! All ages.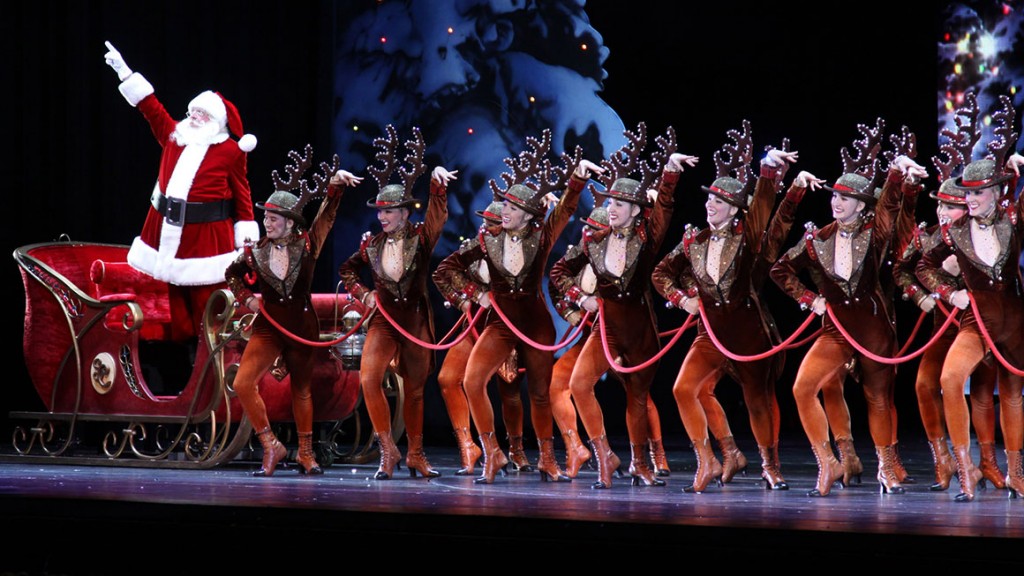 Breakfast with Santa at Rock Center Cafe
Flanked by glittery angel sculptures and New York's famously giant Christmas tree, Rockefeller Center is the backdrop to this merry holiday breakfast with Santa. Enjoy brioche french toast, applewood smoked bacon, scrambled eggs & breakfast pastries as you watch the skaters whiz by, knowing soon you and the kiddies will be joining them after your yummy meal! But don't forget to hit the candy bar, where the children can create their own treat filled souvenir bags before convening to the 'Throne Room' for pictures with Santa. All ages.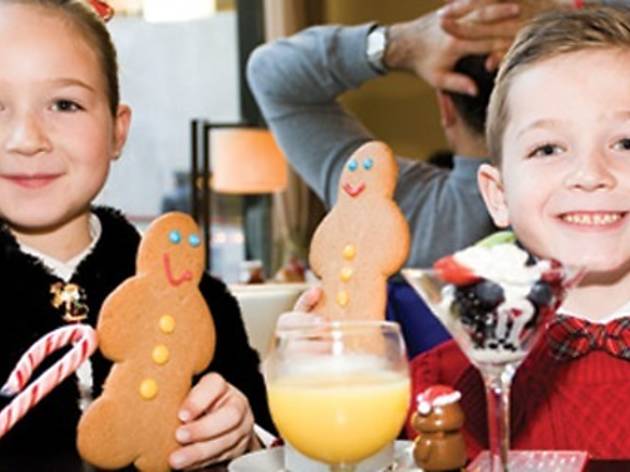 New York Botanical Garden Holiday Train Show
Whatever holidays you celebrate, this beautifully lit exhibition makes a festive excursion for the whole family. With 3,000 added square feet of space this year and more than a dozen large-scale model trains zipping over a quarter mile of track, it's NYBG's biggest train installation to date! Elaborate displays composed of moss, twigs and leaves are anchored by 150 NYC landmarks, each reconstructed painstakingly using natural materials: You'll see the Empire State Building, the Unisphere and other familiar structures crafted from unique elements like lotus pods, hemlock cones, walnut shells, acorn caps, bamboo and cinnamon curls. New to the display is a whimsical collection of architecture and attractions from Coney Island. All ages.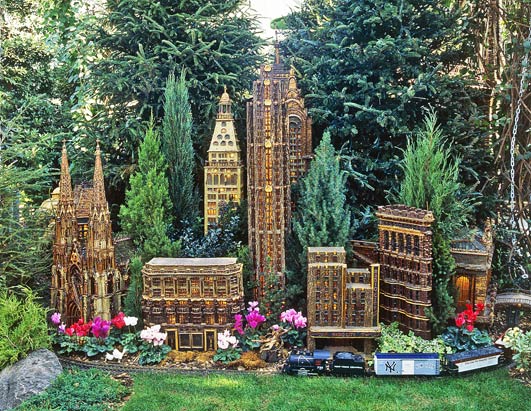 By: timeout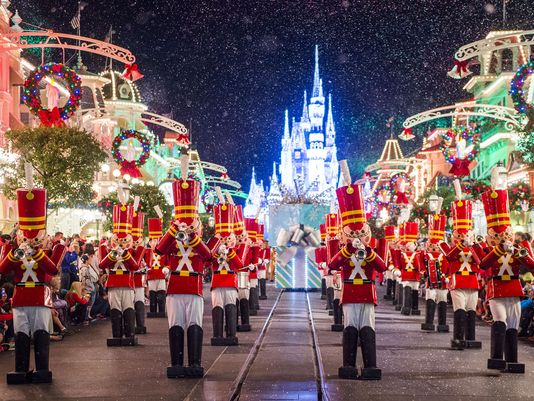 Lights twinkle year round at Mickey's Florida home, but during the holiday season Walt Disney World positively sparkles. Some of the largest crowds of the year descend on the resort to enjoy its decked halls, Christmas-themed shows, and other holiday hoopla along with the parks' celebrated rides and attractions.
With new Toy Story and Star Wars lands in development at Disney's Hollywood Studios, the long-running Osborne Family Spectacle of Dancing Lights lost its home for the holidays this year. But lights are still blazing at the movie-themed park with the new Jingle Bell, Jingle BAM! nighttime show. Included with admission and scheduled to run nightly through December 31 in front of the Chinese Theater, the presentation includes eye-popping projections, lasers, fire blasts, and pyrotechnics. It uses the theater's facade and adjacent buildings as enormous screens.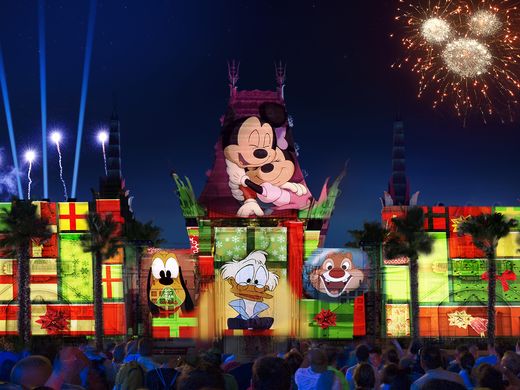 Characters from Disney's Prep & Landing animated TV special anchor Jingle BAM. In order to save Christmas, they are on a mission to locate Santa Claus, who has mysteriously disappeared. Woven into the show are winter scenes from classic cartoons starring Donald Duck, Chip and Dale, Bambi, and others in the Disney canon. Tim Burton's quirky The Nightmare Before Christmas gets a shoutout as well.
When the Mouse House first began incorporating digital mapping projections in its kiss-goodnight shows, the imagery was largely impressionistic. With projection technology and artistry improving and evolving, Jingle BAM! offers crisp, bright, and extended narrative scenes, creating a linear story arc that is easy to follow and engaging.
"We wanted to reinvent how we use lasers and projections," says Tom Vazzana, show director at Walt Disney World. He adds that his mantra for the holiday show was, "Let's go sharper and more story-driven."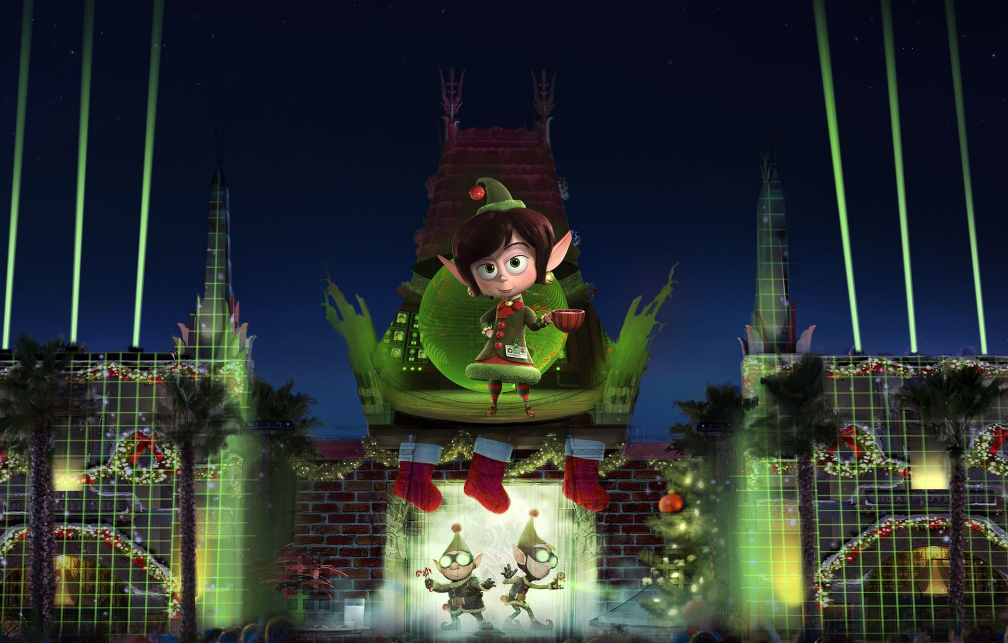 One of the show's highlights was a happy accident. During rehearsals, Vazzana's team was running the overhead snow machines while a technician was playing with the lasers. "We split the laser so it was green on the sides and red in the middle like a ribbon and it caught the snow," he explains. "I said, 'This is gorgeous!' How do we capitalize on it?" Laser-enhanced snow now falls on mesmerized Jingle BAM! crowds.
It's not really a spoiler to say that Santa is rescued, and Christmas is saved. The finale, choreographed to a rousing rendition of "Rockin' Around the Christmas Tree" that was recorded by a 60-piece orchestra, is a riot of fireworks, lasers, and projections.
Cinderella Castle at the Magic Kingdom also serves as a canvas for festive holiday projections as part of Mickey's Very Merry Christmas Party. The separately ticketed event is being held on select nights through December 22 with adult tickets ranging from $91 to $99 depending on the date.
New this year during the party is Mickey's Most Merriest Celebration, a show that includes characters such as Daisy Duck, who sings about cell phones and text messages (really!), and Clarabelle Cow. The under-the-radar (or is that udder-the-radar?) toon turns out to be quite the soulful diva. As the musical numbers unfold on a stage in front of the castle, projections supplement the action and animate the iconic building. The show will be staged for regular park guests from December 23 to 31.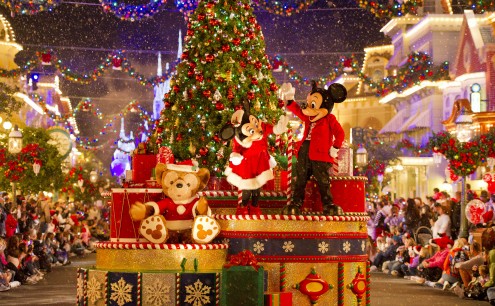 Projections onto the castle are also featured in A Frozen Holiday Wish. The returning Christmas Party show features the ubiquitous "Let It Go" crew. Festive projections complement the pyrotechnics as well for the Holiday Wishes – Celebrate the Spirit of the Season fireworks show. And toy soldiers, reindeer, and other holiday ambassadors march through the Magic Kingdom for Mickey's Once Upon a Christmastime Parade. Both Christmas Party and daytime guests at the Magic Kingdom can groan at the silly puns shared by the skippers aboard the renamed-for-the-season Jingle Cruise. The holiday-themed version of the beloved attraction runs through the end of the year.
Each evening from November 25 to December 30, Epcot will present Candlelight Processional. Celebrity guests, including Whoopi Goldberg and Meredith Vierra, will narrate the Christmas story. A choir and 50-member orchestra will join them.
Also, the countries represented in Epcot's World Showcase, including Mexico and the U.K., will demonstrate their traditions in Holidays Around the World. New this year, the park will offer holiday treats from around the world in booths set up along the promenade. In the Future World area of the park, a gospel choir will perform holiday favorites. And the nightly IllumiNations will include some Christmas cheer amid the fireworks. All of Epcot's holiday presentations are included in general admission.
By: usatoday
Santa's Enchanted Forest – November 3, 2016 to January 8, 2017
The largest Christmas-Themed Amusement Park and Carnival is back on its 26th year with its 3 million lights, 92″ christmas tree, and the carnival rides for little ones and those wanting a little more extreme.
Located in the heart of Miami in Tropical Park, you will no doubt see the lights from the highway as you drive past.
It is a huge sprawling lively event, just coming to see the lights is worth the trip. Tons of entertainment for kids and families round it all up. There are the many live shows, games, magic acts, mazes, all sorts of rides, from carrousels to roller coasters and drop towers and of course, the carnival food!
When? November 3, 2016 to January 8, 2017 – 5:00pm to Midnight
Where? Tropical Park, on the Palmetto (SR826) and Bird Road (40th Street) 7900 SW 40th Street, Miami, FL 33155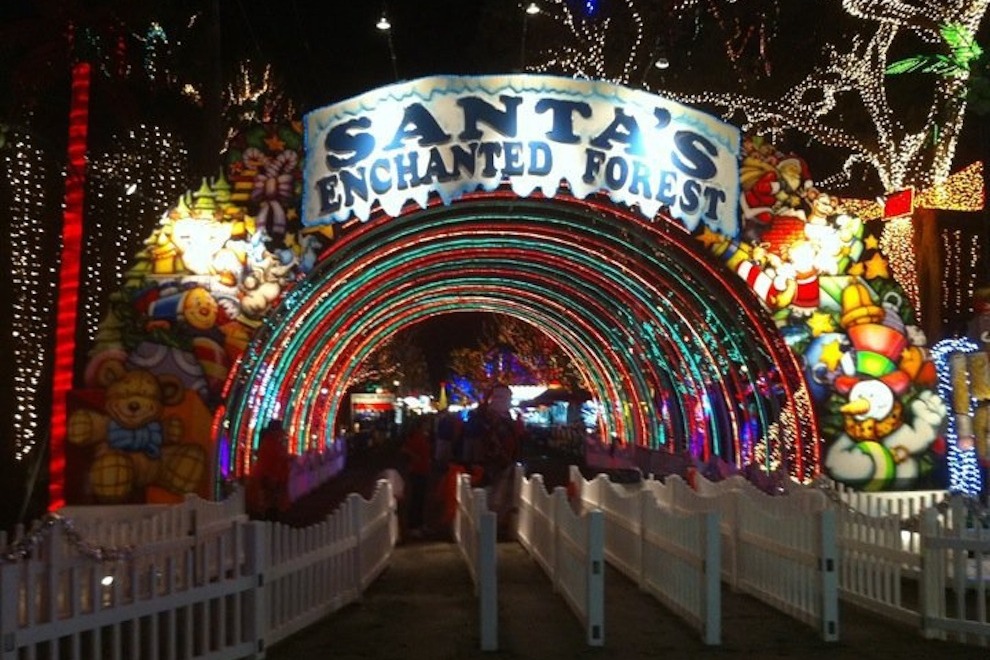 Christmas Tree Lighting and Food Truck Invasion at Bayfront Park – November 25, 2016
The official kick off to the holiday season in downtown Miami takes place the day after Thanksgiving as Bayfront Park unveils its 50-foot tree covered with glittering lights.
The countdown to the tree lighting is accompanied by cheery holiday music and Miami's legendary food trucks! So come and take a break from the shopping and enjoy the spirit of the holidays.
When? Friday, November 25, 2016, Details TBA, last year: Food trucks and holiday music 5:00 pm to 9:00 pm, tree lighting at 7:00 pm
Where? Bayfront Park 301 N. Biscayne Blvd., Miami, FL 33132
Where to Park?: There is limited, paid parking at Bayfront Park. You can also park at Bayside Marketplace nextdoor or take the Metrorail to the Government Center Station then transfer to the Metromover Inner Loop to Bayfront Park.
How Much? FREE!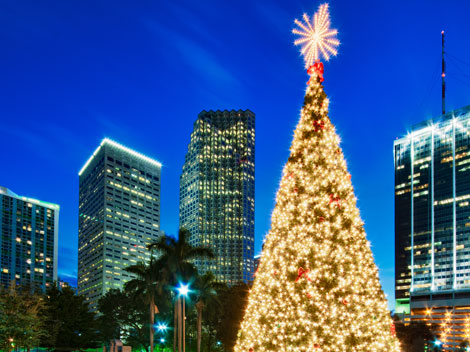 Miami Lantern Light Festival
A spectacular evening of dazzling lights, colors, shapes, and themes, a fantastic warm up for the holiday season!
The Lantern Light festival is a six week celebration of Chinese culture featuring massive lanterns, inspiring performances, and incredible cuisine.
Each Chinese lantern is custom-built by Chinese artisans and typically takes four weeks and a team of seven to complete.
The lanterns are handmade from hundreds of pieces of silky cloth. Some are over 30 feet high and others are up to 300 feet long.
When? November 30, 2016 – January 8, 2017 – 5:00 pm to 11:00 pm
Where? Miami – Dade County Fair Expo Center at 10921 SW 24 Street, Miami, FL 33165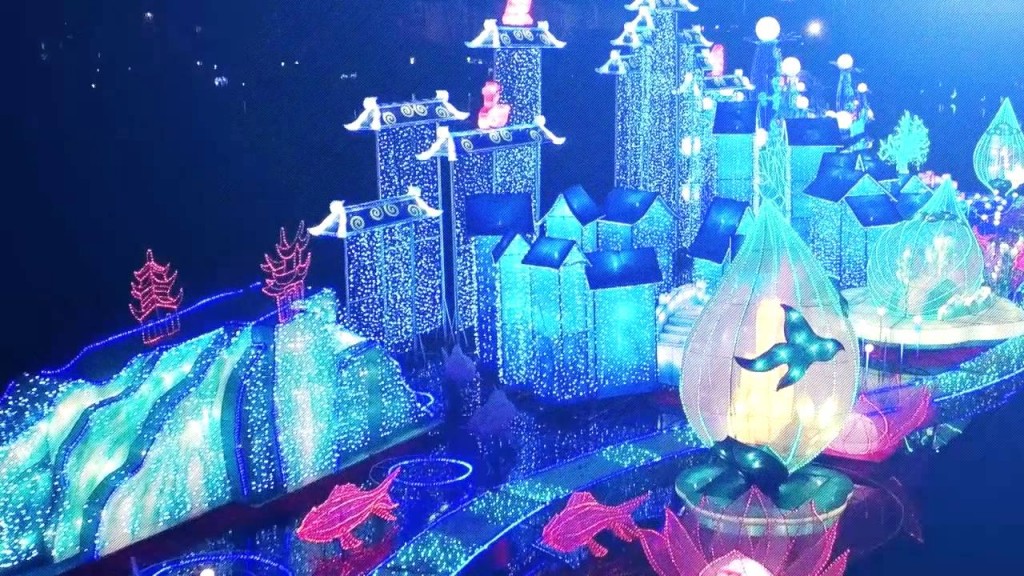 Winterfest Boat Parade – Saturday, December 10, 2016
Sailboats, Yachts, Barges, Gondolas, Kayaks… ANYTHING that floats, all decked up with thousands of lights and a merry spirit, traversing the waters of the intracoastal, what could be more fun this holiday season?!
On its 44th year, the Winterfest Boat Parade has become one of the most awaited events, and this year with the theme "Fairytales Afloat" the Ft. Lauderdale shoreline will be coming alive once again.
Some fantastic entries and surprises in the past have included the Circus barge, complete with elephants and acrobats, a floating bus, a fire truck, Mickey and Minnie…
And this year's Grand Marshal? Our very own Mr. 305 Pitbull!
When?: Saturday December 10, 2016, sails at 6:30 p.m. ends approximately 10:30 p.m.
Where?: Intracoastal Waterway from Ft. Lauderdale to Pompano Beach. Parade starts at the New River where parading boats will be lining up west from Stranahan House to the Performing Arts Center, then move along towards the Intracoastal where they start heading up. Parade ends just south of Atlantic Blvd, at Lake Santa Barbara in Pompano Beach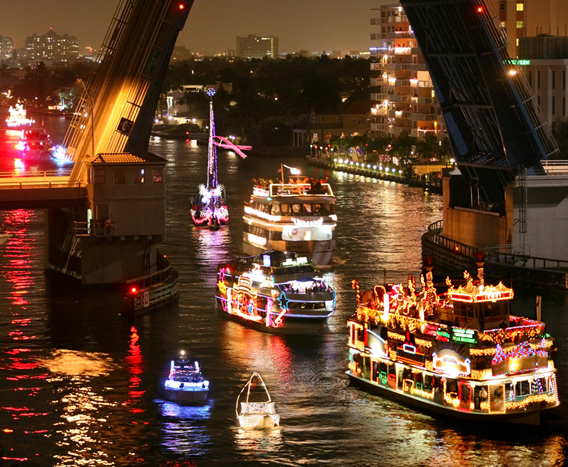 Zoo Lights and Holiday Gifts For The Animals at Zoo Miami
It's that magical time of the year as the park transforms into a fabulous array of shimmering trees and dazzling (animal-shaped of course) lights that adorn every corner of this fantastic animal kingdom.
And during the day, the best part is watching all our fluffy fellows open their Christmas presents…
What else? Carousel rides, photo with Santa, cookies and hot cocoa… (additional fees)
When?: Gifts with the Animals from December TBA, 2016
Zoo Lights from December TBA, 2016 – 7:00 pm to 10:00 pm
Where?: Zoo Miami at 1 Zoo Boulevard, 12400 SW 152 Street, Miami, FL 33177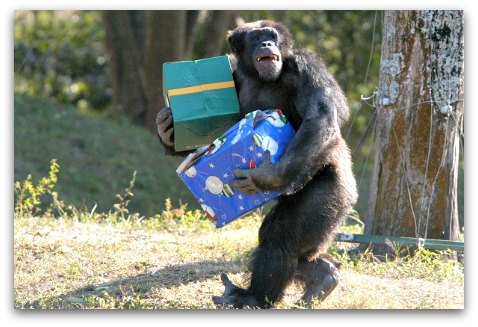 The Annual Living Nativity at Miami Shores Presbyterian Church
Let's herald the Christmas season with a live, open-air reenactment of the Christmas Story.
Featuring live camels, donkeys, goats and sheep, along with an innovative mix of digital and live-action characters, including Mary, Joseph, Jesus, the prophets, angels, the Wise Men and more!
This spectacular depiction, complete with narration, digital projections and a choir, is fun for the entire family!
When? Friday, December 9 and Saturday, December 10, 2016 from 6:30 to 8:30 pm
Where? Miami Shores Presbyterian Church, 602 NE 96th Street, Miami Shores, FL 33138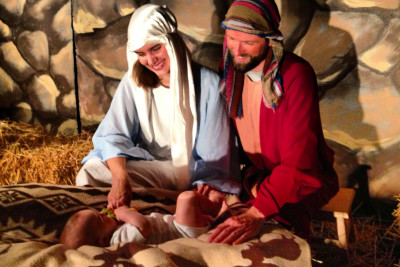 By: miamiscapes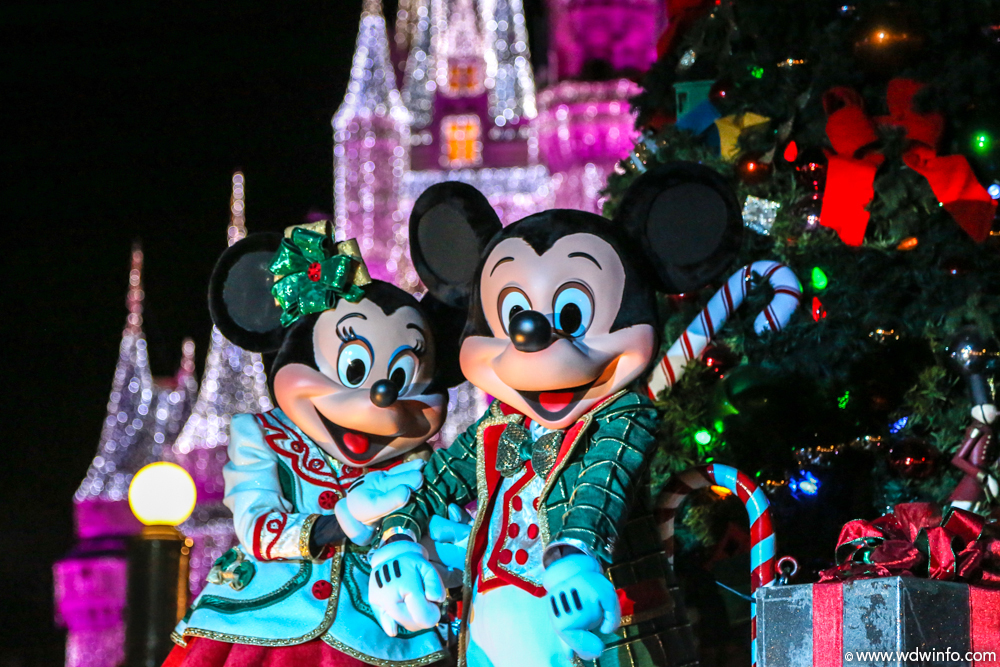 If you're visiting Walt Disney World or Disneyland during Christmas 2016 or winter season (pretty much November through February), what you will need to think about packing will be different than visits throughout the rest of the year. I was reminded of this today when I was checking out the weather forecast for Walt Disney World, and noticed lows in the 40s. Yikes.
The difficulty of packing for Walt Disney World or Disneyland this time of year is the large variances in the weather. You could experience four seasons of weather during your trip…in a single day. Most people aren't going to want to carry the luggage that would be required to pack for every weather scenario, making what to bring a tough question. This post will cover a few things you should take on any winter trip to the Disney Parks, plus some additional items to consider when the weather is expected to be unseasonably cold.
While temperatures in the 40s in Florida and Southern California are the exception and not the rule, the weather can and does get this cold. Being caught off-guard by frigid temperatures in the parks sucks. Don't think it can't happen to you. As much as I hate to admit it, this has happened to me a couple of times, and I'm very diligent about checking the weather forecast.
Now, let's check out what you should pack for Disney during those winter months. First, some practical stuff, and then fun options to get in the festive spirit…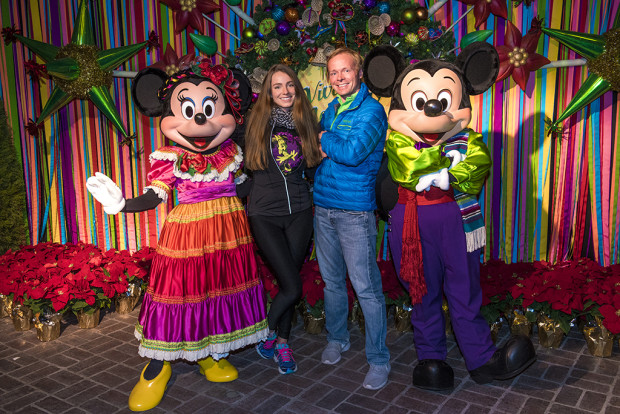 Touch Screen Gloves – Post photos of Cinderella Castle lit up for Christmas to Facebook or Instagram without removing your gloves. Priceless. These gloves will keep your hands warm while allowing you to use your touch-screen smartphones.
HotHands Handwarmers – These handwarmers are cheap and excellent when you're waiting around for a parade or fireworks, and last longer than a cup of coffee or hot chocolate. These might seem over the top for a normally warm-weather destination, but when the sun goes down, it can get cold. 
Microfleece Travel Blanket – This is a really versatile option, and it's worth grabbing a few. Thanks to its incredibly thin material, it packs easily in your backpack, and can be used to keep warm before parades/fireworks (or, if it's not that cold, you can sit on it) to wrap around you on a chilly night, etc. The super cheap price makes this something you don't have to worry about getting dirty!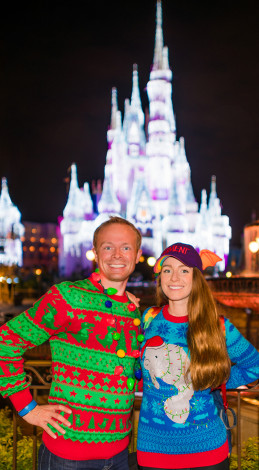 Mickey Mouse Winter Hat – If you want an inexpensive hat to keep warm on cold nights, this understated Mickey Mouse one is a great option. Want something a little more Christmas-y? Try this Mickey Fairisle Puffball Hat instead.
Thermal Shirt – Packing a lot of cold-weather clothes can take up a lot of room in your suitcase, so instead of heavy coats and thick sweatshirts, we recommend inexpensive and lightweight means of keeping warm. Thin thermal shirts that keep your body heat close to you and can be worn under another layer of clothing are a great option. We recommend this one for men and this one for women.
800-Fill Down Coats – Our pick here is specifically an 800-fill goose down coat because it compresses really well and takes up barely any suitcase room. It's smaller and warmer than fleece, and although a bit pricey, these last a long time and are perfect for cold weather.
Waterproof Shoes – These are probably overkill. I bought a pair for our first visit to Disneyland Paris a couple of years ago because I read that December in France is cold and rainy, and I was vindicated as it was cold and rainy, and my wet stayed warm and dry, but there's a difference between Paris winter weather and Florida or California winter weather. I don't typically wear these to the parks during the winter months (they are far from stylish), but they are a great option if you want to play it safe.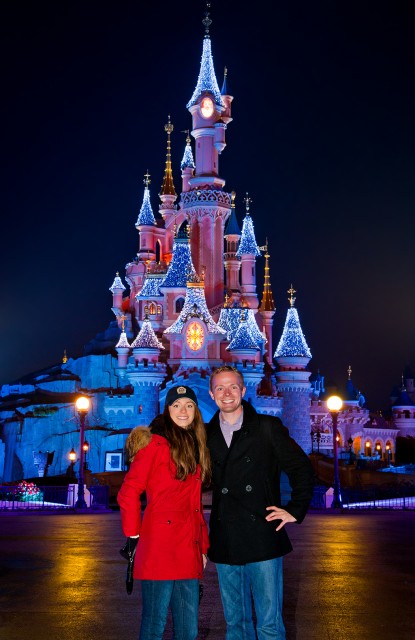 Long Pants – For some of you, this is a no-brainer; even in the summer you wear jeans. For those of you like me who savor the feeling of the wind rustling your leg hair, jeans are not something you typically pack when visiting Florida or California. The most practical option is convertible pants like these ones for men or these ones for women, which are great for hot or cold weather (and are nice for storage)…but are not exactly the most stylish option.
If you're visiting during the winter months, regardless of the forecast, you will want to pack at least one pair of long pants as a safety net: you're likely to encounter at least one sub-50s day on a weeklong trip in the winter. Unless you're keen on the idea of dropping ~$50 on a pair of Disney sweatpants (and are okay with then wearing sweatpants to the parks), just bring a pair of long pants.
Finally, and once again, other packing "rules" for Walt Disney World remain in effect for the winter. For instance, not packing disposable ponchos is a cardinal sin if you're visiting Walt Disney World any time of year (and down jackets do not take well to rain). Depending upon your sensitivity to cold weather and/or style preference, there are also other accessories you might want to pack. Some people love scarves, I find them to be an inefficient hassle. Some people love thick socks, I view these as ill-advised "moisture sponges."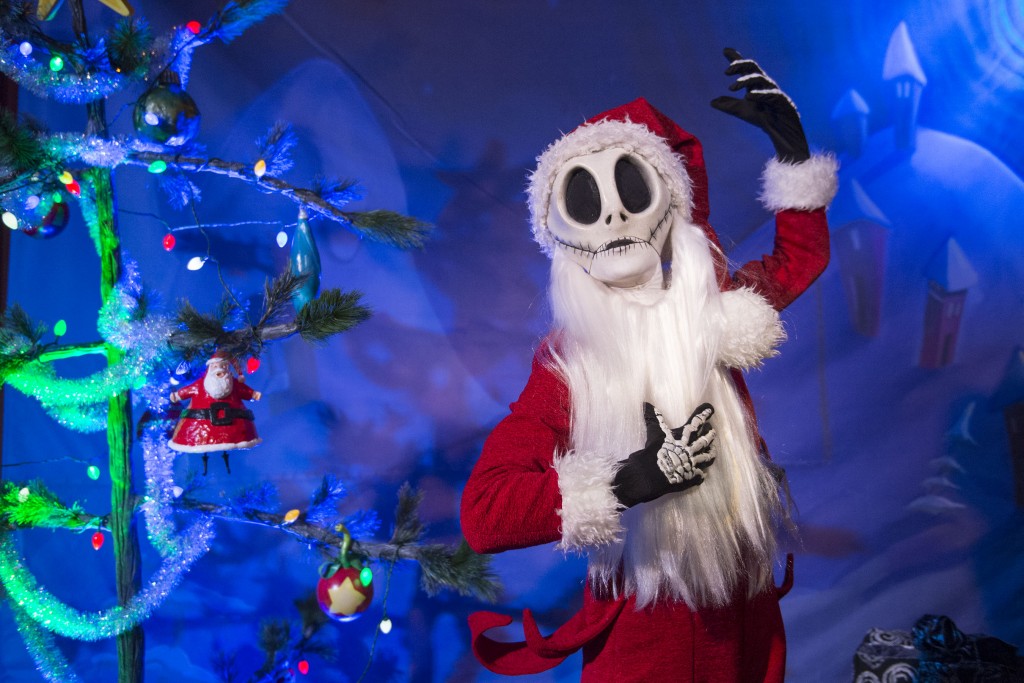 By: disneytouristblog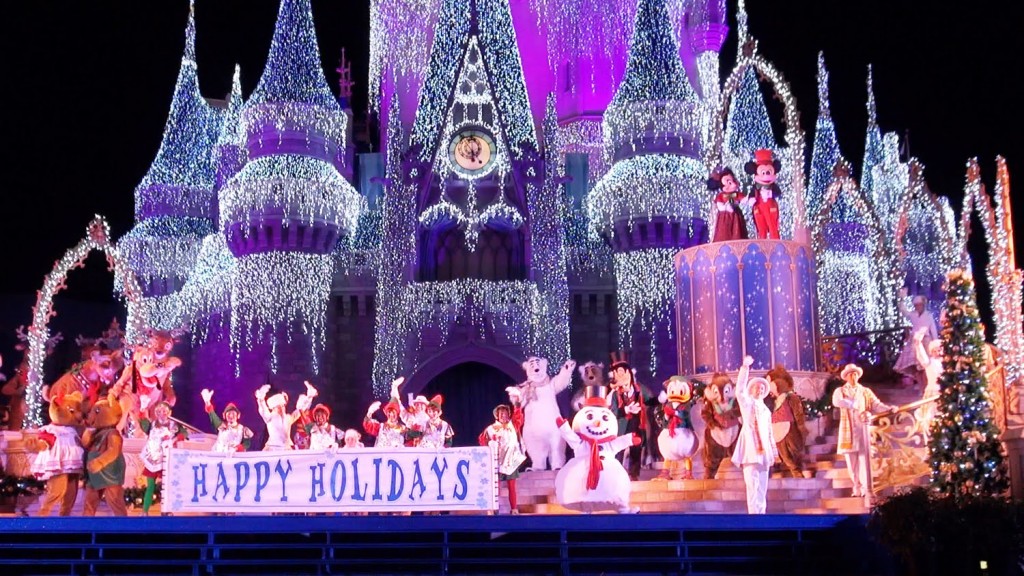 While Magic Kingdom is magical any time of year, it's especially so during the holidays when the Christmas decorations come out and everyone gets into the spirit! Of course, one of the very biggest Disney World holiday events is Mickey's Very Merry Christmas Party, and this year it is back for 21 very merry evenings! Tickets have just gone on sale, and Disney is introducing more pricing tiers and a bigger jump in cost for the most popular dates for 2016. This isn't necessarily a bad thing, as the parties have gotten more crowded in recent years.
The party is similar to Mickey's Not So Very Scary Halloween Party and is also a separately ticketed event, which means you must purchase a party ticket to attend. We've got the lowdown on what to expect at this year's party, so keep reading.
Mickey's Very Merry Christmas Party 2016 Dates
November 7, 8, 10, 11, 13, 15, 18, 27, 29
December 1, 2, 4, 6, 8, 9, 11, 13, 15, 16, 18, 22
The Mickey's Very Merry Christmas Party 2016 ticket prices range from to $86-$99 for adults and $81-$94 for children (ages 3-9) without tax. For comparison, last year's tickets ranged from $74-$82 without tax for adults and from $69-77 for children (ages 3-9). Children under 3 are free.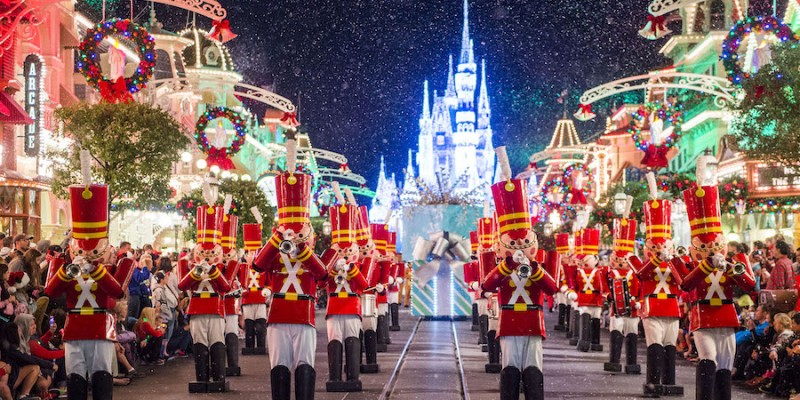 Details for Mickey's Very Merry Christmas Party 2016
The party doesn't officially start until 7 p.m. (and runs through 12 a.m.), but you can get into the park starting at 4 p.m. with your Mickey's Very Merry Christmas Party ticket. We highly recommend doing this, as this will you give you more time to ride a few rides and have an early dinner. You'll need a little extra time to get through bag check and ticketing, so have all of your bags open and your tickets handy.
Expected Schedule of Events:
A Frozen Holiday Wish, 6:15 p.m., 8 p.m.
Mickey's Once Upon a Christmastime Parade 8:15 p.m., 10:30 p.m.
Celebrate the Magic 9:15 p.m.
Holiday Wishes—Celebrate the Spirit of the Season 9:30 p.m.
A Totally Tomorrowland Christmas 7:45 p.m., 8:45 p.m., 9:55 p.m., 10:50 p.m., 11:45 p.m.
List of attractions expected to be open during Mickey's Very Merry Christmas Party 2016: 
Astro Orbiter
Big Thunder Mountain Railroad
Buzz Lightyear's Space Ranger Spin
Casey Jr. Splash 'N' Soak Station
Country Bear Jamboree
Dumbo the Flying Elephant
Enchanted Tales With Belle
Haunted Mansion
"it's a small world"
Jingle Cruise
Mad Tea Party
Mickey's PhilharMagic
Monster's Inc. Laugh Floor
Peter Pan's Flight
Pirates of the Caribbean
Prince Charming Regal Carrousel
Princess Fairytale Hall
Seven Dwarfs Mine Train
Space Mountain
Splash Mountain
Swiss Family Treehouse
Stitch's Great Escape
The Barnstormer
The Magic Carpets of Aladdin
The Many Adventures of Winnie The Pooh
Tomorrowland Speedway
Tomorrowland Transit Authority PeopleMover
Under the Sea~Journey of the Little Mermaid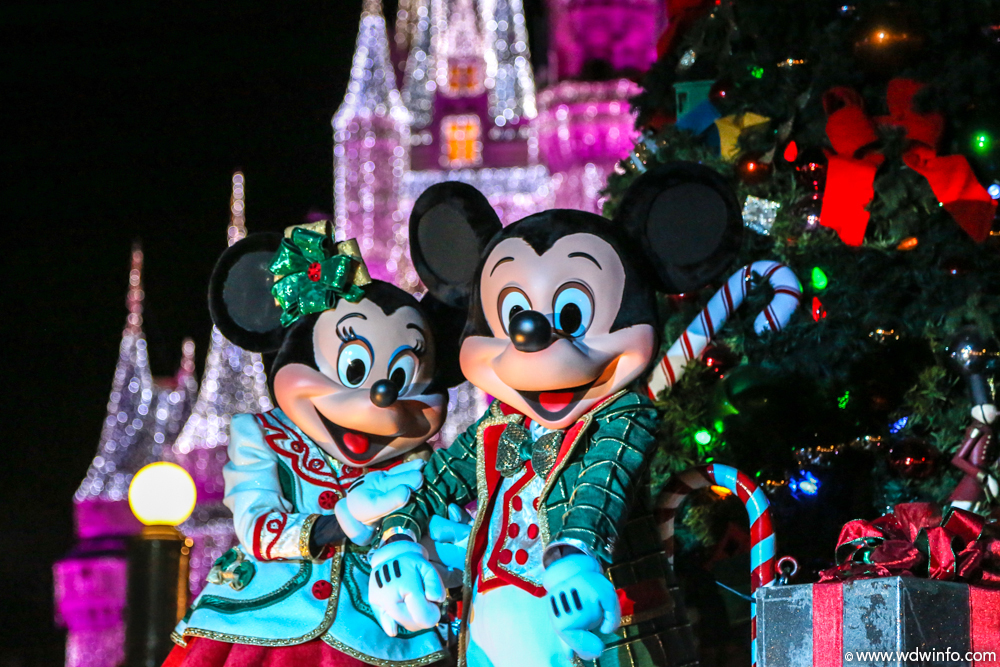 Expected Character Greetings at Mickey's Very Merry Christmas Party 2016
The most in-demand characters include the Seven Dwarfs, who are expected to take up camp at entrance to New Fantasyland near Pinocchio Village Haus, Jack Skellington near Pete's Silly Circus, and the princesses with their princes. Do note that most of the characters don't come out to their special locations until the party officially starts, but you can (and should) get in line early for the most in-demand characters. At least for the first night at last year's party, Jack Skellington started greeting guests well ahead of the party's start at 5 p.m. Over in Storybook Circus, you'll want to make time to visit, Minnie, Daisy, Donald, Scrooge McDuck and Santa Goofy. But Pumpkin King Jack Skellington will also be there, dressed in his Sandy Claws suit, and we expect he will be very popular. Arrive at least 10 minutes before 7 p.m. to be in place when they arrive.
Since you cannot use Fastpass+ during Mickey's Very Merry Christmas Party, it's most crucial to make a plan if you want to meet the most in-demand characters.
A note about the princesses: Near 7 p.m., cast members at Princess Fairytale Hall will create a second line just for party guests (yes, you will have to show your party wristband) so they can line up early to meet the princes with the princesses. Verify with the cast member that you are in the correct line. The princesses will be joining Cinderella and Rapunzel at Princess Fairytale Hall (with Anna and Elsa also in attendance in the other queue) and Snow White and Aurora in Fantasyland.
By: undercovertourist.