In New York, there's a museum for every aesthetic and intellectual taste. But it's especially rich in museum holdings of art, with something for everyone. The city is home to some of the world's finest examples of Ancient, Old Master, Impressionist, Modern and bleeding-edge contemporary work. To help you find the exact sort of edification you're looking for, we've compiled this list of New York's very best art museums, including the Metropolitan Museum of Art, the Museum of Modern Art and more. And when you plan your visit, make sure to check for free museum days as well!
Best art museums in NYC
Brooklyn Museum
One of Kings County's preeminent cultural institutions, this 560,000-square-foot venue made history as the first American museum to exhibit African objects as artwork. In addition to the more than 4,000 items in the Egyptian holdings,  museumgoers can scope pieces by masters such as Cézanne, Monet and Degas, plus an entire center devoted to feminist art. (The venue is the permanent home of Judy Chicago's massive installation The Dinner Party.) Beyond its physical acquisitions, the spot draws crowds with its BrooklyNites Jazz music series and the perennially popular free Target First Saturdays.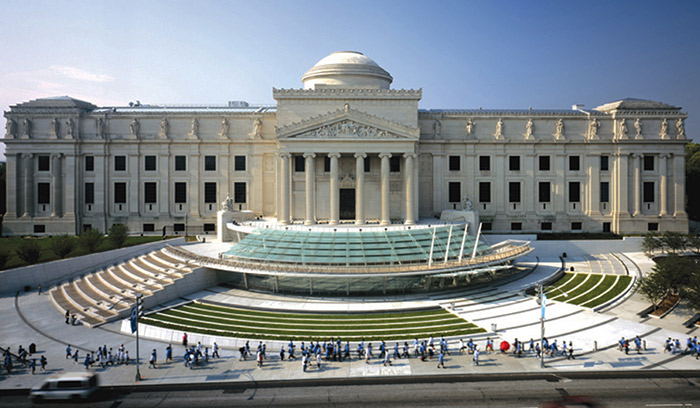 The Frick Collection
The opulent residence that houses a private collection of great masters (from the 14th through the 19th centuries) was originally built for industrialist Henry Clay Frick. The firm of Carrère & Hastings designed the 1914 structure in an 18th-century European style, with a beautiful interior court and reflecting pool. The permanent collections include world-class paintings, sculpture and furniture by the likes of Rembrandt, Vermeer, Renoir and French cabinetmaker Jean-Henri Riesener.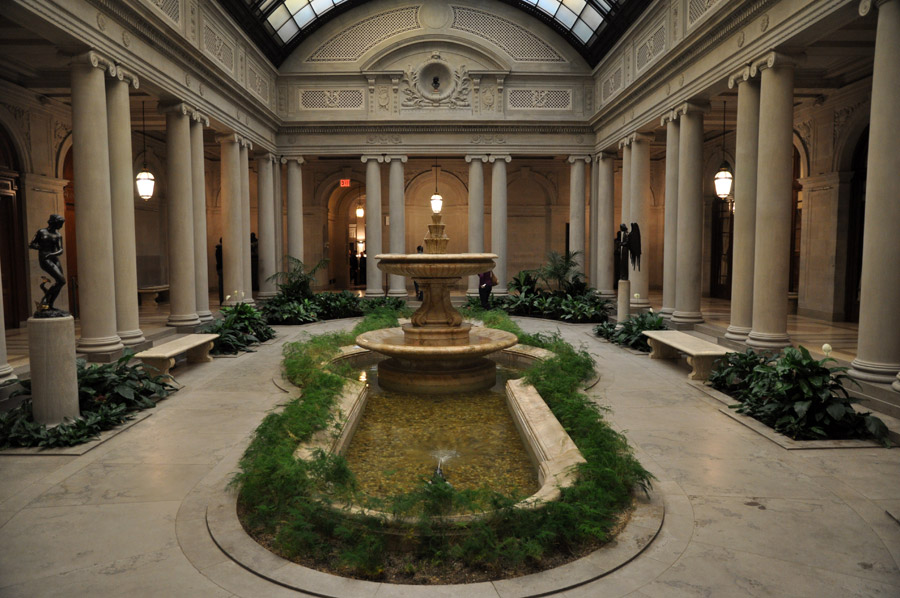 The Met Breuer
Even before the Whitney moved to its Meatpacking District location, plans were afoot for The Metropolitan Museum of Art to take over the Whitney's former Marcel Breuer-designed home on Madison Avenue. Breuer's name graces what's basically an entirely new institution intended to make the Met's a major player in the current art scene: In addition to housing the Met's collection of modern and contemporary art, the museum will mount major exhibitions of recent artists once it opens in March 2016. According to its agreement with the Whitney, the Met will rent the building for the next eight years. What officially happens next is up in the air at this point, but it's likely the Met will hang onto the place. And, who knows? It may even use it to launch its own Biennial.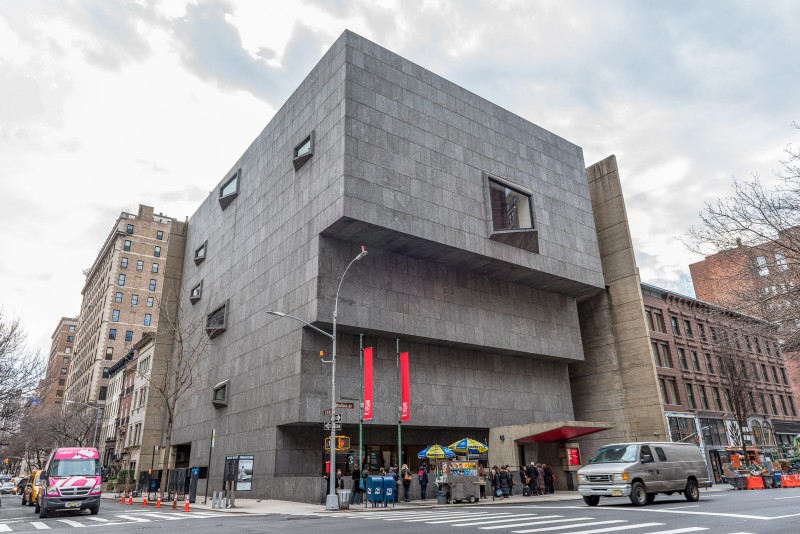 The Metropolitan Museum of Art
Sprawling doesn't even begin to describe this Manhattan institution: It's one of the few spots in the city where you could spend literally an entire day and see only a fraction of the holdings. Behind the doors of its iconic neoclassical facade lie 17 curatorial collections spanning countless eras and cultural perspectives, from prehistoric Egyptian artifacts to contemporary photography. Those seeking to satisfy their anthropological curiosity can explore the extensive assemblage of musical instruments, weapons and armor or the Costume Institute's centuries of wearable art. And for committed museumgoers who have made their way through the permanent collections—an admirable feat—special exhibitions merit return visits year after year. Recent blockbusters have examined the career of the late designer Alexander McQueen and featured the works of Pablo Picasso.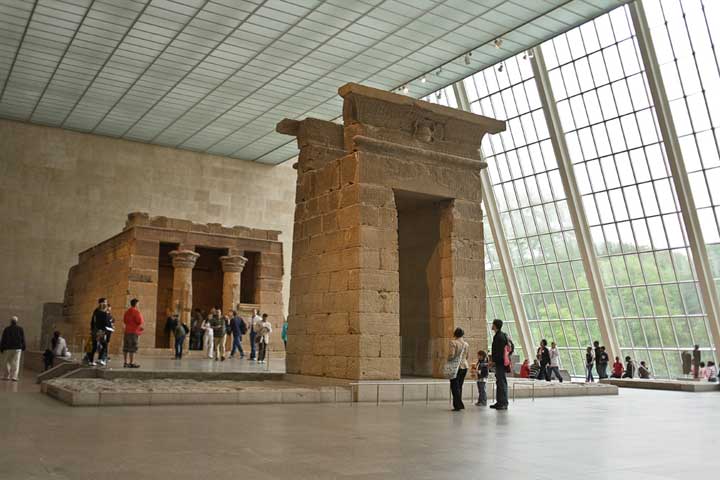 Museum of Arts and Design (MAD)
Located in a building originally constructed to house the now defunct Huntington Hartford Gallery of Modern Art, the Museum of Arts and Design (MAD) features cutting edge examples of ceramics, furniture design, fiber art and metalsmithing, all involving "processes ranging from the artisanal to the digital," as its mission statement put its. As a result, MAD often mounts some of the liveliest shows of contemporary art around. Packed with amazing things to look at, MAD is definitely worth a visit.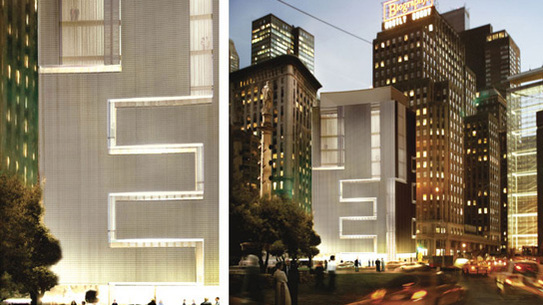 Museum of Modern Art (MoMA)
Sure, you could spend a day getting lost in the permanent exhibits, which showcase all manner of priceless pieces from renowned artists. But just as essential are this museum's other elements, including an attached cinema that combines art-house fare and more accessible offerings, a sculpture garden with works by Picasso and Rodin, and the Modern, a high-end restaurant and bar run by Danny Meyer. Free Fridays, an alluring prospect considering the sizable entry fee, are best left to the tourists and penny-scraping students; visit the museum when you can hunker down for a while.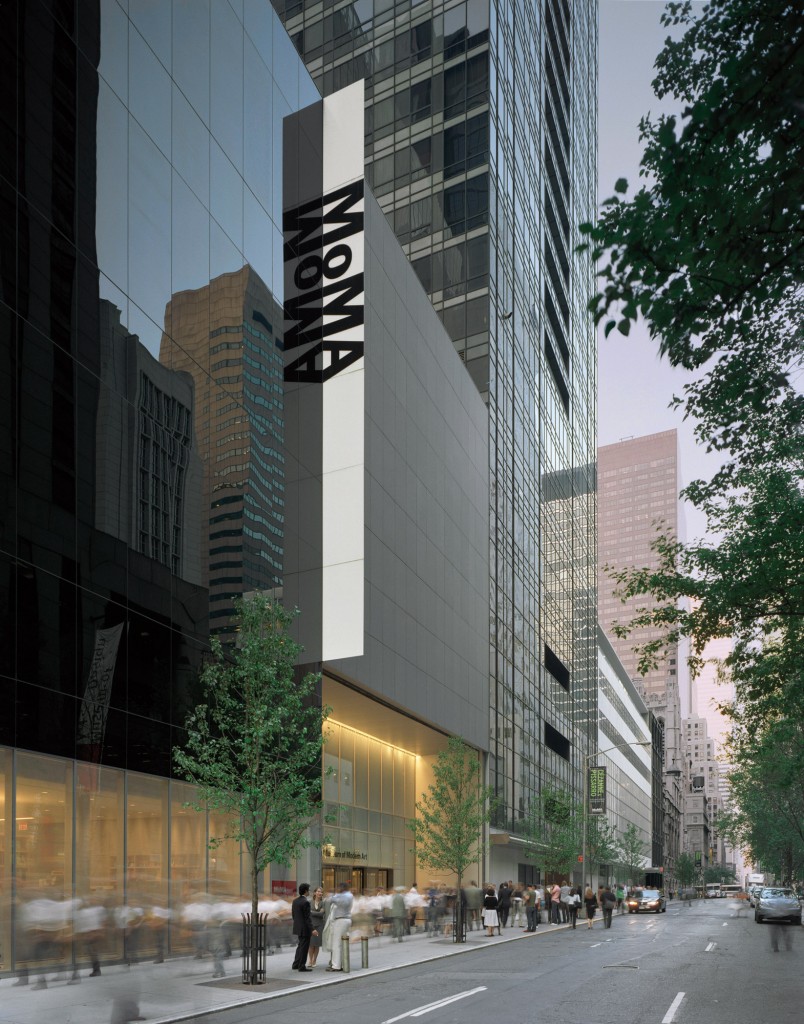 MoMA PS1
While we can't ignore the virtues of its Manhattan forebear, this Long Island City offshoot distinguishes itself with a constantly evolving lineup of cutting-edge artwork and programming. Not only does PS1 bring in noteworthy artists from around the globe (Janet Cardiff, Olafur Eliasson), it curates one of the city's premier summer events, Warm Up, bringing together innovative installations and live music to challenge visitors' expectations of what art can be.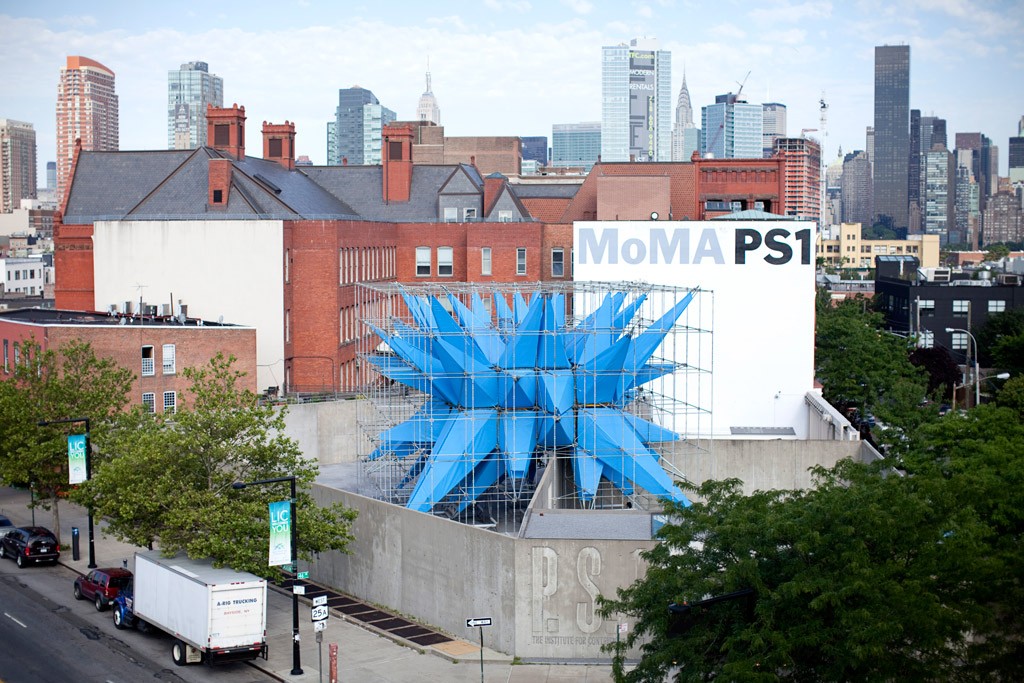 New Museum of Contemporary Art
The first new art museum ever constructed from the ground up below 14th Street, the aptly named New Museum marks a major contribution to the continuing revitalization of downtown Manhattan. The bold seven-story building, designed by the cutting-edge Tokyo architectural firm Sejima + Nishizawa/SANAA, opened in December 2007, housing three main gallery levels, a theater, a café operated by Hester Street Fair and roof terraces. The focus here is on emerging media and surveys of important but under-recognized artists—further evidence of its pioneering spirit.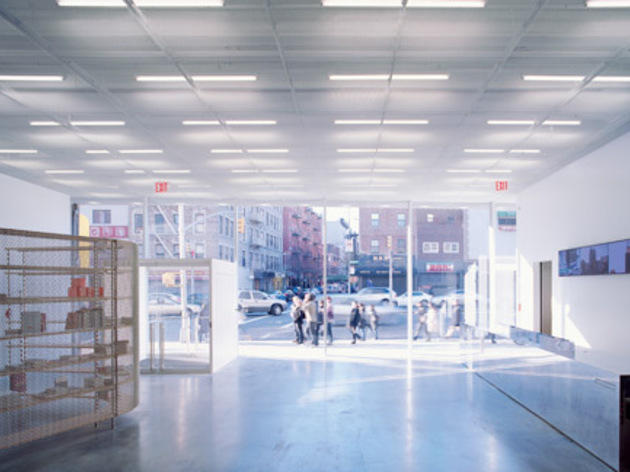 Solomon R. Guggenheim Museum
Frank Lloyd Wright's concrete edifice became the home of the eponymous philanthropist's collection in 1959; today, the iconic spiral is considered as much a work of art as the paintings it houses. In addition to pieces by masters such as Manet, Picasso and Chagall, the institution holds the most Kandinskys in the U.S., as well as one of the largest collections of Mapplethorpes in the world. And yes, there is a right way to see the exhibits: as Wright intended, beginning at the bottom and moseying around to the top.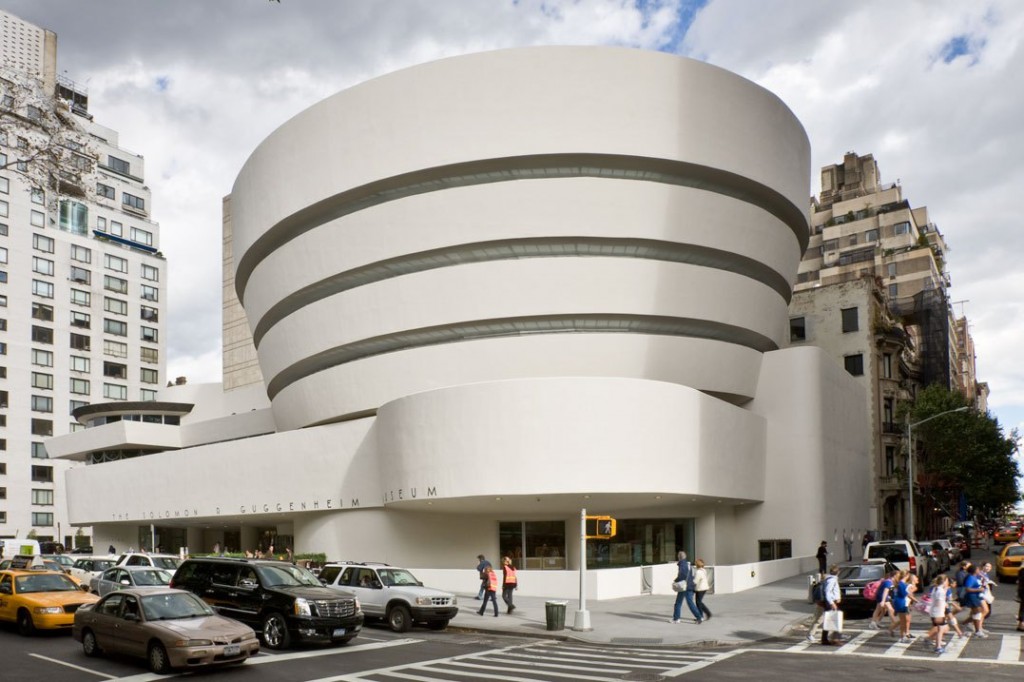 Whitney Museum of American Art
After nearly 50 years in its Marcel-Breur-designed building on Madison Avenue at 75th Street, the Whitney Museum decamped in 2015 to a brand new home in Lower Manhattan's Meatpacking District, conceived by international starchitect Renzo Piano. Planted at the foot of the Highline along Ganesvoort Street, the new Whitney building boasts some 63, 000 square feet of both indoor and outdoor exhibition space. Founded in 1931 by sculptor and art patron Gertrude Vanderbilt, the Whitney is dedicated to presenting the work of American artists. Its collection holds about 15,000 pieces by nearly 2,000 artists, including Alexander Calder, Willem de Kooning, Edward Hopper (the museum holds his entire estate), Jasper Johns, Louise Nevelson, Georgia O'Keeffe and Claes Oldenburg. Still, the museum's reputation rests mainly on its temporary shows, particularly the exhibition everyone loves to hate, the Whitney Biennial. Held in even-numbered years, the Biennial remains the most prestigious (and controversial) assessment of contemporary art in America.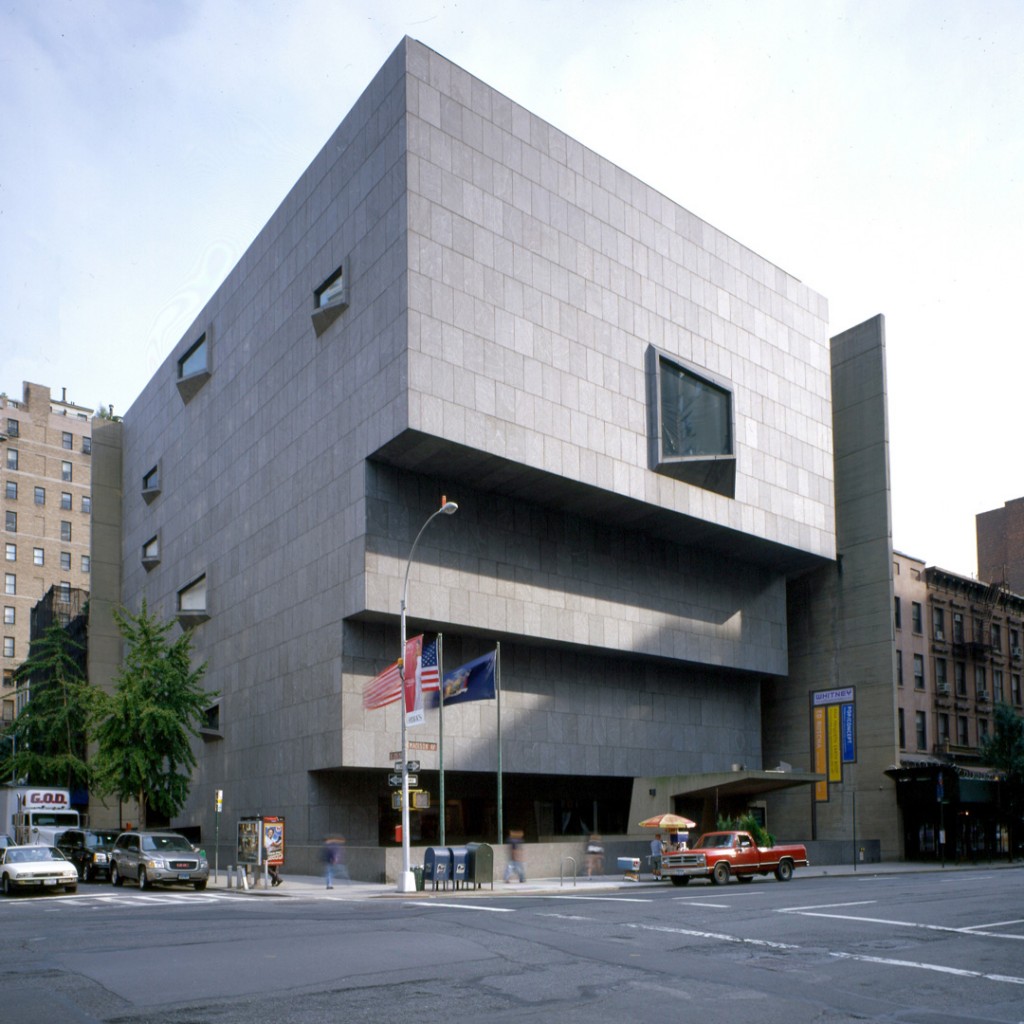 The best Christmas events for kids are right under your nose! These special picks will have the littles ice skating, checking out gorgeous holiday windows, seeing renditions of the Nutcracker and working together on super fun crafts. You'll want to check out the Radio City Christmas Spectacular, stop by one of many amazing holiday train shows, grab a cup of the best hot chocolate and more.
Columbus Circle Holiday Market
Run by the same company that organizes the Holiday Market at Union Square, this alfresco fair offers much of the same merchandise as its predecessor with an emphasis on creating a European piazza atmosphere. Said to have been designed with Copenhagen and Munich in mind, the holiday hot spot is the perfect place to meet a friend, shop for the family or simply enjoy the novelty of browsing at the edge of Central Park. Look for handmade wooden puzzles, gingerbread houses and kits, and lots of sweets from local vendors. All ages.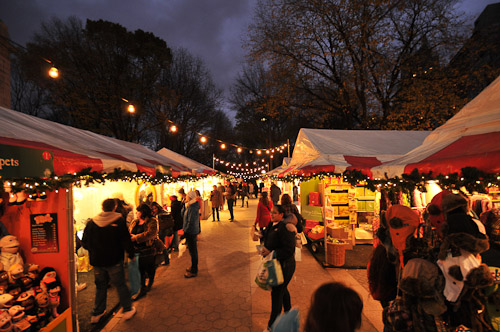 Radio City Christmas Spectacular
Every year, this holiday stalwart gets families in the spirit with Santa appearances, colorful sets and, of course, one-of-a-kind dance numbers from the impressive Rockettes. Enjoy classic routines like "Parade of the Wooden Soldiers" and "New York at Christmas," in which dancers journey through the city on a double-decker bus, and keep an eye out for exciting new additions as well. The show now incorporates advanced technology throughout, taking the audience on a wild ride via 3D glasses and a flying LED screen, and one number even sends a host of helium-filled, GPS-enabled iridescent snowflakes floating high above the audience, transforming Radio City into a sparkling winter wonderland! All ages.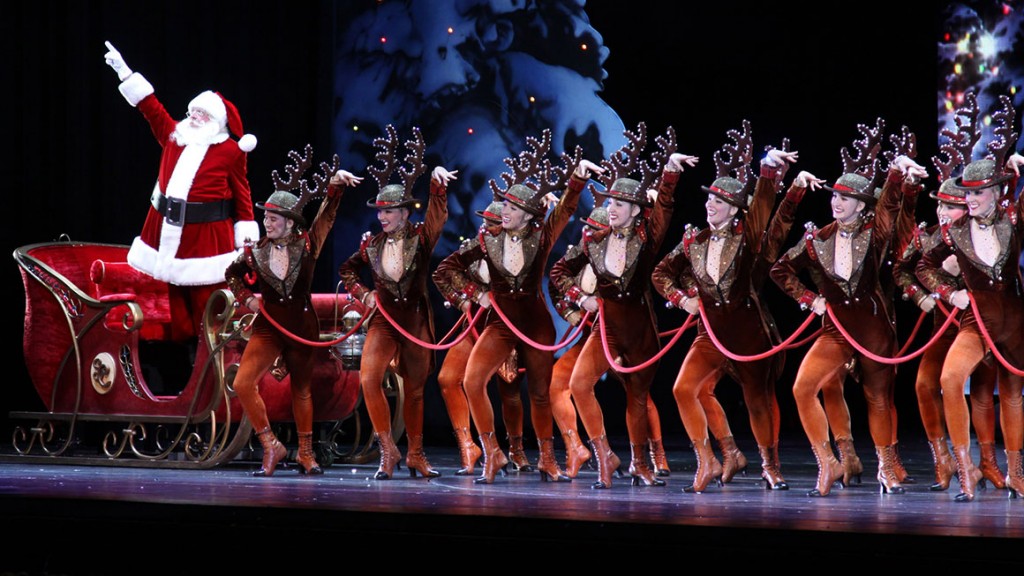 Breakfast with Santa at Rock Center Cafe
Flanked by glittery angel sculptures and New York's famously giant Christmas tree, Rockefeller Center is the backdrop to this merry holiday breakfast with Santa. Enjoy brioche french toast, applewood smoked bacon, scrambled eggs & breakfast pastries as you watch the skaters whiz by, knowing soon you and the kiddies will be joining them after your yummy meal! But don't forget to hit the candy bar, where the children can create their own treat filled souvenir bags before convening to the 'Throne Room' for pictures with Santa. All ages.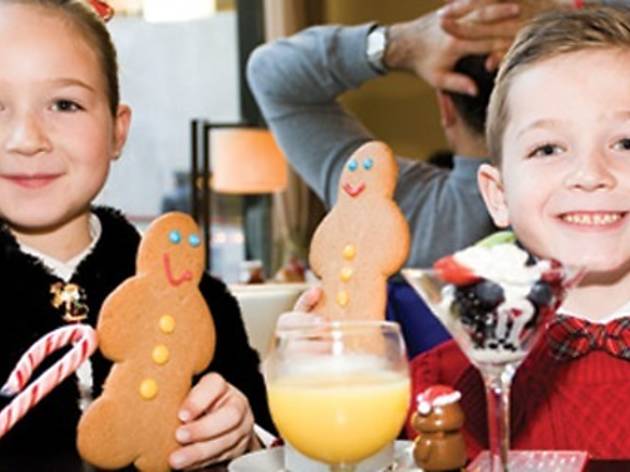 New York Botanical Garden Holiday Train Show
Whatever holidays you celebrate, this beautifully lit exhibition makes a festive excursion for the whole family. With 3,000 added square feet of space this year and more than a dozen large-scale model trains zipping over a quarter mile of track, it's NYBG's biggest train installation to date! Elaborate displays composed of moss, twigs and leaves are anchored by 150 NYC landmarks, each reconstructed painstakingly using natural materials: You'll see the Empire State Building, the Unisphere and other familiar structures crafted from unique elements like lotus pods, hemlock cones, walnut shells, acorn caps, bamboo and cinnamon curls. New to the display is a whimsical collection of architecture and attractions from Coney Island. All ages.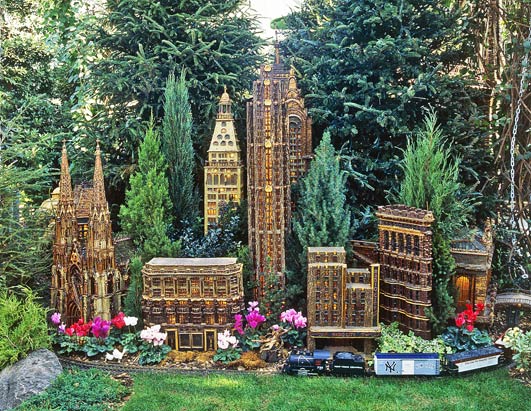 By: timeout

One of the most attractive things about Puerto Rico is its geographical diversity that varies from the beaches and coastline, to the forests, rivers and mountains. This diversity has laid a solid platform for a range of extreme sports and many adventure tours in Puerto Rico. Here are some of the most exciting extreme sport sites and adventure tour sites located in this unique land.
Exploring El Yunque
This is a beautiful and exciting subtropical rain forest located in the Northeastern part of the Puerto Rico. Although El Yunque is relatively a smaller rainforest (with an area of 28,000 acres), it is rich in diversity and has splendid characteristics. As per the ancient myths, El Yunque was the home to God Yuquiyú.
If you plan to go on an adventure tour to El Yunque, you will find highly diversified amount of flora. There are hundreds of fern species which are exceptional to this part of the world. Apart from that, you will be able to see various small endemic animal species like pygmy anole, coquí tree frog and Puerto Rican Parrot.
Beach area
Puerto Rico hosts over 270 miles of beautiful beaches. Every inch of theses beaches is a part of an adventure. There are plenty of actions waiting for you in the sparkling blue waters. Surfing, diving, paddle boarding, kite surfing and extreme kiting are some of the extreme type sports you can perform in the beautiful blue waters of Puerto Rico.
Kite-boarding
If you have selected Puerto Rico to be your holiday destination, you can simple update your "to-do" list by adding kite-boarding to it. If you need professional assistance, there are plenty of skilled kite-boarders to instruct you and let you to experience an exciting, adventurous activity. This sport is a combination of multiple sports like waterskiing, windsurfing and paragliding. Puerto Rico waters offer ideal type of waves and currents while the surrounding pumps necessary adrenaline to make this activity a more exciting one.
Hang Gliding
If you prefer aerial adventure, try gliding in Puerto Rico. The excitement you would feel when gliding your canopy over the El Yunque Rainforest is simply indescribable. Although it looks terrifying at a glance, hang gliding is a relaxing act once you practically do it. There are plenty of instructors in Puerto Rico to guide beginners with hang gliding; you don't have to worry a bit even if you are a beginner.
Zip-line Toro Verde
Thanks to the versatile landscapes in Puerto Rico, it has several places to be engaged in Zip-lining; Toro Verde is one of the most appealing sites for such activity. Zip-lining is an activity done using a pulley attached to a strong steel cable at a certain incline. All you have to do is to get strapped into the provided harness and allow gravity to move you to the other side.
Apart from that, there are plenty of other activities to be engaged in Puerto Rico. It is always advisable to visitors, however, to engage in these activities with the assistance of trained professionals who are widely available to book.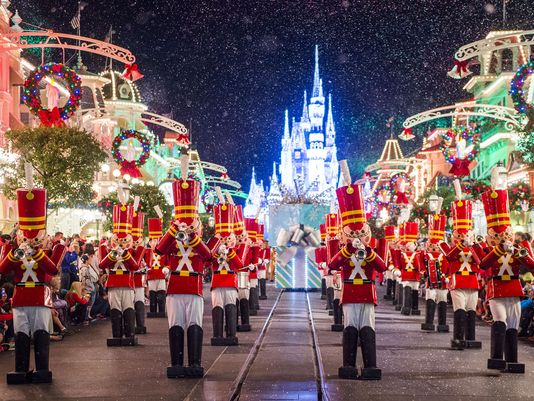 Lights twinkle year round at Mickey's Florida home, but during the holiday season Walt Disney World positively sparkles. Some of the largest crowds of the year descend on the resort to enjoy its decked halls, Christmas-themed shows, and other holiday hoopla along with the parks' celebrated rides and attractions.
With new Toy Story and Star Wars lands in development at Disney's Hollywood Studios, the long-running Osborne Family Spectacle of Dancing Lights lost its home for the holidays this year. But lights are still blazing at the movie-themed park with the new Jingle Bell, Jingle BAM! nighttime show. Included with admission and scheduled to run nightly through December 31 in front of the Chinese Theater, the presentation includes eye-popping projections, lasers, fire blasts, and pyrotechnics. It uses the theater's facade and adjacent buildings as enormous screens.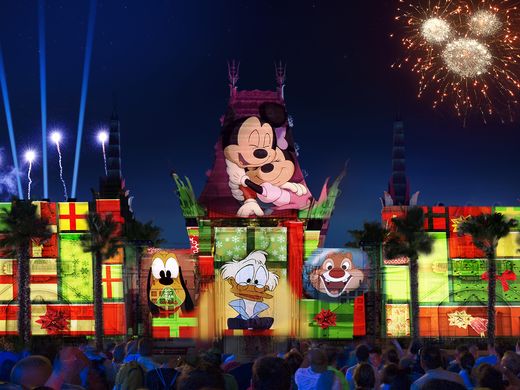 Characters from Disney's Prep & Landing animated TV special anchor Jingle BAM. In order to save Christmas, they are on a mission to locate Santa Claus, who has mysteriously disappeared. Woven into the show are winter scenes from classic cartoons starring Donald Duck, Chip and Dale, Bambi, and others in the Disney canon. Tim Burton's quirky The Nightmare Before Christmas gets a shoutout as well.
When the Mouse House first began incorporating digital mapping projections in its kiss-goodnight shows, the imagery was largely impressionistic. With projection technology and artistry improving and evolving, Jingle BAM! offers crisp, bright, and extended narrative scenes, creating a linear story arc that is easy to follow and engaging.
"We wanted to reinvent how we use lasers and projections," says Tom Vazzana, show director at Walt Disney World. He adds that his mantra for the holiday show was, "Let's go sharper and more story-driven."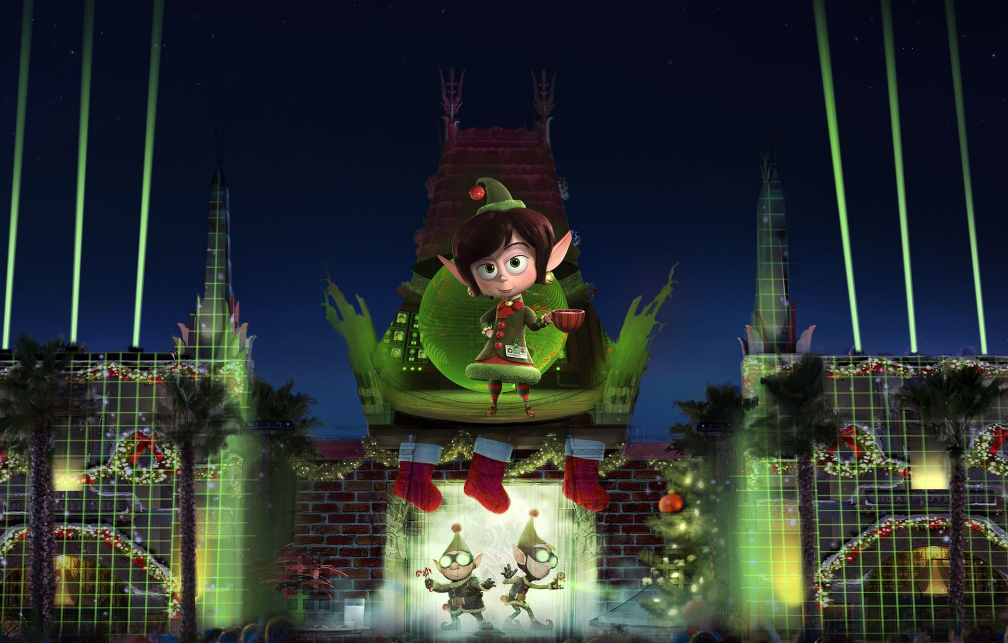 One of the show's highlights was a happy accident. During rehearsals, Vazzana's team was running the overhead snow machines while a technician was playing with the lasers. "We split the laser so it was green on the sides and red in the middle like a ribbon and it caught the snow," he explains. "I said, 'This is gorgeous!' How do we capitalize on it?" Laser-enhanced snow now falls on mesmerized Jingle BAM! crowds.
It's not really a spoiler to say that Santa is rescued, and Christmas is saved. The finale, choreographed to a rousing rendition of "Rockin' Around the Christmas Tree" that was recorded by a 60-piece orchestra, is a riot of fireworks, lasers, and projections.
Cinderella Castle at the Magic Kingdom also serves as a canvas for festive holiday projections as part of Mickey's Very Merry Christmas Party. The separately ticketed event is being held on select nights through December 22 with adult tickets ranging from $91 to $99 depending on the date.
New this year during the party is Mickey's Most Merriest Celebration, a show that includes characters such as Daisy Duck, who sings about cell phones and text messages (really!), and Clarabelle Cow. The under-the-radar (or is that udder-the-radar?) toon turns out to be quite the soulful diva. As the musical numbers unfold on a stage in front of the castle, projections supplement the action and animate the iconic building. The show will be staged for regular park guests from December 23 to 31.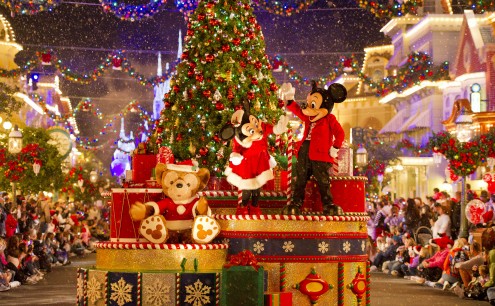 Projections onto the castle are also featured in A Frozen Holiday Wish. The returning Christmas Party show features the ubiquitous "Let It Go" crew. Festive projections complement the pyrotechnics as well for the Holiday Wishes – Celebrate the Spirit of the Season fireworks show. And toy soldiers, reindeer, and other holiday ambassadors march through the Magic Kingdom for Mickey's Once Upon a Christmastime Parade. Both Christmas Party and daytime guests at the Magic Kingdom can groan at the silly puns shared by the skippers aboard the renamed-for-the-season Jingle Cruise. The holiday-themed version of the beloved attraction runs through the end of the year.
Each evening from November 25 to December 30, Epcot will present Candlelight Processional. Celebrity guests, including Whoopi Goldberg and Meredith Vierra, will narrate the Christmas story. A choir and 50-member orchestra will join them.
Also, the countries represented in Epcot's World Showcase, including Mexico and the U.K., will demonstrate their traditions in Holidays Around the World. New this year, the park will offer holiday treats from around the world in booths set up along the promenade. In the Future World area of the park, a gospel choir will perform holiday favorites. And the nightly IllumiNations will include some Christmas cheer amid the fireworks. All of Epcot's holiday presentations are included in general admission.
By: usatoday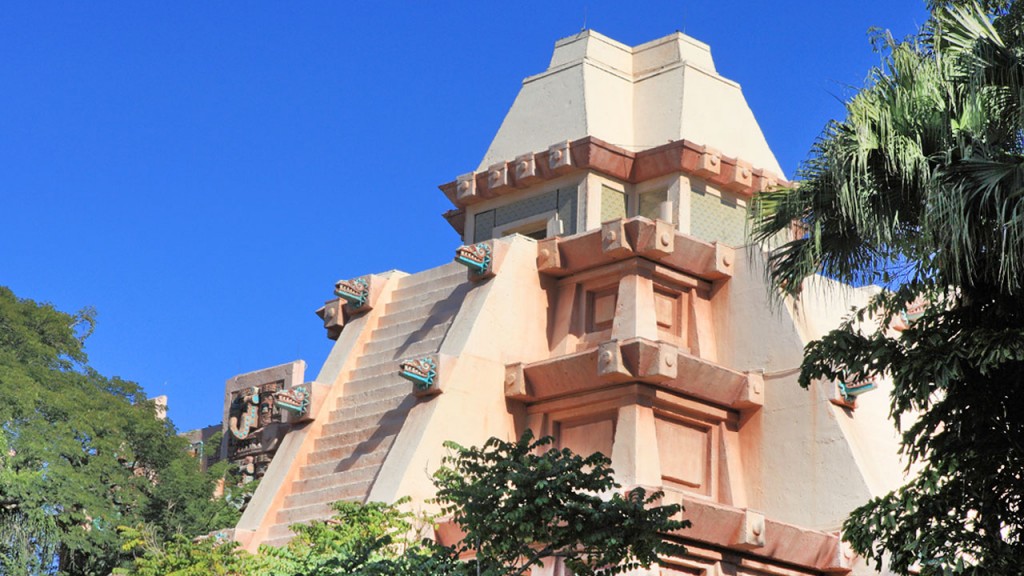 Each month this year, I've traveled around World Showcase at Epcot sharing looks at beautiful architecture and unique products found in each pavilion. This month, my unforgettable shopping adventure concludes with a visit to Mexico Pavilion.
Within the majestic pyramid of the Mexico Pavilion, visitors will find the Plaza de los Amigos located just past a gallery containing historic artifacts.
The plaza is an "open air" marketplace with festive carts and shops such as La Tienda Encantada that carries accessories and fine jewelry, or La Princesa de Cristal that is home to crystal and glassware by Arribas Brothers.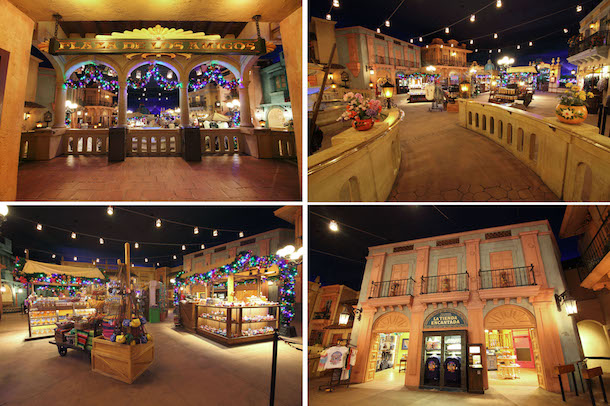 In the plaza, visitors will also find the Gran Fiesta Tour attraction starring The Three Caballeros; the San Angel Inn Restaurante that is modeled after a 17th-century hacienda at the base of Mayan ruins; and La Cava del Tequila that has over 200 tequilas, top-shelf cocktails, Mexican beer and wine.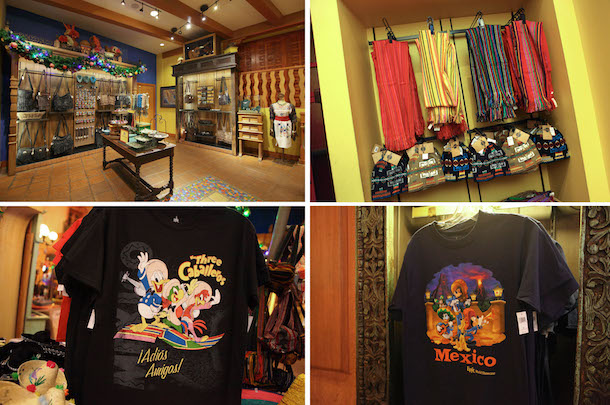 I love how the inside of this pavilion feels like perpetual twilight. I enjoyed strolling throughout the plaza while looking at the colorful assortment of glassware, food items, leather goods, and decorative figurines. During my visit, I also found apparel and drinkware featuring Disney characters, and beautiful handcrafted Mexican jewelry and scarves.
Finally, I was delighted to see products celebrating Día de los Muertos. Visitors will find T-shirts created especially for World Showcase, jewelry, handbags, home goods and more. They also recently introduced gorgeous handmade dolls inspired by this annual celebration.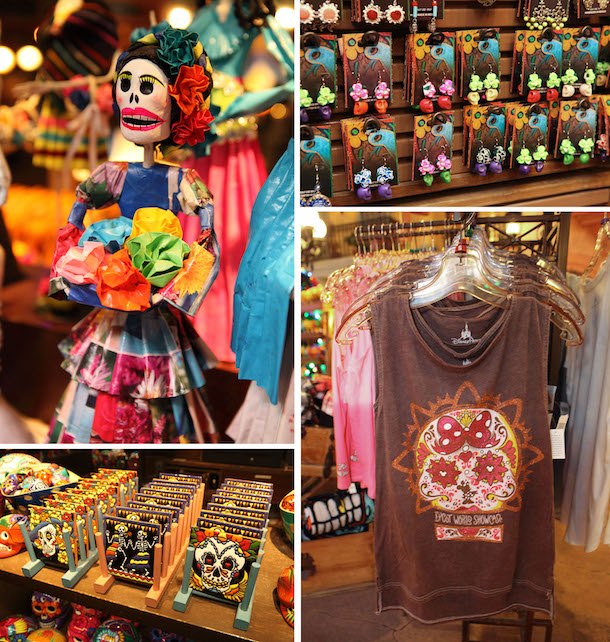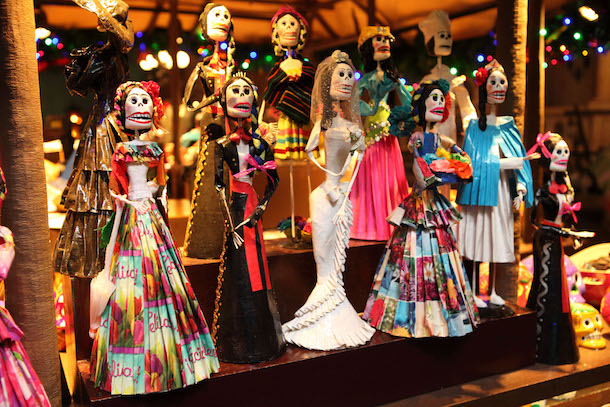 By: disneyparks.disney.go