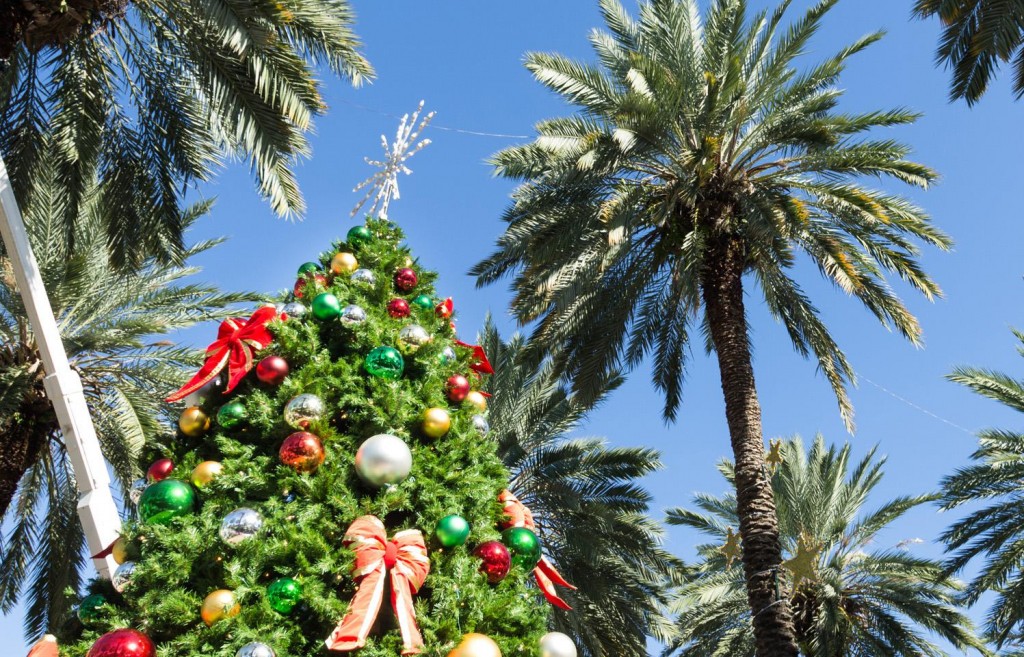 While much of the country looks forward to snow and sleigh bells, yuletide in the 305 promises sunshine, frolicking in South Beach and parties at every turn—from Key Biscayne to Coral Gables to downtown Brickell. Overwhelmed by the number of things to do in Miami? Relax, put on some Christmas tunes and peruse our list of the best Christmas events in Miami.
Best Christmas events in Miami
Kiwanis Christmas Party
The Miami Seaquarium opens its doors after dark for the 41st edition of Kiwanis Club of Little Havana's annual Christmas gala. Your ticket buys you unlimited cocktails from a Bacardi open bar, food from local restaurants and access to performances by salsa legend Rey Ruiz, Grammy-winning musician Marlow Rosado alongside la Riqueña, SonLokos and many others. Proceeds from the event, hosted by iHeart Radio's Enrique Santos, benefit the club's holiday project, A Toy for Every Child.
The Hip-Hop Nutcracker
Kurtis Blow, the pioneer responsible for the first gold-record rap song, acts as MC and electric violinist during this transposition of the classic E.T.A. Hoffmann story to 1980s New York. Jennifer Weber's choreography brings a new audience to Tchaikovsky's music, thanks to remixed hip-hop interludes.
A Christmas Carol, The Musical
Introduce the kids to Tiny Tim and the Cratchit clan via a musically charged adaptation of the festive holiday classic. Special lap tickets are available for tiny audience members (children 12 months and under).
Ultimate Holiday Movie Series
Enjoy three days of screenings in December as Time Out Miami turns two of the city's finest breweries and bars into exciting seasonal pop-up cinemas. There'll be screenings of your favorite Christmas movies, there'll be drinks, and there'll be no excuse not to round up your friends and join us at these movie parties where we'll be ringing in the season in style. We've picked three of the most loved modern holiday movies to share with you: Home Alone,Elf and National Lampoon's Christmas Vacation.
Holiday Evening at Vizcaya Museum & Gardens
Spend an evening strolling the grounds, specially decorated for the holidays just as they would have been 100 years ago when James Deering called the museum home. Wander through the Main House after dark (an opportunity that comes but twice a year), gather round the organ for traditional holiday tunes and celebrate the season with complimentary cocktails and sugary treats.
Sights and Sounds of the Season
Listen to Christmas carols and festive holiday songs from around the world performed by the renowned New World Symphony, under the direction of conductor Dean Whiteside. This year's program includes selections from The Nutcracker and 'Twas the Night Before Christmas.
George Balanchine's The Nutcracker
For 27 holiday seasons, Miami City Ballet has been producing an identical version of the Balanchine/Tchaikovsky fairy tale. This year, the company reinvents The Nutcrackerwith brand-new sets and costumes. The purists, meanwhile, can put down the pitchforks: It's still Balanchine and it's still Tchaikovsky.
Christmas caroling on Lincoln Road
Sing your favorite holiday tunes up and down Lincoln Road, and wind up belting out songs over cocktails. The festive event kicks off at Segafredo and continues through the illuminated outdoor mall with stops at shops along the way.
Santa's Enchanted Forest
The world's largest holiday theme park (at least according to the website) returns for its 35th season with more shimmering lights (more than two miles of bulbs!), bigger carnival rides (including the tallest traveling Ferris wheel in the United States) and only-in-Miami experiences. The county-fair-meets-winter-wonderland is chock-full of amusement rides, carnival games, photo ops with Santa and his helpers and an assortment of fair food—think fresh doughnuts, funnel cakes and more.
Winter Shorts
City Theatre's Winter Shorts is a fast-paced, 85-minute program comprising eight short plays, each running no more than 10 minutes. The eccentric assortment of holiday-themed productions includes Oy Vey Maria, Mark Harvey Levine's cheeky nativity comedy, and Becky's Christmas Wish, Ashley Lauren Rogers's dark short about a fraught sibling relationship.
By: timeout

Essential Mickey's Very Merry Christmas Party Tips
Holidays at Disney are a magical time of year. One of the most exciting events is Mickey's Very Merry Christmas Party. This special event happens just a few times a week in November and December each year. Adults and kids can have a great time if they plan wisely and know what to expect. Keep reading for our best Mickey's Very Merry Christmas Party tips.
Purchase A Ticket
First, purchase a ticket. This tip may seem like a "no-brainer," but can be overlooked in the excitement that is Disney vacation planning. Mickey's Very Merry Christmas Party is a special or "hard ticket" event. That simply means that regular park passes or annual passholder guests will not automatically receive an entry with their ticket. However, if you do happen to visit the Magic Kingdom on your party day, you do not have to leave the park and return again at party time.
Traveling Mom Tip: Party guests can stay in the Magic Kingdom all day if they have regular tickets anda Christmas party ticket. Just make sure to visit a Cast Member close to party time to receive your party wristband or you risk being kindly escorted from the park when the party starts.
Save Park Passes For Another Day
Next, make wise use of other tickets. Contrary to the last paragraph, I don't think guests should visit the Magic Kingdom before their party. Park hopping tickets should be taken advantage of, but use them on other parks like Animal Kingdom or Epcot.
With a Mickey's Very Merry Christmas Party ticket, guests can enter the Magic Kingdom as early as 4 pm. With the party lasting until midnight, that's 8 hours of park time!
Don't Make FastPass+ Reservations
Don't bother with FastPass+ reservations. Fast Passes end on party day at 5 pm, so there is really no need to make them anyway.
Guests without a party ticket will begin leaving when the park closes at 6 pm. The party begins at 7 pm, and guests without a party wristband will not be allowed on rides. This significantly reduces the wait time for rides throughout the evening.
Ride Rides
Since party tickets are limited, wait times all over the park will be reduced. I only rode a few rides, but the other people in my party were excited to ride everything! Popular rides like Seven Dwarfs Mine Train and Peter Pan's Flight had as little as a 15-minute wait on our party night.
Traveling Mom Tip: Stay as late as you can at the party. Between 11 pm and midnight, rides will have almost no wait!
Meet Special Characters
Another special party tip is to take time to meet characters. Just like the Halloween party, certain characters make an appearance only on party days. Take advantage of their special appearances! This will be the longest wait of the night.
Some characters are very popular, including the Seven Dwarfs, Moana, and Nick Wilde and Judy Hopps. Other beloved characters, like Pluto and Goofy, come out dressed in their holiday finest. Be sure to grab a party map and times guide upon entering the party to find out when and where everyone meets.
Eat Party Treats
In addition to special characters, Mickey's Very Merry Christmas Party also has special treats! Complimentary cookies and milk (or hot cocoa or eggnog) are handed out at various stations throughout the park. There are also treats for purchase – only available during party time.
Traveling Mom Tip: Make use of that guide map! It not only shows where to meet characters but also where the free treat stations and purchasable treat stations are located.
Watch The Shows
There are several unique shows during the Christmas party, but only one has multiple viewings. "Mickey's Most Merriest Celebration" plays several times throughout the night on the Castle Forecourt Stage. The last two viewings of the show will be the least crowded.
Traveling Mom Tip: Don't miss "A Frozen Holiday Wish" or "Holiday Wishes." Elsa, Anna, and company light up the castle in spectacular fashion, and it only happens once during the evening. "Holiday Wishes" is the nightly fireworks extravaganza that also only happens once. Don't miss these two fun extras!
Enjoy Main Street U.S.A.
Finally, I typically avoid the Main Street area during my trips to the Magic Kingdom, but not during the party. It "snows" during the party and there is exclusive party merchandise to be bought. There's also nothing like watching "Mickey's Once Upon a Christmastime Parade" from Main Street. If that doesn't get you in the holiday spirit, I don't know what will.
Traveling Mom Tip: Stay late for the second viewing of the parade. It will be much less crowded and easier to see.
Above all, don't stress about cramming in everything to this one night. Enjoy the festive atmosphere, and, if you miss anything important, just plan a return trip next year!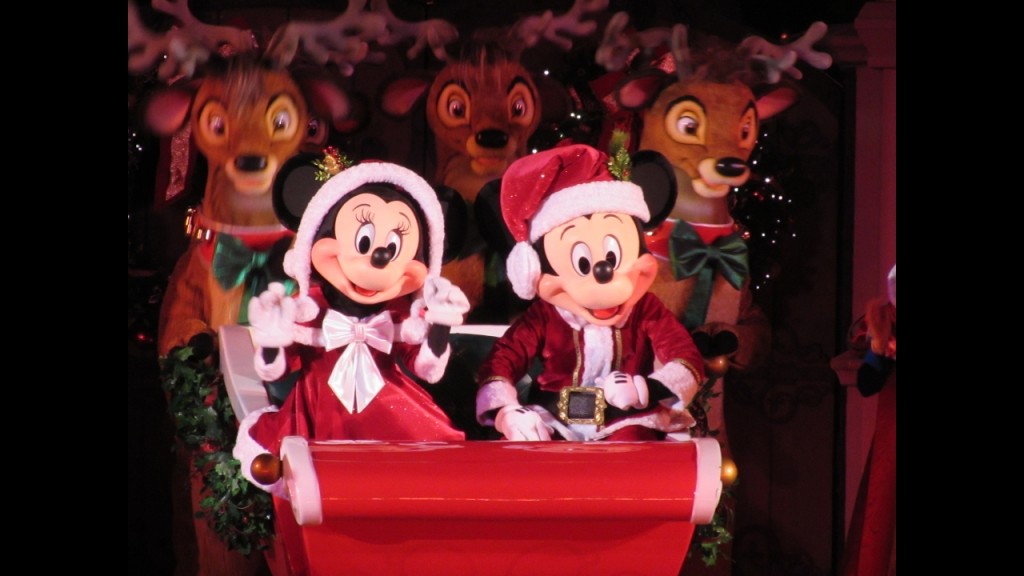 By: travelingmom