No son demasiadas pero sí algunas de las más populares, las atracciones con requerimientos de altura ponen un límite objetivo a la posibilidad de subir de muchos chiquititos.
En esta sección un breve repaso de su funcionamiento y la lista completa de Walt Disney World y Universal Orlando.
DETERMINACION
Todas las atracciones que verán listadas más abajo muestran con divertidos formatos la altura mínima requerida para subir.
Esas marcas se ubican habitualmente en la zona de acceso a la atracción, permitiendo que los niños puedan medirse y apreciar si han pasado o no la prueba de altura.
Un empleado del parque suele estar en el área y le pedirá al niño que pueda presentar dudas que se pare en el lugar indicado para medirlo.
Luego, ya en la zona de «embarque» de cada atracción, volverán a ver dispositivos similares para poder medir nuevamente al niño de altura dudosa que por alguna razón haya avanzado en la fila sin medirse al ingresar.
En determinadas atracciones pueden jugar dos tipos de limitación de altura: para viajar sólo (más centímetros) o para viajar acompañado (menos centímetros).
Excepto que lleven zapatos con suelas o tacos muy altos, todas las mediciones se realizan con el calzado colocado.
El nivel de flexibilidad en este ritual es igual a cero: o llegan o no llegan. Y si no llegan no podrán subir.
ATRACCIONES PARQUE POR PARQUE
Estas son las atracciones con requerimientos de altura en los parques de Walt Disney World Resort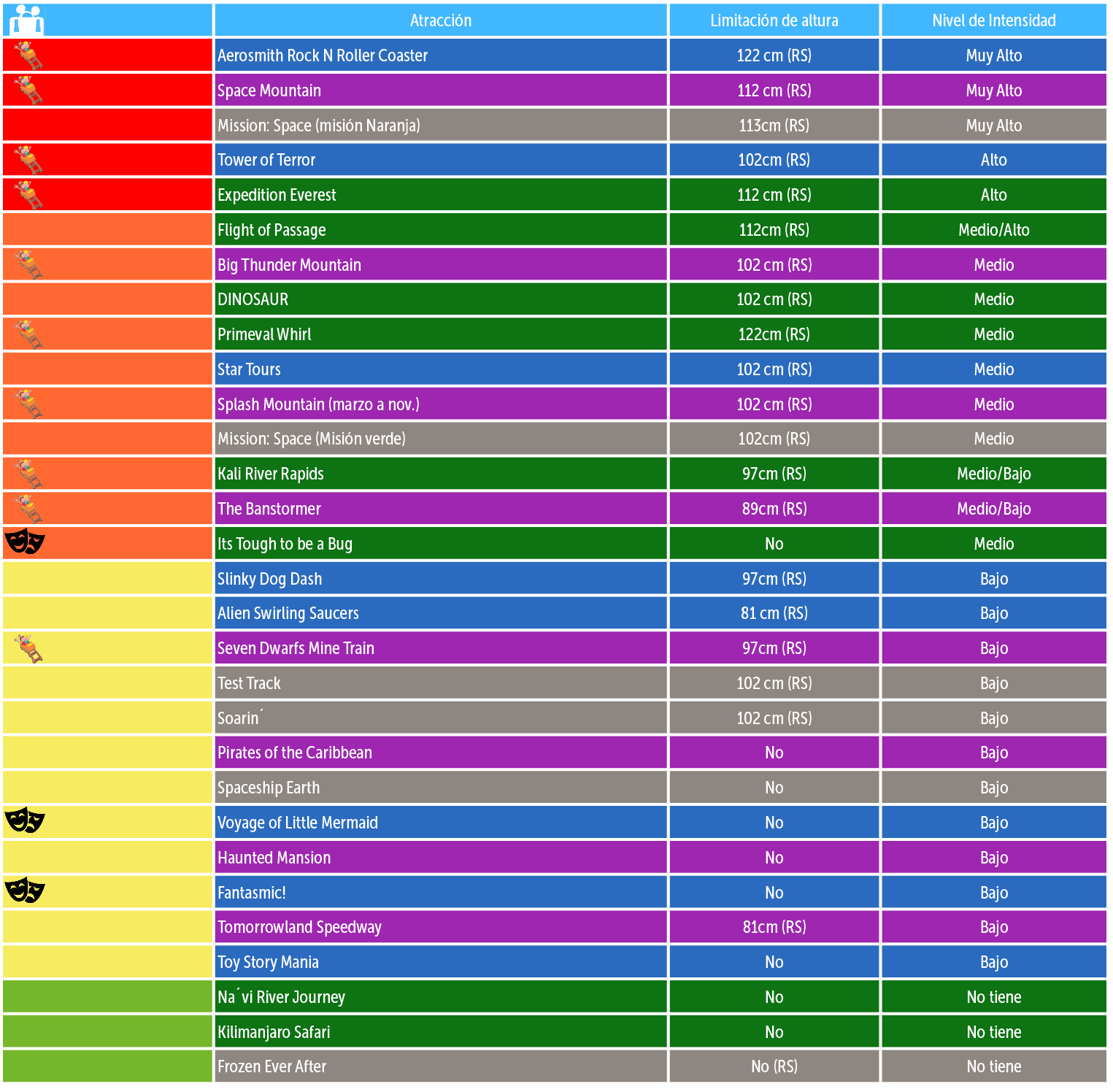 Los colores en la columna 2, 3 y 4 indican el parque al cual pertenece cada atracción: púrpura Magic Kingdom, gris Epcot, azul Hollywood Studios y verde Animal Kingdom
Estas son las atracciones con requerimientos de altura en los parques de Universal Orlando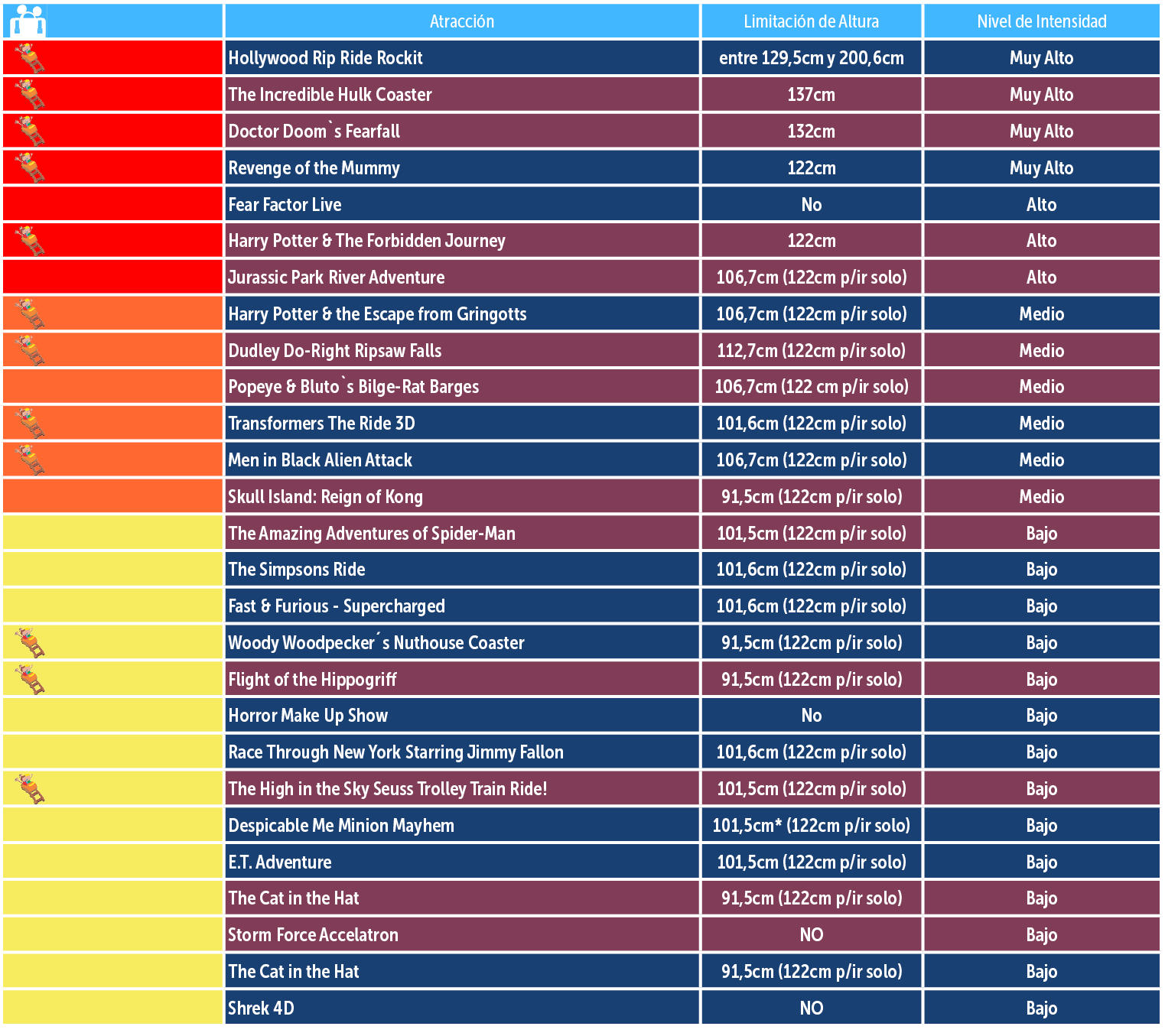 Los colores en la columna 2, 3 y 4 indican el parque al cual pertenece cada atracción: bordó Islands of Adventure y azul oscuro Universal Studios.
Fuente: viajeromagico.com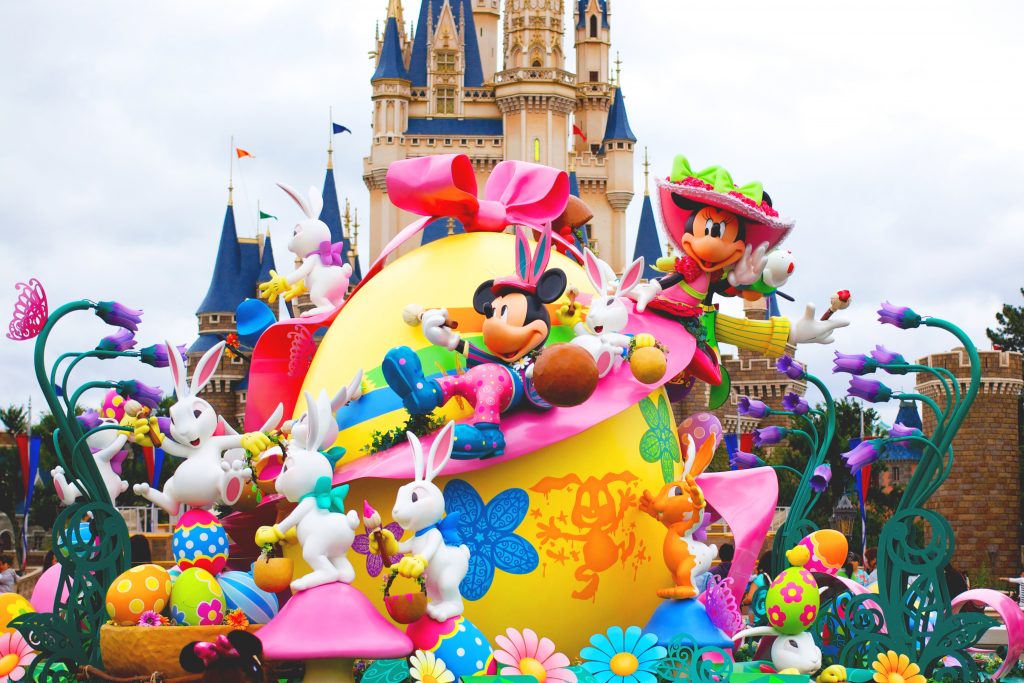 Modificaciones en horarios de cierres para Abril y Mayo. Algunas funciones dobles de Rivers of Light.
Disney modificó algunos horarios de los meses de Abril y principios de Mayo de 2019.
Las modificaciones se dan exclusivamente en Magic Kingdom y en Animal Kingdom.
En la mayoría de los casos se trata de horarios de cierre de una a tres horas más tarde a los previamente publicados.
Los efectos de Semana Santa se harán sentir y Magic Kingdom clausurará sus actividades a la medianoche en buena parte del mes (con un par de extra magic hours concluyendo 2am).
También se verifican algunas aperturas 8am, más tempranas a las previamente publicadas.
Animal Kingdom programa ahora funciones dobles de Rivers of Light entre el 6 y el 28 de Abril.
En Mayo, se verifican cierres más tarde para Animal Kingdom entre el 1 y el 4.
Fuente: viajeromagico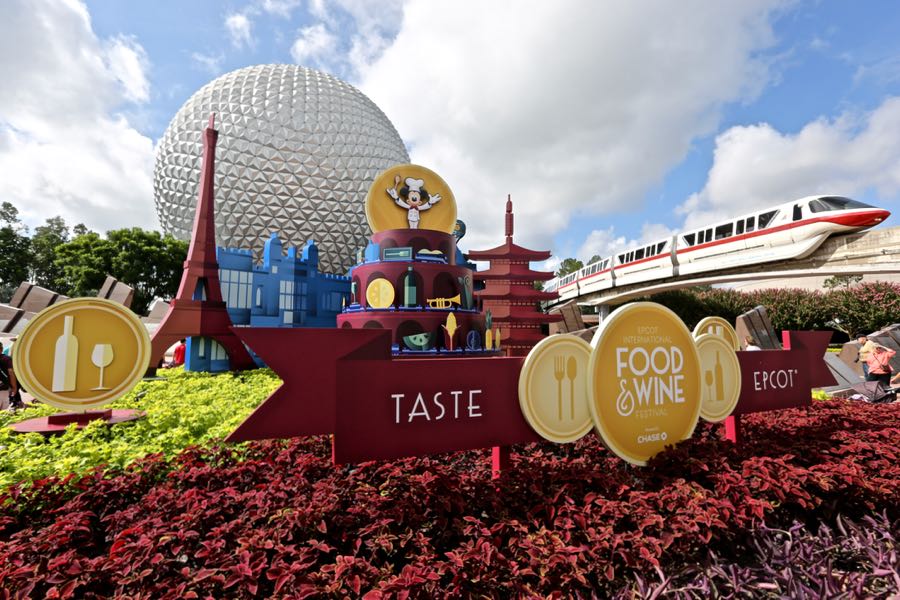 The food served at the World Showcase pavilions is a large part of Epcot's appeal. Visitors are often as excited about dining at the Disney World park's Le Cellier Steakhouse and Restaurant Marrakesh as they are about riding Test Track and Spaceship Earth. Epcot, therefore, is a natural setting for the resort's International Food & Wine Festival, which runs through November 13.
Now in its 22nd year, the festival has added features and booths (or "marketplaces" in Disney-speak) and extended its schedule to 75 days. What began as a way to boost attendance during the quieter fall shoulder season has grown into an enormously popular and grand-scale event. This year, there are 35 kiosks serving over 200 items, which can be purchased a la carte. Disney also offers an eight-item tasting sampler voucher. Although the sampler is convenient, it's generally less expensive to pay as you go.
The booths represent most of the park's country pavilions such as France and Japan, as well as many visiting nations and regions including New Zealand, Patagonia, and Belgium. There are also specialty marketplaces such as The Almond Orchard and Flavors from Fire, which features items that are muy picante.
Each booth typically offers three small dishes, a dessert, and a few wines or beers. The Spain market, for example, is serving a tasty seafood salad with mussels, scallops, and shrimp in a smoky vinaigrette. Other choices include paella as well as Spanish cheeses, meats, and olives that the festival is calling "Charcuterie in a Cone."
Spain's sweet offering is olive oil cake. During my culinary adventure at Epcot, I found that the dollop of lemon curd served with the dessert added a nice tartness. The cake was pleasantly moist, but it lacked a full-bodied taste of the Mediterranean country's famed, earthy olive oil.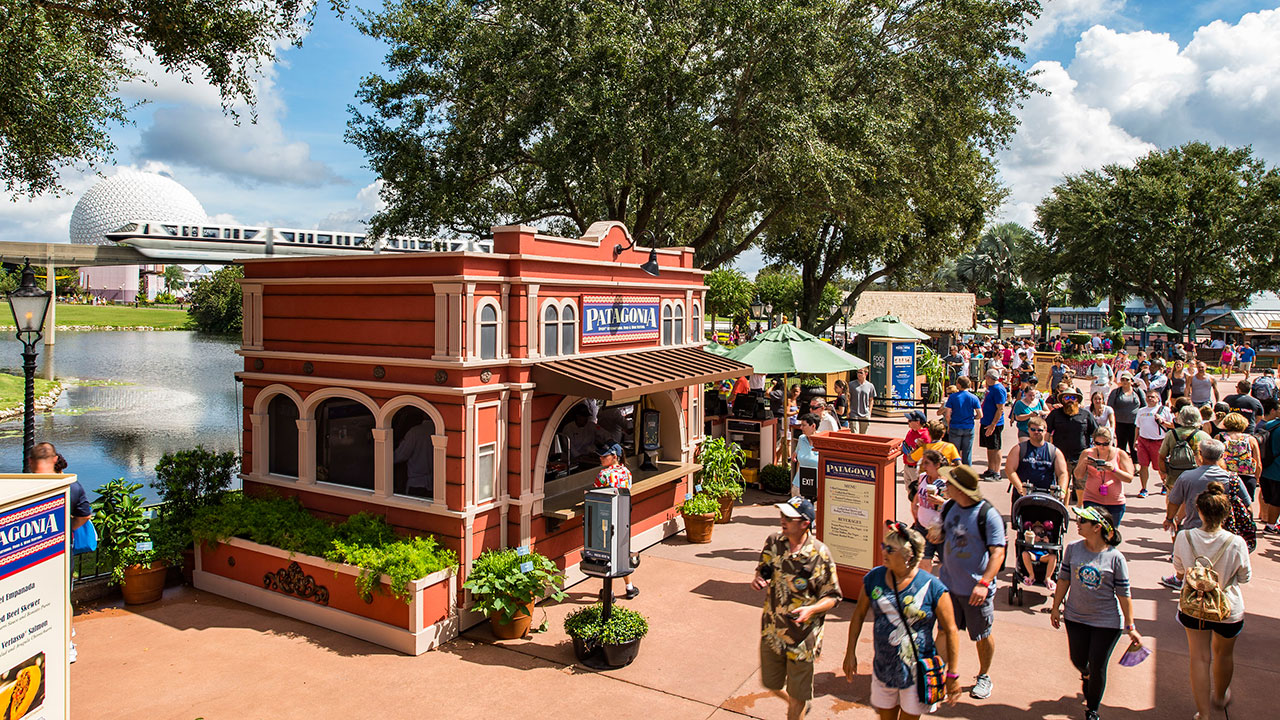 Among other standouts at the festival are two offerings from the Africa market. A spicy mint raita sauce gives the yummy fried spinach and paneer cheese pocket a jolt of unexpected heat. The Ethiopian red lentil stew is also fiery, but quinoa, yogurt, and other ingredients add complex flavors and textures to the dish. At The Cheese Studio booth, a scrumptious tart combines a garlicky boursin with onions and herbs that is topped with arugula salad.
The three preceding items are vegetarian. According to Rick DeCicco, Disney World's proprietor of festivals, they represent a trend. "Our guests have been telling us that they want more plant-based options." To accommodate the no-meat crowd, DeCicco and the event's chefs have been getting creative.
For instance, the festival's Loaded Greek "Nachos" have meatless sausage crumbles, vegan tzatziki, and pita chips. The quotes around "Nachos" on Disney's menu boards probably refer both to the loose interpretation of the classic appetizer as well as the fact that the dish, which is served in the Greece market, crosses national and cultural boundaries.
Since this is Disney World, it should come as no surprise that the festival's organizers also give children special consideration. "We cater to the entire family," says DeCicco. "There are specific items directed to kids that have been kid-approved."
He's not talking about the usual children's menu suspects (although the Active Eats booth offers a macaroni and cheese dish, albeit adorned with pepper bacon and green onions). The designated kid-friendly offerings include chicken pot stickers, Indian bread with dipping sauces, and a Caribbean puff pastry with guava sauce. The kids who approved those dishes must have sophisticated palettes.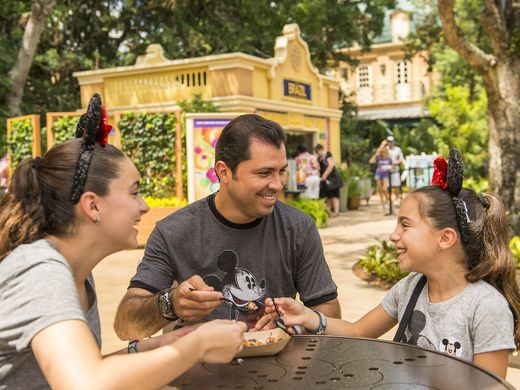 The festival has grown so much, it has expanded beyond the World Showcase side of the park and is encroaching into Future World. Booths that aren't tied to specific countries, such as Coastal Eats and The Chocolate Studio, are located in this area. An intriguing new market is the Light Lab. Located inside one of Epcot's former Communicore buildings, it offers concoctions, such as a drink made with sparkling wine and boba pearls, that glow amid the room's black lights. One of the Lab's hit items is the Glonut, a donut that radiates fluorescent violet hues.
The Festival Center, also located at Future World, hosts food and beverage exhibits, demonstrations, talks, seminars, and events, some of which require an additional fee. For example, on select Saturday evenings, the festival presents Party for the Senses. The ticketed events include dishes prepared by renowned chefs and wine parings.
If music be the food of love, Disney can cure that craving as well. The festival's Eat to the Beat concert series, which is included with admission to the park, features artists such as Boyz II Men, Kenny G, and Hanson performing nightly in the American Gardens Theatre. After chowing down on Loaded Greek "Nachos," the song "MMMBop" may take on a whole new meaning.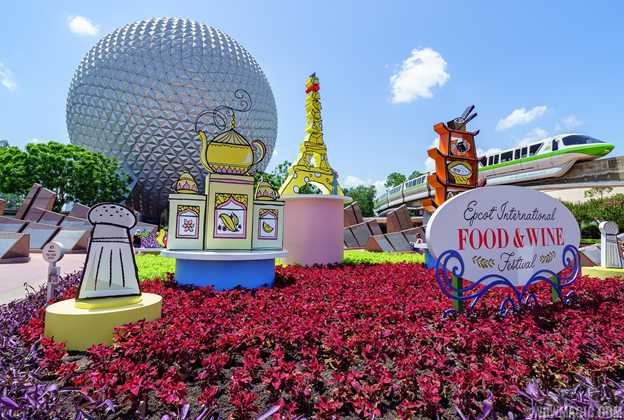 By: usatoday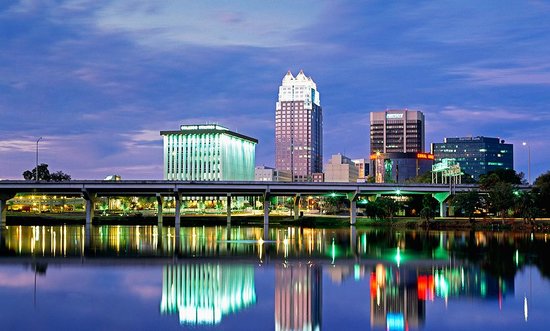 Before booking a trip to the Orlando area many travelers ask, "What month is the best to travel to Orlando Florida?"
The best month to travel to Orlando Florida is when the weather and crowds suit your preferences. For those who want to turn their Orlando trip into a beach vacation, or need to schedule their vacation around summer break for their children, a visit during Orlando's high season is often the best bet. The high season is March through April (spring break) June through August (summer break) and mid-December through early January (winter break).
The Orlando weather is at its most tropical during the steamy summer months. Mornings are sunny and hot, with clouds cropping up in the early afternoon and brief but powerful thunderstorms by the mid-afternoon. Fortunately, Orlando is home to four of the nation's most popular water parks—Typhoon Lagoon and Blizzard Beach at Walt Disney World, Wet 'n Wild on International Drive, andSeaWorld's water park Aquatica. Cocoa Beach is a popular destination for Orlando residents and visitors, and is only a few minutes away from Kennedy Space Center. Although the hurricane season is officially June 1 through November 30, the peak season for tropical weather is August and September.
If the heat or the crowds are a turnoff, low season in Orlando is traditionally the months of May, September, November through early December, and January after the holiday crowds have gone home. Temperatures are at their chilliest in December and January, which might be a big deal for Floridians, but northern visitors will find Florida's winter weather to be comparatively balmy (but bring a jacket anyway).
In between the high and low seasons are the times of year that are known as the "shoulder seasons"—February, late May to mid-June, mid-to-late August, and October. October is a particularly fun time of year because Universal hosts its Halloween Horror Nights—which is definitely not for the little ones—and Walt Disney World's Magic Kingdom hosts Mickey's not so Scary Halloween—which is geared for young children. October weather in Florida is similar to mid-summer weather "Up North," making it an ideal month to enjoy pleasant temperatures, fewer tropical disturbances and lighter crowds. The only downside is the possibility of having to take the kids out of school for a few days to have a vacation.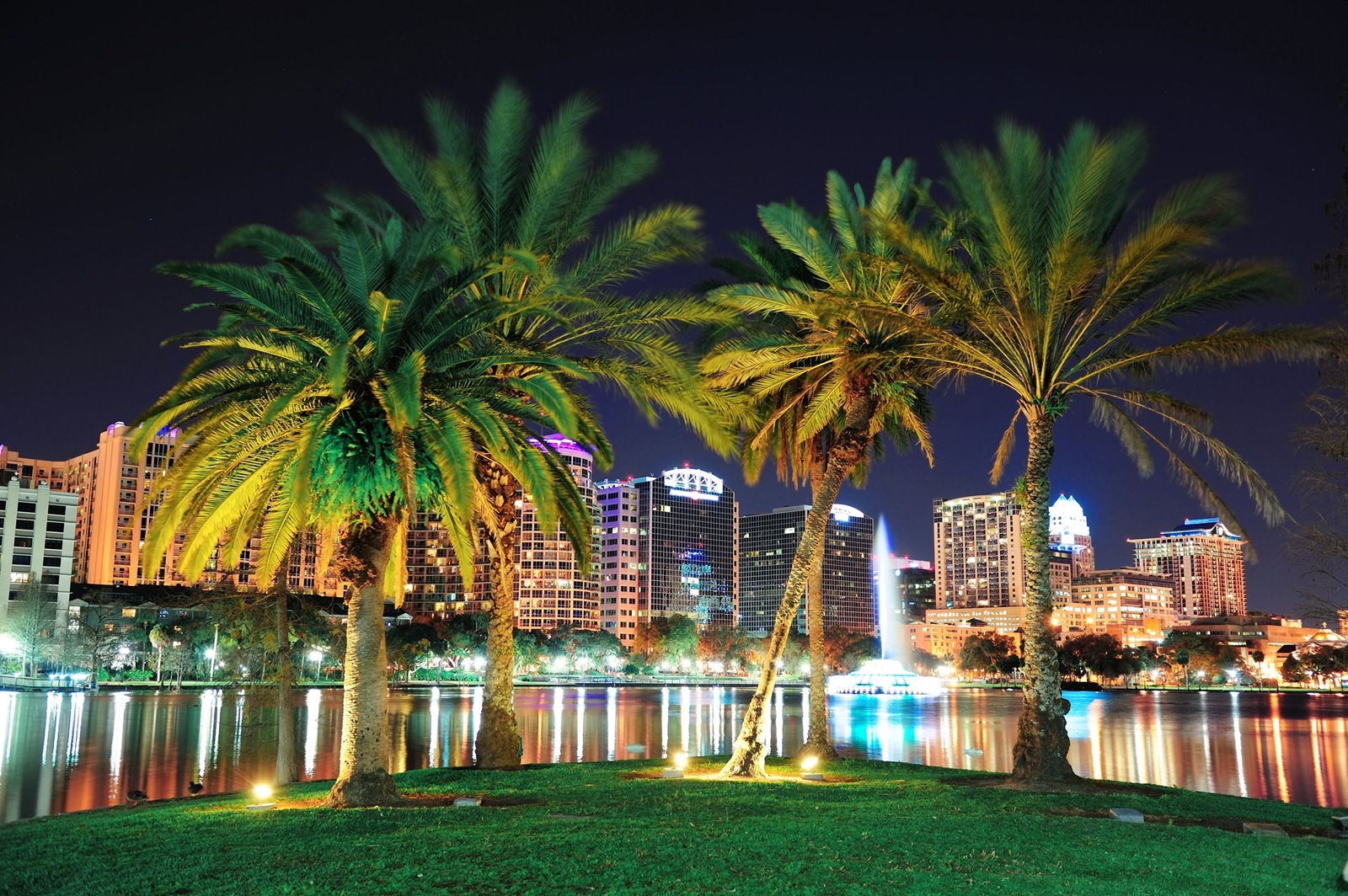 By: orlandoescape