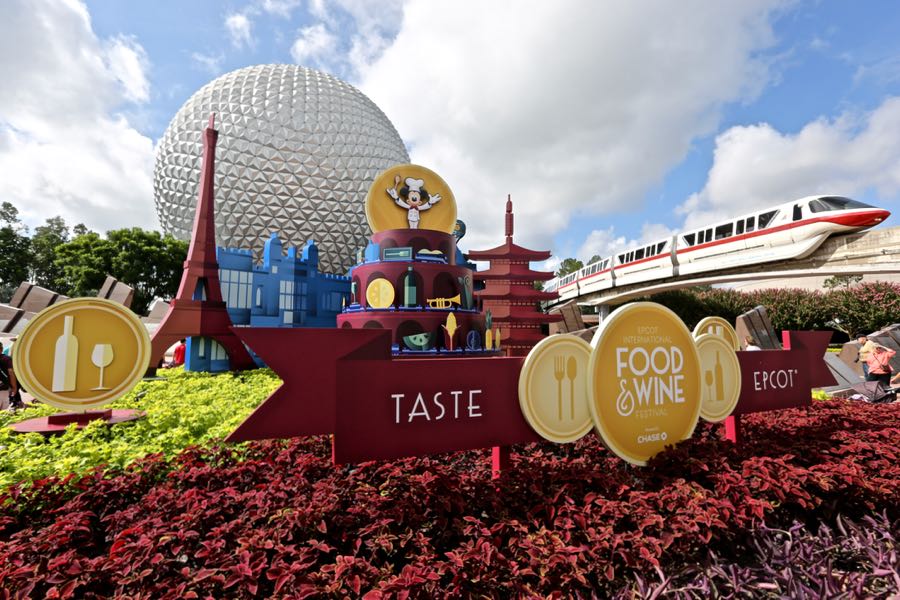 The food served at the World Showcase pavilions is a large part of Epcot's appeal. Visitors are often as excited about dining at the Disney World park's Le Cellier Steakhouse and Restaurant Marrakesh as they are about riding Test Track and Spaceship Earth. Epcot, therefore, is a natural setting for the resort's International Food & Wine Festival, which runs through November 13.
Now in its 22nd year, the festival has added features and booths (or "marketplaces" in Disney-speak) and extended its schedule to 75 days. What began as a way to boost attendance during the quieter fall shoulder season has grown into an enormously popular and grand-scale event. This year, there are 35 kiosks serving over 200 items, which can be purchased a la carte. Disney also offers an eight-item tasting sampler voucher. Although the sampler is convenient, it's generally less expensive to pay as you go.
The booths represent most of the park's country pavilions such as France and Japan, as well as many visiting nations and regions including New Zealand, Patagonia, and Belgium. There are also specialty marketplaces such as The Almond Orchard and Flavors from Fire, which features items that are muy picante.
Each booth typically offers three small dishes, a dessert, and a few wines or beers. The Spain market, for example, is serving a tasty seafood salad with mussels, scallops, and shrimp in a smoky vinaigrette. Other choices include paella as well as Spanish cheeses, meats, and olives that the festival is calling "Charcuterie in a Cone."
Spain's sweet offering is olive oil cake. During my culinary adventure at Epcot, I found that the dollop of lemon curd served with the dessert added a nice tartness. The cake was pleasantly moist, but it lacked a full-bodied taste of the Mediterranean country's famed, earthy olive oil.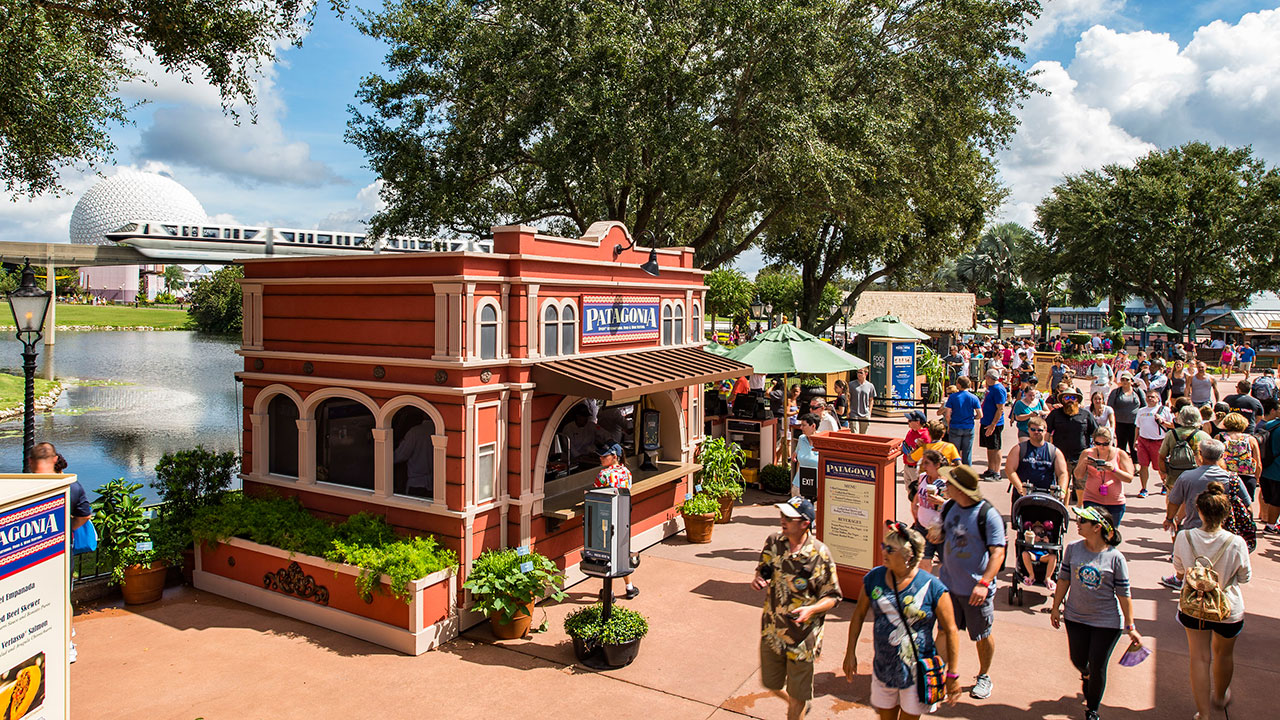 Among other standouts at the festival are two offerings from the Africa market. A spicy mint raita sauce gives the yummy fried spinach and paneer cheese pocket a jolt of unexpected heat. The Ethiopian red lentil stew is also fiery, but quinoa, yogurt, and other ingredients add complex flavors and textures to the dish. At The Cheese Studio booth, a scrumptious tart combines a garlicky boursin with onions and herbs that is topped with arugula salad.
The three preceding items are vegetarian. According to Rick DeCicco, Disney World's proprietor of festivals, they represent a trend. "Our guests have been telling us that they want more plant-based options." To accommodate the no-meat crowd, DeCicco and the event's chefs have been getting creative.
For instance, the festival's Loaded Greek "Nachos" have meatless sausage crumbles, vegan tzatziki, and pita chips. The quotes around "Nachos" on Disney's menu boards probably refer both to the loose interpretation of the classic appetizer as well as the fact that the dish, which is served in the Greece market, crosses national and cultural boundaries.
Since this is Disney World, it should come as no surprise that the festival's organizers also give children special consideration. "We cater to the entire family," says DeCicco. "There are specific items directed to kids that have been kid-approved."
He's not talking about the usual children's menu suspects (although the Active Eats booth offers a macaroni and cheese dish, albeit adorned with pepper bacon and green onions). The designated kid-friendly offerings include chicken pot stickers, Indian bread with dipping sauces, and a Caribbean puff pastry with guava sauce. The kids who approved those dishes must have sophisticated palettes.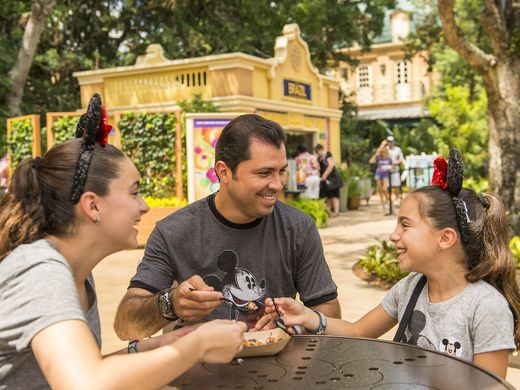 The festival has grown so much, it has expanded beyond the World Showcase side of the park and is encroaching into Future World. Booths that aren't tied to specific countries, such as Coastal Eats and The Chocolate Studio, are located in this area. An intriguing new market is the Light Lab. Located inside one of Epcot's former Communicore buildings, it offers concoctions, such as a drink made with sparkling wine and boba pearls, that glow amid the room's black lights. One of the Lab's hit items is the Glonut, a donut that radiates fluorescent violet hues.
The Festival Center, also located at Future World, hosts food and beverage exhibits, demonstrations, talks, seminars, and events, some of which require an additional fee. For example, on select Saturday evenings, the festival presents Party for the Senses. The ticketed events include dishes prepared by renowned chefs and wine parings.
If music be the food of love, Disney can cure that craving as well. The festival's Eat to the Beat concert series, which is included with admission to the park, features artists such as Boyz II Men, Kenny G, and Hanson performing nightly in the American Gardens Theatre. After chowing down on Loaded Greek "Nachos," the song "MMMBop" may take on a whole new meaning.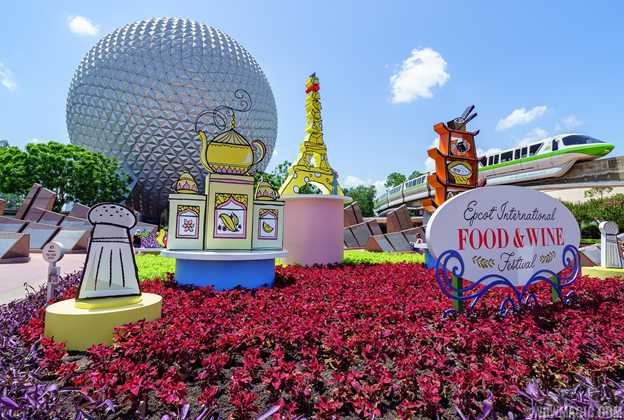 By: usatoday