Memory Maker is an incredible new way to enjoy unlimited digital Disney PhotoPass photos captured at hundreds of locations throughout—including select attraction and dining locations. The photos are conveniently connected to your online Disney account with a touch of your MagicBand or card.
You can conveniently view, download and share your Disney PhotoPass memories on MyDisneyPhotoPass.com and on the My Disney Experience Mobile App.
There's no need to purchase each photo individually. You can simply enjoy your vacation knowing that your memories are being captured for you.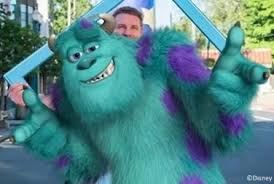 Disney PhotoPass Service gets everyone in the picture—and Memory Maker allows you to download all of your favorite digital photos taken at these fantastic locations:
Disney PhotoPass Photographers
Capture for all time the memories of your family smiling together in front of Cinderella Castle, hugging Mickey Mouse and so much more. Disney PhotoPass photographers are available at iconic locations.
Attraction Photos and Videos
Relish shots that only the magic of Disney can deliver—like an amazing photo of your family plummeting down Splash Mountain or a slow-motion video as you zoom around a corner on Seven Dwarfs Mine Train.
Magic Shots
Is that Tinker Bell in the palm of your hand? Magic Shots add Disney Characters and other fun surprises to your photos after they're taken. Seeing is believing!
Dining Photos
At select restaurants and dining experiences, we'll take your picture as you get to know some of your favorite Disney Characters.
Once you activate Memory Maker, you have 30 days to capture photos and videos. All your Disney PhotoPass media from within the 30 days will be available to download until that media expires. See our Expiration Policy.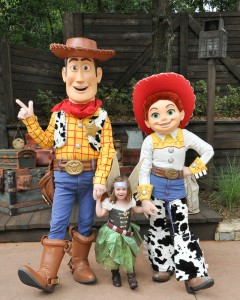 By:disneyworld.disney.go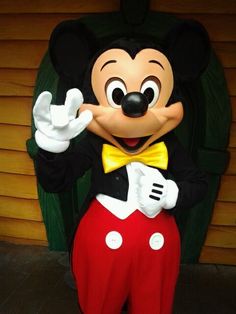 Assistive Listening Systems
Assistive Listening Systems, which amplify sound through headphones or induction loop, are recommended for Guests with mild to moderate hearing loss.
Assistive Listening systems operate at the following locations:
Disney Junior – Live on Stage!
Enchanted Tiki Room
Hyperion Theater
The Hollywood Backlot Stage
It's Tough to Be a Bug!
Royal Theatre at Fantasy Faire
Star Wars Launch Bay
Turtle Talk with Crush
Tomorrowland Theater
Reflective Captioning
Available at select theater-type attractions, this innovative technology utilizes a light-emitting diode (LED display) to project desired captions onto an acrylic panel in front of the user. To utilize the system, please contact a Cast Member at the location.Reflective Captioning is available at:
The Disneyland Story presenting Great Moments with Mr. Lincoln
It's Tough to Be a Bug!
Tomorrowland Theater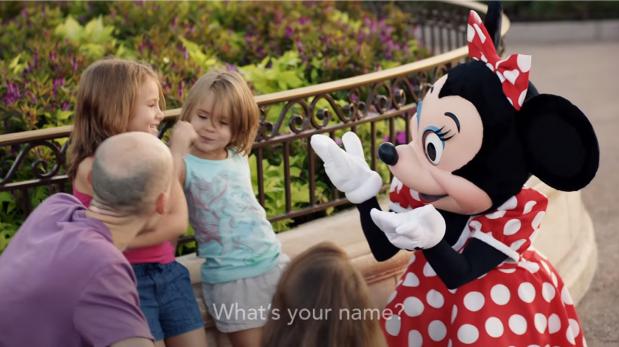 Video Captioning
Caption-ready monitors are available in the preshow area at select attractions. These monitors are designated by a "CC" and can only be activated by remote control. Please see a Cast Member at the attraction for assistance.
Video captioning is available at:
The Bakery Tour
Disney Animation (Courtyard and Lobby only)
Disney Junior – Live on Stage! (preshow only)
The Disneyland Story presenting Great Moments with Mr. Lincoln (preshow only)
Finding Nemo Submarine Voyage (accessible experience only)
Indiana Jones Adventure (preshow only)
Sleeping Beauty Castle Walkthrough (accessible experience only)
Soarin' Around the World (preshow only)
Space Mountain (preshow only)
Star Tours – The Adventures Continue (preshow only)
Star Wars Launch Bay
The Twilight Zone Tower of Terror (preshow only)
Tomorrowland Theater
Toy Story Midway Mania!
Written Aids
Packets containing attraction dialogue and narration, flashlight, pencil and paper are available for several attractions and shows. Please inquire about availability prior to experiencing an attraction or show. A complete listing of available written aids is available at the Information Center located in each park.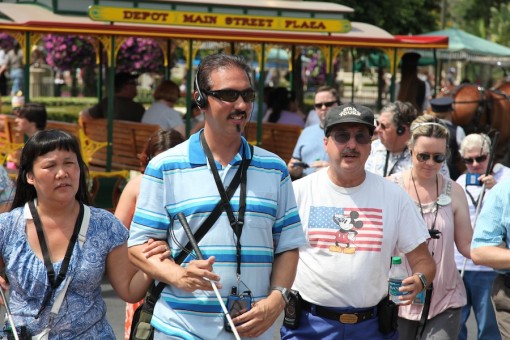 By:disneyland.disney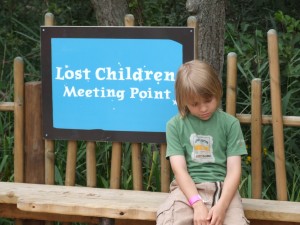 Here's what Disney does in the event of a lost, then found child:
1) A Disney Cast Member will stay with your child in the location that the child is found.
2) The Disney Security Team will be contacted and will meet the Cast Member wherever the child is. The Security Cast Member will look around the area that the child has been found for the parent.
3) If the parent cannot be located, the child will be taken to the Baby Care Center. The Baby Care Center Cast Members will entertain your child until you are located. (In locations where there is no Baby Care Center, lost children will be taken to First Aid.)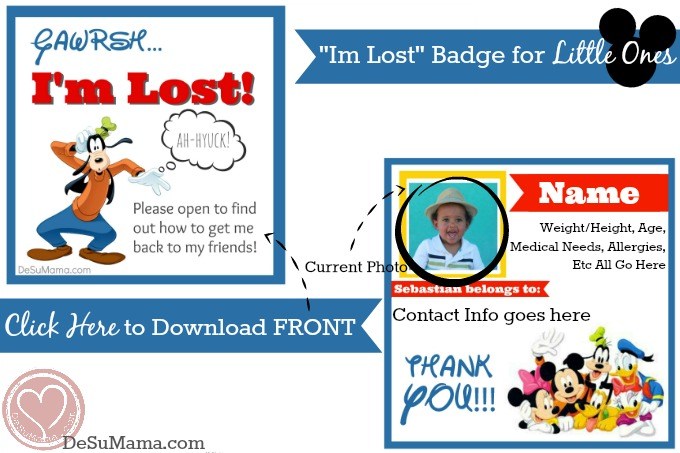 Tips to quickly reunite with your child in the event they are lost: 
1) Take a daily photo. Disney World Security Cast Members recommend taking a photo of your child each morning either before you arrive at the parks, or immediately upon entering. Make sure the photo shows your child from head to toe. In the event that you get separated from your child, you will be able to show Disney Cast Members a current photo, and the clothing the child is wearing. (If you change your child's clothes, don't forget to retake the photo.)
2) Attach identification to your child. There are several products on the market to help identify children. When choosing a product, remember that Disney Cast Members will not look inside clothing or shoes for identification. Instead, consider single use ID bracelets or shoe ID's, to help identify your child. Alternatively, you could write their first name and your phone number on their arm in an easy to spot location or order customized safety tattoos.
3) Magic Bands. If you have received Disney's Magic Bands as part of your trip, and your child will be wearing one all the time, consider use a Sharpie marker to write their first name and your cell phone number on the outside of the band.
4) Dress multiple children alike. If you have to keep track of several children, consider dressing them in similar clothing. It will help you keep track of them in the crowds.
5) While your toddler won't be able to find their own help, once your child is old enough, talk to them and teach them to find anyone wearing a Disney name tag if they get lost.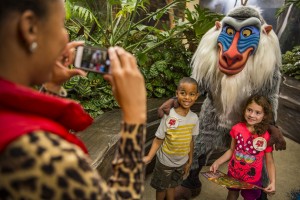 By: disneyunder3
With all the app usage that can help you navigate Disney's theme parks it can really drain your cell phone. From grabbing last minute Fastpass+ reservations, checking ride wait times, and figuring out when and where to grab a bite to eat, your poor phone can waste away to nothing. But have no fear Tinkerbell has sprinkled cell phone charging stations throughout all four parks to help you out. I have put together a listing of all the places to plug in to help you out on your trip.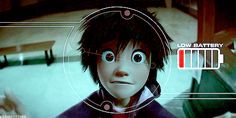 Magic Kingdom
Tomorrowland

Outlets are available at the exit of Space Mountain in the arcade area
Also, Cosmic Ray's offers outlets in the hallway next to the restroom
Outside the Tomorrowland restrooms there are outlets and a low wall to sit on while you're charging.
Tomorrowland Terrance also has a couple of outlets near the trash cans (super fun!).
Carousel of Progress has a outlet out in front next to a big tree.

Fantasyland –  Dumbo/Barnstormer tent at the back of Storybook circus, next to Pete's Silly Sideshow. The pluses to this location is that there are benches to sit at while you charge. Also, the outlets take both normal plugs and USB.
Between Fantasyland and Liberty Square – across from the Tangled themed bathrooms. These are "hidden" outlets located in fake tree stumps. The pluses to this location is that there are benches to sit at while you charge. Also, the outlets take both normal plugs and USB.
Liberty Square – Columbia Harbor House has a large number of outlets situated next to tables. Perfect for multi-tasking, eating while you charge!

EPCOT
Future World

The Living Seas have outlets near the women's restrooms
The Land has outlets upstairs near the Electric Umbrella
Innoventions has multiple outlets spread around but no sitting areas next to them. Pop-a-squat on the floor in the nice air conditioning.

World Showcase

Norway and Morocco have multiple outlets spread around outside
Mexico has an outlet near the outdoor seating at La Cantina de San Angel (post on the left). This is also a great place to catch the fireworks!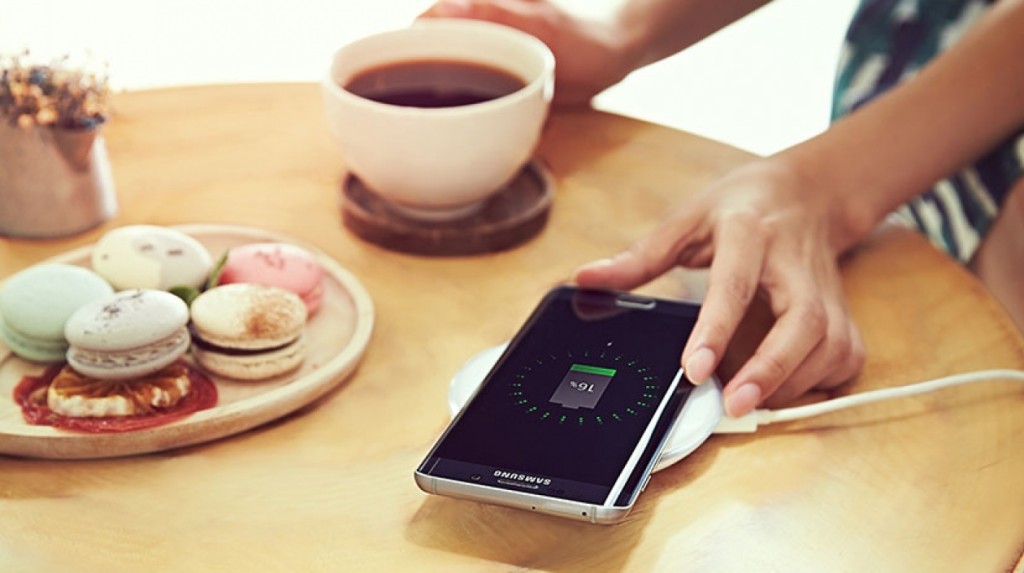 Animal Kingdom
Finding Nemo has a bench near the theater with a hidden outlet in the plants
Pizzafari – a couple of outlets in the dining rooms
Disney Outfitters has an outlet on the outside right wall but sorry no seating
Hollywood Studios
The Magic of Disney Animation has outlets on the walls in the Animation Courtyard
ABC Commissary has an outdoor table that has outlet access
Tips for charging
Don't unplug anything already there so you can use the outlet. Things are plugged in for reason. You don't want to shut down It's a Small World by mistake….or maybe you do ?
Don't move anything to get to an outlet. Mickey puts things in certain places for a reason.
Lastly, don't remove outlet covers. Usually they are locked into place but just in case, leave it be.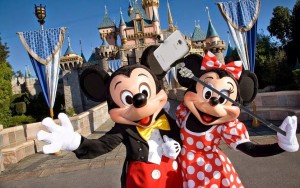 By: thedisneydetails
Baby Care
When you need a calm place for nursing or changing baby, duck into Magic Kingdom's Baby Care Center, tucked right behind the Crystal Palace restaurant. Each of the Disney parks has these centers, which are equipped with rockers, swings, high chairs, toys, videos, and essentials such as baby food, formula, diapers, and wipes available for purchase. Certain rides can also provide a cool and peaceful respite for nursing or napping. For example, in Magic Kingdom's Tomorrowland, the Carousel of Progress and Tomorrowland Transit Authority are both dimly lit, with soothing motions that lull kids to sleep. If your child conks out in the stroller, use the downtime to shop in one of the Main Street stores or relax on a bench in the shade.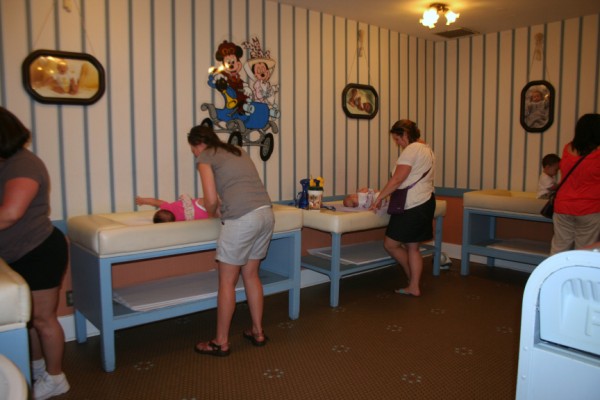 Private nursing room with rocking chairs
Changing room with tables and a unisex bathroom
Feeding area with highchairs
Kitchen with microwave, oven and sink
Main room with television, table, chairs and sofa
On-site shop offering formula, baby food, juice, diapers, wipes, sunscreen, over-the-counter medications and clothing for purchase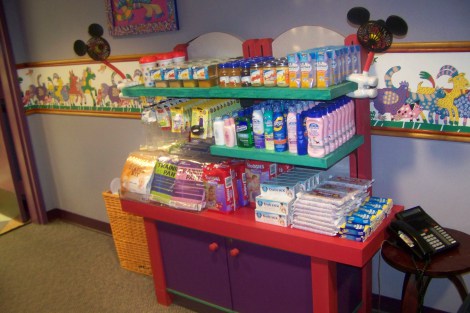 By: WaltDisneyWorld