Branson is home to the best live shows and outdoor activities in the Midwest, but did you know it's also a favorite spot among thrill-seekers and daredevils?
From spine-tingling free falls to a rollercoaster that will have you head over heels (literally), real adventure begins in Branson. If you're after a grab-life-by-the-horns-and-yell "yee-haw!" experience during your visit to Branson, we have just the list to make your itinerary go from zero to 60.
Outlaw Run at Silver Dollar City
Sure, you've ridden coasters that twist, turn and flip you upside down, but we reckon you've never ridden a coaster quite like this one. Award-winning Outlaw Run packs some major giddyup — it's the second steepest and second fastest wooden roller coaster in the world, and the first (and only) wooden coaster to feature a death-defying double-barrel roll and three upside twists.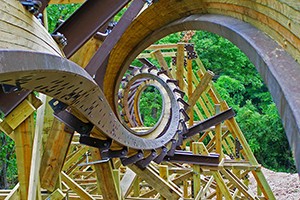 Vigilante Extreme ZipRider at Shepherd of the Hills
Enjoy the peaceful, breathtaking vistas from the tallest point in Missouri while on top of the observation deck — you can see into Arkansas on a clear day — before getting launched on Vigilante Extreme ZipRider, a thrilling, 50 mph zip line flight above the historic homestead. With enough equipment for four simultaneous runs, plan to challenge your friends and family to an ultimate race to the bottom.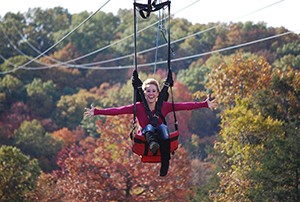 Ejection Seat at Branson Frontier Adventures
Located on the Branson Strip, a human slingshot known as the Ejection Seat launches riders 175 feet into the air, bouncing all around and upside down (again and again) until gravity finally regains control. Feel your heart pound uncontrollably as you anticipate the initial blastoff, a surprise that makes most riders wait to eat the sweets from the adjacent candy store, Chocolat, until after the ride.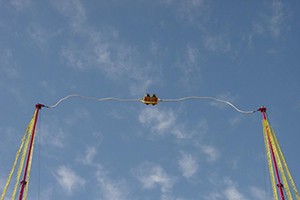 Flyboard on Table Rock Lake
Ever want to give Marty McFly's cool hover board thing a spin? Well, now you can. Flyboard Branson introduced one of the newest attractions to Table Rock Lake: Flyboarding. Surf the sky with a special board that straps to your feet (much like a wake board) and sends you soaring into the air propelled by jets of water. Despite its sci-fi appearance, the Flyboard is pretty easy to maneuver — and a ton of fun.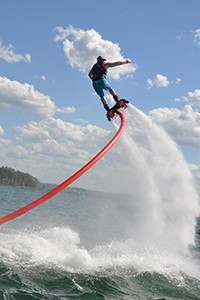 Free Fall in Wolfe Creek Preserve
Head to Blue Streak Fast Line & Free Fall Xpress for a full-throttle zip line that boasts one heck of an epic ending. Traverse the winding roads of Wolfe Mountain aboard a Swiss Army vehicle, zip across beautiful Ozark country high above the forest floor and end with a jaw-dropping free fall atop Everest, a 100-foot tall platform. Don't fret — safety is the name of the game when it comes to this attraction, so just take a deep breath and step off the plank.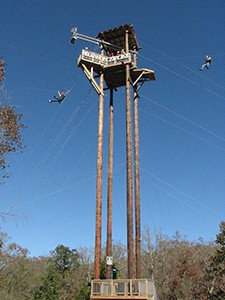 Parasail on Table Rock Lake
It's been a favorite activity among seafaring enthusiasts for nearly 20 years — and with the boat's nifty launching and landing platform, you don't even need to get wet to enjoy it. Join American Parasail on a voyage across Table Rock Lake as you soar 250 feet into the air, dangling from a parachute and watching the postcard-perfect Ozarks pass by. For added thrills, set sail in autumn and catch a glimpse of the famous Ozark foliage's red-and-gold glory.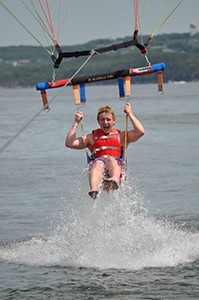 KaPau Plummet at White Water
It's the kind of liquid adrenaline rush you can only get in Branson, but don't just take our word for it — LA Times, NBC and the "Today Show" all agree and voted KaPau Plummet a must-ride water slide when it opened in 2014. This extreme adventure begins 40 feet above the ground inside a mammoth, 245-foot waterslide. Just as doubt begins to set in — the floor drops — sending you on an exhilarating, 26-feet-per-second free fall until your final splash landing.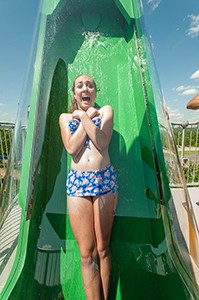 Grand Celebration was first built in 1986 for Carnival Cruise Lines (as Carnival Celebration) and retired from the line in 2008. Following a refurbishment, it began sailing under Iberocruceros, but it maintained the signature Carnival split funnel (albeit with a new paint job). In 2014, ownership was transferred to Costa Cruises. The ship underwent another refurbishment and was slated to join the Costa fleet, but it was bought shortly afterward by Bahamas Paradise Cruise Line and began sailing under the new company as its sole ship in February 2015. The vessel has nine public decks (10 total) and 751 passenger cabins.
About Bahamas Paradise Cruise Line
Bahamas Paradise Cruise Line launched in 2015, and its ship, Grand Celebration, is the only one that regularly sails from the Port of Palm Beach, offering two-night cruises to Grand Bahama Island. It's an attractive option for those who don't want to make the trek down to Miami for a short voyage. The quick turnaround time means little commitment, so it's an ideal way to get started in cruising.
Onboard
When Bahamas Paradise Cruise Line purchased 1,800-passenger Grand Celebration from Costa Cruises, few changes were made to the interior of the ship, though the exterior was painted and the funnel was modified. Expect a lively atmosphere onboard two-night cruises to Freeport on Grand Bahama Island.
Four dining venues are available, including a buffet that is open late, a main sit-down restaurant, a poolside grill and a specialty restaurant for a $20 charge that features a five-course menu.
There's also a main theater that seats 850 passengers, a casino, eight bars and lounges, and a night club/disco. There are age-appropriate kids clubs, an arcade and game room, and a splash pool. The ship has two additional pools, three Jacuzzis, a spa, a salon with a sauna, a steam room and a fitness area.
Fellow Passengers
Passengers include many first time cruisers, couples, international travelers, college students and Florida residents on weekend getaways. The average age varies from early 20s to late 60s, with most averaging around 40 to 50 years old.
By: cruisecritic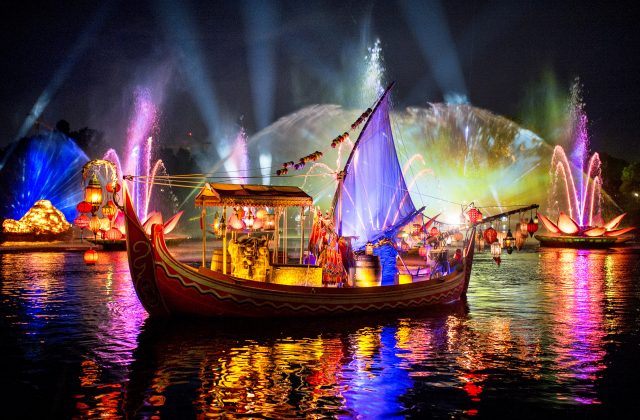 ORLANDO — Disney Parks announced this week the opening date for its new Avatar-themed land, revealed a new fireworks show coming to Walt Disney World, and announced the opening date (well, actually it's just the opening year) for its new Star Wars-themed lands coming to both coasts.
"Pandora – The World of Avatar" will open at Disney's Animal Kingdom in Florida on May 27, Disney CEO Bob Iger announced this week. The land, inspired by James Cameron's "AVATAR," will be a 12-acre land that will immerse guests into the world of Pandora.
The land will include floating mountains, bioluminescent rainforests, and flying "Banshees," Disney said in a news release.
"Rivers of Light," an all-new nighttime show at Disney's Animal Kingdom, will begin shows on Feb. 17.
The 15-minute show was originally set to debut last April, however technical issues delayed the opening of the show until this month.
The theatrical show celebrates nature and its connection with humans by combining live performances, floating lanterns, and special effects.
"At the show's finale, we hope guests will feel like they have been on a tremendous ceremonial and visual journey," said Michael Jung, Walt Disney Imagineering creative director. "Rivers of Light really provides an affirmation of life and reminds us of the beauty and fragility of the natural world we all share – with animals and one another."
Disney also announced the new Star Wars-themed lands planned for Walt Disney World and Disneyland will open in 2019.
The 14-acre lands will be based on the blockbuster movie franchise.
The new lands will feature two new attractions, including a ride that lets visitors pilot the Millennium Falcon.
"At each location, guests will be transported to a never-before-seen planet – a remote trading port and one of the last stops before wild space – where Star Wars characters and their stories come to life," Disney said in a news release.
Also this week, Disney announced "Happily Ever After," a new nighttime fireworks show that will premiere at Magic Kingdom in Florida on May 12.
"Wishes," the current fireworks show at the park, premiered in 2003.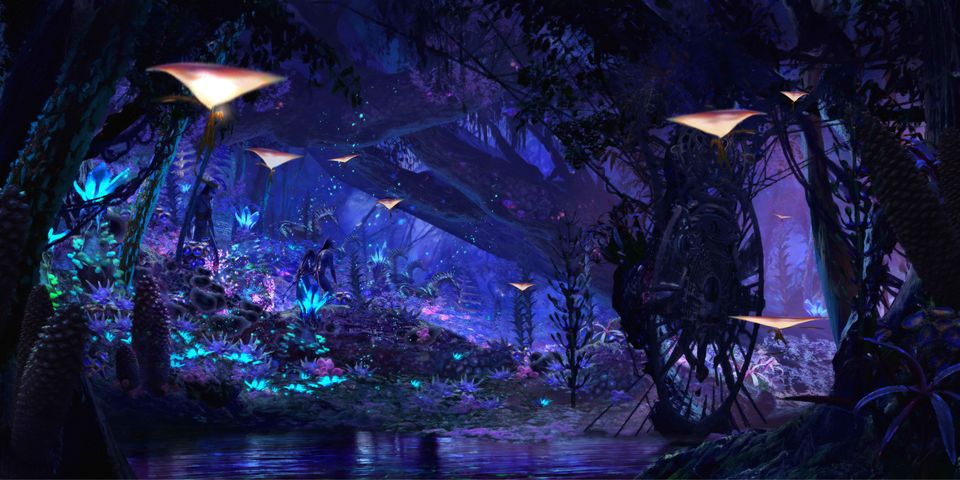 By: fox8.com
Fort Lauderdale is a city made for beach bums and nature lovers. Case in point: Fort Lauderdale Beach and Sawgrass Recreation Park, home to alligators and other Floridian wildlife. History buffs will find things to do here as well (we recommend a stop at Bonnet House Museum & Gardens or the Stranahan House). And though the Venice of America may lack the rollicking nightlife its Floridian neighbors are known for, downtown Fort Lauderdale has its charms. The Riverwalk, the arts and entertainment district along the New River, and Las Olas Boulevard host art exhibitions and concerts that might surprise you with their quality.
Las Olas Boulevard
Diverse restaurants, three museums, 10 international art galleries and 65 retail options line Las Olas Boulevard, with recent visitors saying it's the perfect place for a stroll, if not a shopping spree. But while casual walkers and window shoppers enjoy soaking in the Floridian atmosphere and overall aesthetic of the boulevard, the more intent consumer may not find this commercial street as appealing due to the high price tags. However, travelers recommended grabbing a bite above all else, as many were impressed with the quality of food and the amount alfresco dining options available. Our advice would be to make a stop here if you're planning to visit the nearby Stranahan House, Riverwalk or Museum of Art.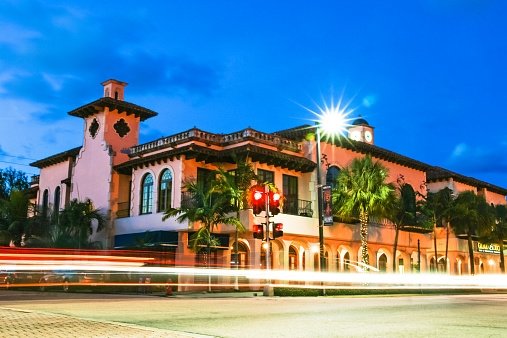 Fort Lauderdale Beach
Want a beautiful Florida beach without a crazy party scene? Fort Lauderdale Beach may be just what you're looking for. Here you'll find a calmer and less chaotic version of Miami Beach — but with the same sugary sands and crystal clear water. There are still parties, but you're more likely to find families relaxing or leisurely walking the waterline than raucous groups of college kids. Backing the shoreline, the palm tree-lined promenade bustles with visitors looking to shop and dine in the many establishments along it. There are also water sport and beach chair rentals near the shore.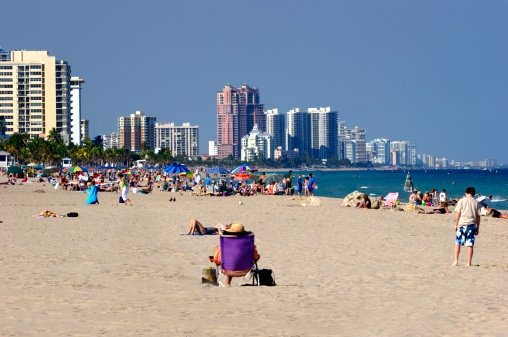 Sawgrass Recreation Park
Take an airboat tour of the Florida Everglades at the Sawgrass Recreation Park, home to a huge range of flora and fauna, including a variety of birds, fish and alligators. And prepare to be amazed (or scared) by the close-up vistas of gators and other creatures. You can even reserve an airboat tour for nighttime runs to see nocturnal animals in their natural state. Visitors can also arrange for private tours, which are longer than the normal 30-minute runs.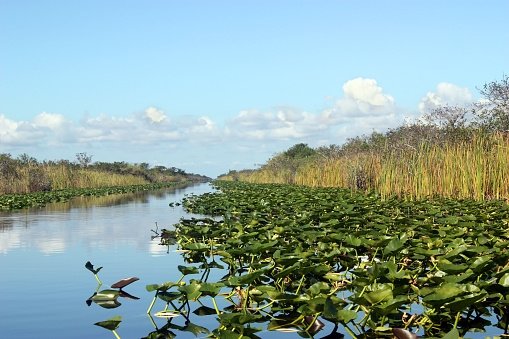 Hugh Taylor Birch State Park
Located less than 2 miles north of the Bonnet House, Hugh Taylor Birch State Park is situated between the Intracoastal Waterway and the Atlantic Ocean and boasts fun activities for all types of travelers. Those looking to get a little wet can canoe or kayak in the largest of the park's coastal dune lakes. Adventurers who want to get their adrenaline pumping can bike along the nearly 2-mile paved park drive. Meanwhile, visitors who prefer to explore by foot can hike the Coastal Hammock Trail, which snakes through a native maritime tropical hardwood hammock ecosystem, one of the last of its kind in the county. Fisherman can make a catch at the seawall while bird-watchers can have fun trying to spot any one of the 250 species that live in and regularly grace the park. There are also free ranger-guided walks that take travelers through sensitive habitats, along the beach and even to Hugh Taylor Birch's old residence, for which the park is named.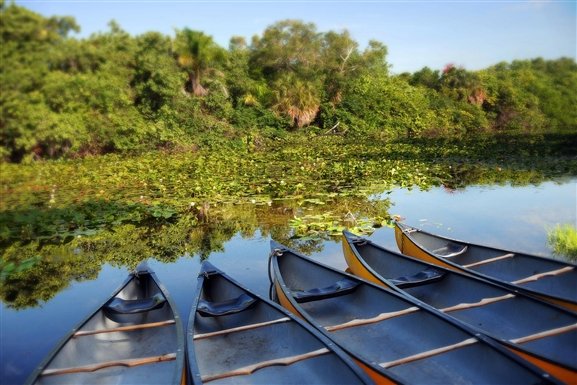 Stranahan House Museum
The oldest residence in Fort Lauderdale is now a living monument to Floridian life in the 1900s. Frank Stranahan originally constructed the house located off Las Olas Boulevard, as a trading post before making it a home for him and his wife Ivy, the city's first schoolteacher. From this spot, he met and did business with Seminole Indians who were in the area. After Ivy Stranahan's death in 1971, the building was purchased by the Fort Lauderdale Historical Society and is now a museum that provides guided tours three times a day.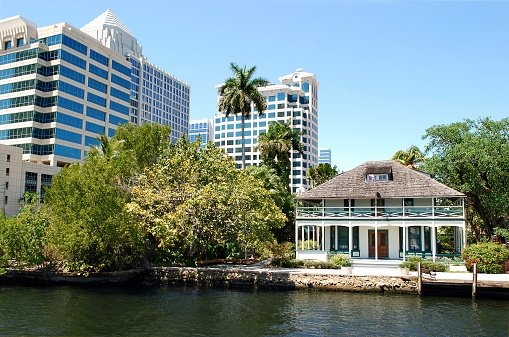 Bonnet House
This house sitting in the middle of the city has a long romantic history. In 1919, a wealthy settler gave the 35-acre property (named after the bonnet lily flower that grew on the grounds) as a wedding gift to his daughter Helen and her husband Frederic. In 1920, the newlyeds began construction of Bonnet House, hoping to build a winter getaway where Frederic could pursue his art and Helen could work on her music and poetry. But construction soon stopped when Helen unexpectedly died in 1925. Frederic didn't resume property renovations until 1931 when he married Evelyn Fortune Lilly. The new couple continued decorating the house until Frederic's death. Several decades later in 1983, Evelyn donated the house to the state's Trust for Historic Preservation, opening it to visitors for guided tours.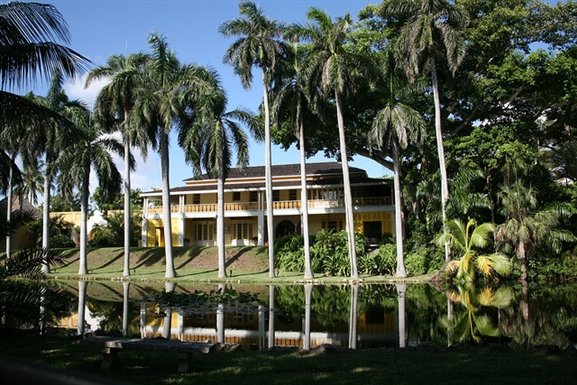 Museum of Discovery and Science
If it's a rainy day and you need an indoor activity that appeal to the kids, take them to the Museum of Discovery and Science. The museum's Ecodiscovery Center is filled with so many activities, animals and exhibits your kids may never want to leave. Get introduced to river otters, take a simulated airboat ride along the Everglades or learn more about Florida weather patterns at the Storm Center. There's also an aviation station, where kids can climb into the cockpit of a DC-9 commercial airliner, and rea dinosaur bones at the Fishy Fossils exhibit. If that's not enough, guests can venture into the 7-D capsule theater that takes visitors on a flight through the sky to learn more about the mechanics of aviation. There's also a 300-seat Imax theater showcasing documentaries and major motion pictures.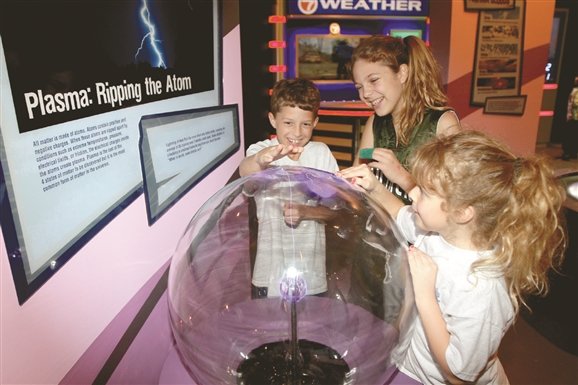 NSU Art Museum Fort Lauderdale
Las Olas Boulevard's NSU Art Museum Fort Lauderdale is a great spot to escape the hot or rainy weather, according to recent visitors. The modern art museum features more than 6,000 works from a variety of artists in its permanent collection, including the largest holding in the country of post-war and avant-garde works from CoBrA (stands for Copenhagen, Brussels and Amsterdam) artists in the country. There is also a significant amount of work from various Latin and Latin-American artists, as well as art from African, Native American and Oceanic Tribal Arts. The museum has rotating exhibits, previous of which have included the likes of Frida Kahlo and Pablo Picasso. Along with an extensive art collection, the more than 50-year-old museum also works in conjunction with Nova Southeastern University to provide art classes for visitors.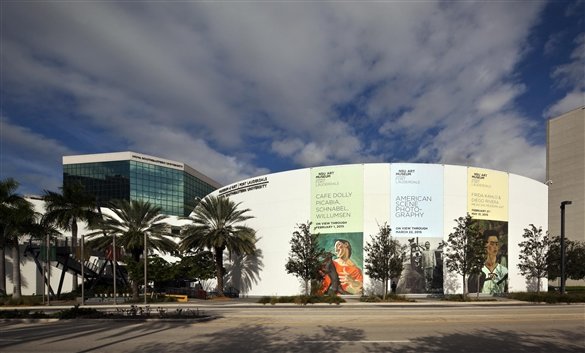 By: usnews