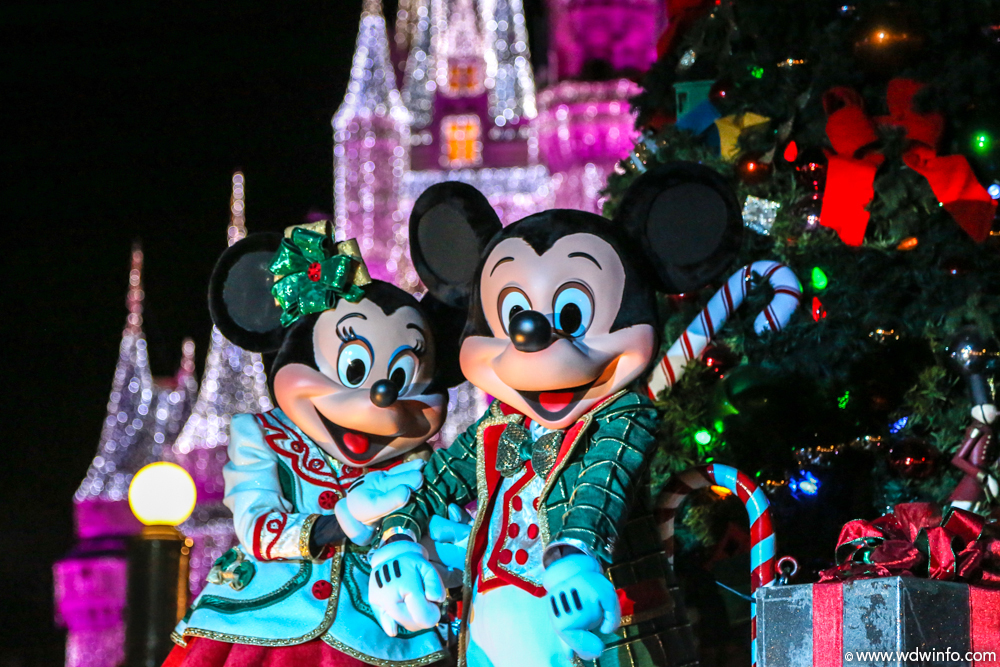 If you're visiting Walt Disney World or Disneyland during Christmas 2016 or winter season (pretty much November through February), what you will need to think about packing will be different than visits throughout the rest of the year. I was reminded of this today when I was checking out the weather forecast for Walt Disney World, and noticed lows in the 40s. Yikes.
The difficulty of packing for Walt Disney World or Disneyland this time of year is the large variances in the weather. You could experience four seasons of weather during your trip…in a single day. Most people aren't going to want to carry the luggage that would be required to pack for every weather scenario, making what to bring a tough question. This post will cover a few things you should take on any winter trip to the Disney Parks, plus some additional items to consider when the weather is expected to be unseasonably cold.
While temperatures in the 40s in Florida and Southern California are the exception and not the rule, the weather can and does get this cold. Being caught off-guard by frigid temperatures in the parks sucks. Don't think it can't happen to you. As much as I hate to admit it, this has happened to me a couple of times, and I'm very diligent about checking the weather forecast.
Now, let's check out what you should pack for Disney during those winter months. First, some practical stuff, and then fun options to get in the festive spirit…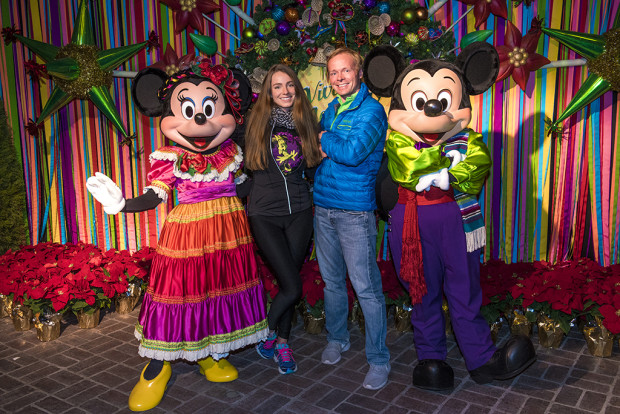 Touch Screen Gloves – Post photos of Cinderella Castle lit up for Christmas to Facebook or Instagram without removing your gloves. Priceless. These gloves will keep your hands warm while allowing you to use your touch-screen smartphones.
HotHands Handwarmers – These handwarmers are cheap and excellent when you're waiting around for a parade or fireworks, and last longer than a cup of coffee or hot chocolate. These might seem over the top for a normally warm-weather destination, but when the sun goes down, it can get cold. 
Microfleece Travel Blanket – This is a really versatile option, and it's worth grabbing a few. Thanks to its incredibly thin material, it packs easily in your backpack, and can be used to keep warm before parades/fireworks (or, if it's not that cold, you can sit on it) to wrap around you on a chilly night, etc. The super cheap price makes this something you don't have to worry about getting dirty!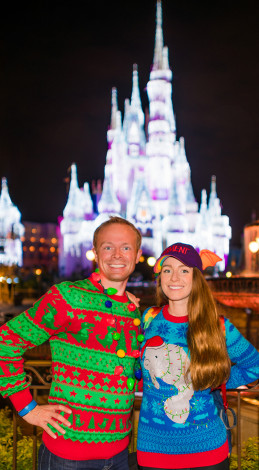 Mickey Mouse Winter Hat – If you want an inexpensive hat to keep warm on cold nights, this understated Mickey Mouse one is a great option. Want something a little more Christmas-y? Try this Mickey Fairisle Puffball Hat instead.
Thermal Shirt – Packing a lot of cold-weather clothes can take up a lot of room in your suitcase, so instead of heavy coats and thick sweatshirts, we recommend inexpensive and lightweight means of keeping warm. Thin thermal shirts that keep your body heat close to you and can be worn under another layer of clothing are a great option. We recommend this one for men and this one for women.
800-Fill Down Coats – Our pick here is specifically an 800-fill goose down coat because it compresses really well and takes up barely any suitcase room. It's smaller and warmer than fleece, and although a bit pricey, these last a long time and are perfect for cold weather.
Waterproof Shoes – These are probably overkill. I bought a pair for our first visit to Disneyland Paris a couple of years ago because I read that December in France is cold and rainy, and I was vindicated as it was cold and rainy, and my wet stayed warm and dry, but there's a difference between Paris winter weather and Florida or California winter weather. I don't typically wear these to the parks during the winter months (they are far from stylish), but they are a great option if you want to play it safe.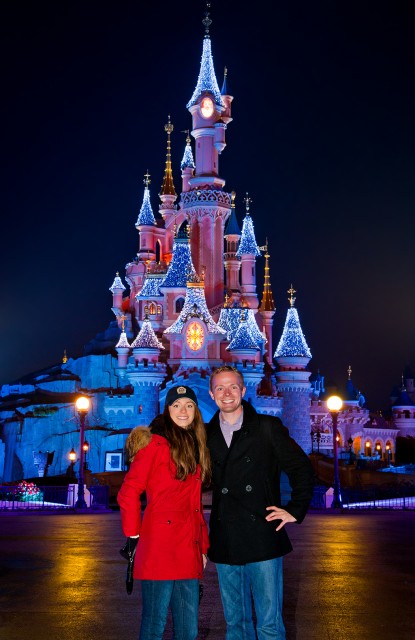 Long Pants – For some of you, this is a no-brainer; even in the summer you wear jeans. For those of you like me who savor the feeling of the wind rustling your leg hair, jeans are not something you typically pack when visiting Florida or California. The most practical option is convertible pants like these ones for men or these ones for women, which are great for hot or cold weather (and are nice for storage)…but are not exactly the most stylish option.
If you're visiting during the winter months, regardless of the forecast, you will want to pack at least one pair of long pants as a safety net: you're likely to encounter at least one sub-50s day on a weeklong trip in the winter. Unless you're keen on the idea of dropping ~$50 on a pair of Disney sweatpants (and are okay with then wearing sweatpants to the parks), just bring a pair of long pants.
Finally, and once again, other packing "rules" for Walt Disney World remain in effect for the winter. For instance, not packing disposable ponchos is a cardinal sin if you're visiting Walt Disney World any time of year (and down jackets do not take well to rain). Depending upon your sensitivity to cold weather and/or style preference, there are also other accessories you might want to pack. Some people love scarves, I find them to be an inefficient hassle. Some people love thick socks, I view these as ill-advised "moisture sponges."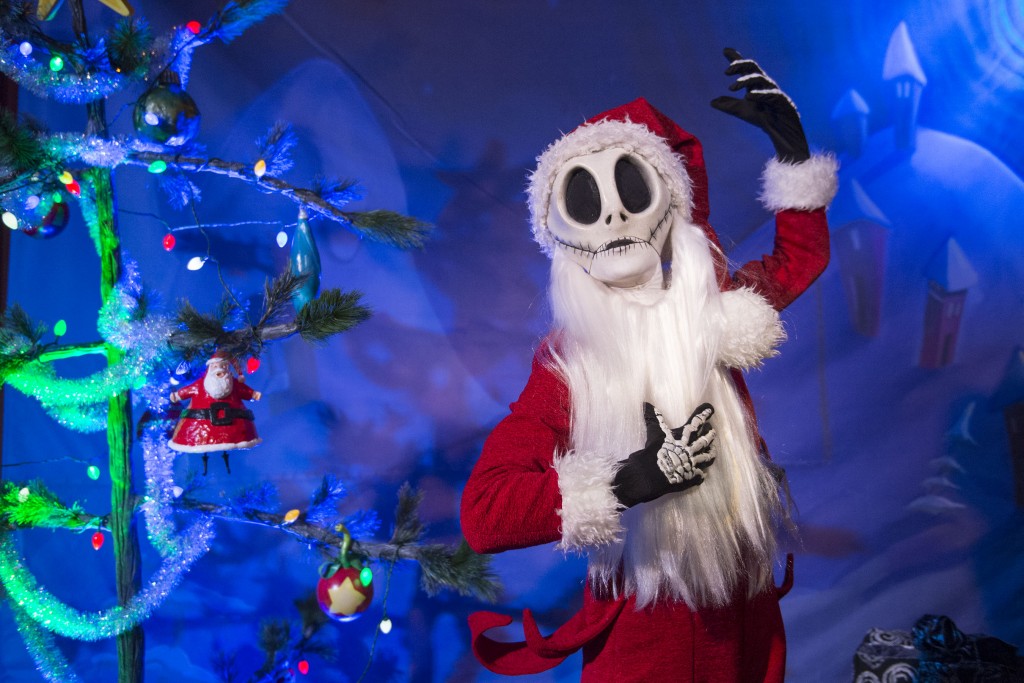 By: disneytouristblog