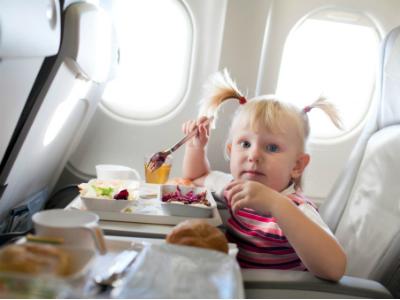 If you plan to fly with a child less than one year old, you'd better get prepared and gather your courage. Though you can't entirely control what happens in-flight or at the airport, you can plan ahead. Most importantly, you need to put plenty of thought into your child's temperament – what calms him or her? How can you best keep to your normal routine? Your first instinct is to keep your little one as comfortable as possible, but you should also take your neighbors into consideration.
Tips for Flying With a Baby
Don't make the rookie mistake of flying without doing your prep work. When you have the right gear and you've planned ahead, you can rest assured that you have the tools for a content little passenger.
1. Make a Checklist
Don't ever pack your carry-on without a checklist. While older kids can carry their own bags, you don't have that luxury when flying with an infant. If it's not packed, you won't have it, and airport stores rarely carry many baby supplies. Be sure that you start packing a couple of days in advance of your flight so you have plenty of time to pack all of your baby gear.
Here's a general list of necessities:
Diapers and wipes (enough for travel time plus 24 hours extra in case of delays)
Two or three receiving blankets – they're great as nursing cover-ups, for naps, for keeping your baby warm, and for keeping your clothes protected from spit-up
A change of clothes for your baby – at the very least, pack an extra onesie
Nursing pads and shields if you're breastfeeding
Formula and bottles if you bottle-feed – again, plan for travel time plus 24 hours to be safe
Pacifiers, if necessary – always bring a couple of spares
One or two board books and a couple of comfort toys
A sling or a baby carrier
Baby-friendly snacks, like Cheerios and puffs
A couple of Ziploc bags – they come in handy for storing snacks and keeping soiled clothes separate in your diaper bag
2. Prepare Your Bottles
If your baby is bottle-fed, you need to think ahead. The TSA has rules against traveling with more than three ounces of liquid, but the rule doesn't apply to baby formula and juices. Instead, you must have your baby's formula tested via a handheld scanner.
To avoid causing a delay in the security line, I prepare bottles with powder only. You can also purchase single-serving formula packs. That way, I only need to add water once I'm past the security checkpoint. Ask the flight attendants for warm water – they usually have plenty on hand for coffee and tea.
3. Calm Breastfeeding Fears
While breastfeeding on a plane might not be as comfortable as breastfeeding at home, it's completely doable. You can pump milk and bring it on the plane in bottles if you're nervous about nursing – the TSA simply scans the milk with a hand-held device, and it's completely safe.
Of course, breastfeeding on the plane might be a necessity. If you're nervous about nursing next to a complete stranger, bring two safety pins with you. That way, you can pin a receiving blanket to the seat in front of you and on the side of your own seat to create a privacy curtain. I've found that seatmates are extremely understanding and accommodating when I've had to nurse during a flight.
4. Decide on a Car Seat
If your child is under the age of two, you don't have to purchase a ticket. This can save money, but it also means your child has to sit on your lap for the entire flight.
If you purchase a separate ticket for your baby, or if there are extra seats on your flight, you can bring your baby's car seat on the plane and use it the same way you do in the car. Traveling with your baby in a secured car seat is the safest way to do air travel with a baby, period.
Unfortunately, however, I once brought a car seat along with me, and it ended up being a major pain. Not only did I have to cart the bulky object around the airport, my little guy was miserable and just wanted to be held anyway. On the next flight, I ditched the car seat and traveled with a sling instead. I "wore" my baby across my chest – he was very cozy, and it was convenient while moving around the airport. It was also perfect for discreet breastfeeding.
You can also opt for a travel system if you're determined to bring along a car seat and you don't want to drag it with you through the airport. A travel system allows you to snap the car seat onto a stroller base, which you can then easily detach during boarding. It's the best of both worlds when both mama and baby need their own space.
5. Check Your Gear
I love having a stroller in the airport. It always allows my kids to have a rest while I sprint from gate to gate, and it cuts down on dawdling. Also, the airline can check your stroller right at the gate. Just ask for a "gate check" – tag and bring your stroller to the end of the jetway. Airline attendants can pop it down in the cargo hold, and can bring it back up when you've landed for use during layovers.
Be smart about the stroller you use. Make sure it's one that collapses easily and isn't too bulky. I have a model that collapses with one hand, which saves me from fumbling with it.
6. Prepare for Takeoff
If you've ever been on a flight with babies on board, you've probably heard them wailing during the takeoff and the touchdown portions of the flight. That's because the pressure can cause major pain for babies while flying. If you've got a little one tagging along, prepare to offer a pacifier, a bottle, or the breast during takeoff and landing. The sucking motion helps relieve pressure so there's fewer tears.
7. Deal With Strangers
In my experience, babies and kids aren't always the most welcome passengers on planes. I haven't always gotten the warmest reception when a seatmate finds out that I've got two kids along for the ride. But a little friendliness and consideration goes a long way in making sure other people are comfortable.
I usually make a point to be extra nice to the flight attendants, who are then more than happy to grab some warm water or dig up snacks for my kids. I also make sure that my kids aren't bothering other people in any way. For instance, if your infant has a dirty diaper, get up and change it in the bathroom as soon as possible. Planes have changing tables in the bathrooms, so use them. They might be small, but it's far more considerate than changing your baby next to your seatmate. Just limit how much stuff you bring with you to the bathroom. I like to grab a diaper and a case of travel wipes so I don't have to drag the entire diaper bag into an already tight space.
I find that when neighbors see me doing my best to keep things under control, they're more likely to lend a hand. I've had kind seatmates offer to share a tablet computer or chat with my kindergartener for hours, while attendants have offered extra treats and even upgrades. As long as you're courteous and conscious of the strangers you're traveling with, you'll be welcome and have a better overall experience.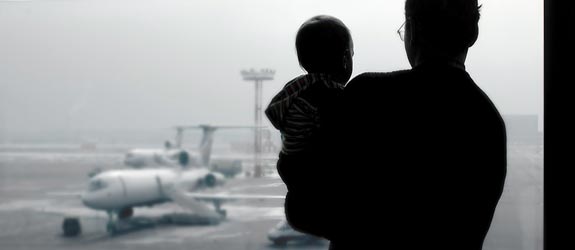 Final Word
It's not always going to be smooth sailing when you're traveling with an unpredictable infant. Diaper blowouts, gassy bellies, and crying spells can make you feel flustered. But making sure that you're prepared for anything can help you feel more confident in your abilities. And in a worst-case scenario, live by this mantra: "It's only temporary." You'll be at your destination in no time, with tons of experience under your belt for your next trip.
By: moneycrashers