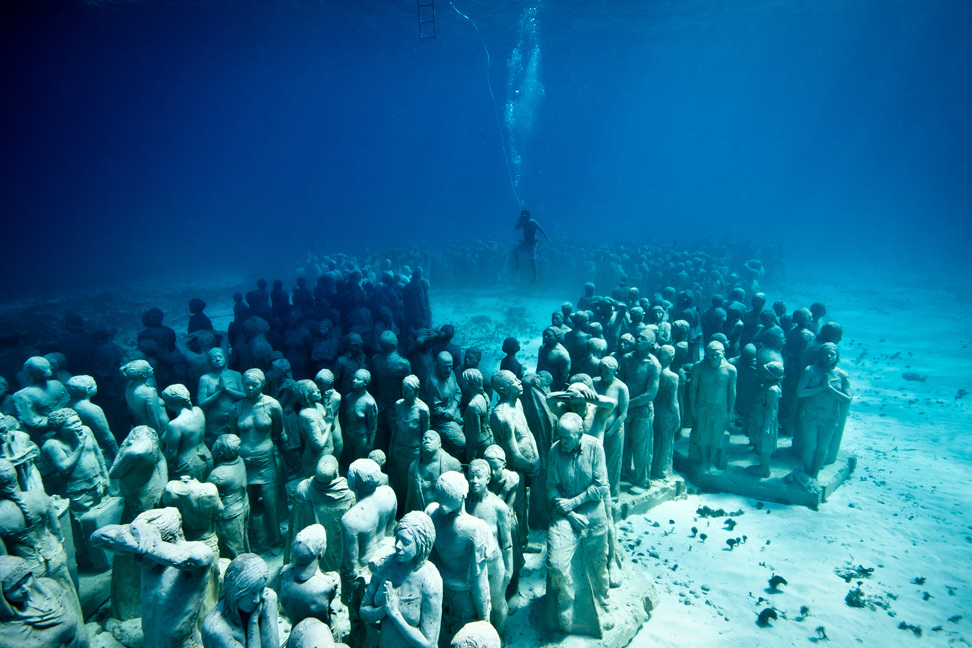 Enjoy snorkeling in the Cancun Underwater Museum (MUSA) and watching over 470 underwater statues. This is one of the best tours you can do in Cancun!
OVER 470 UNDERWATER STATUES IN CANCUN, YOU WON'T BELIEVE YOUR EYES
The coral reef sites in Cancun have received a huge influx of visitors over the years and this has taken it's toll on the natural areas and ecosystems.
The Cancun underwater museum  is  a unique way to draw people away from the reefs and create an artificial one where coral can grow and marine life can breed.
THE MUSEUM IN CANCUN NOW CONSISTS OF 475 SUBMERGED SCULPTURES AND THERE ARE PLANS FOR MORE!
Our Snorkel in the Museum tour offers a unique snorkel excursion to visit the underwater statues located beside Manchones reef area. Manchones is located between the coast of Cancun and Isla Mujeres and is now home to 455 of the statues.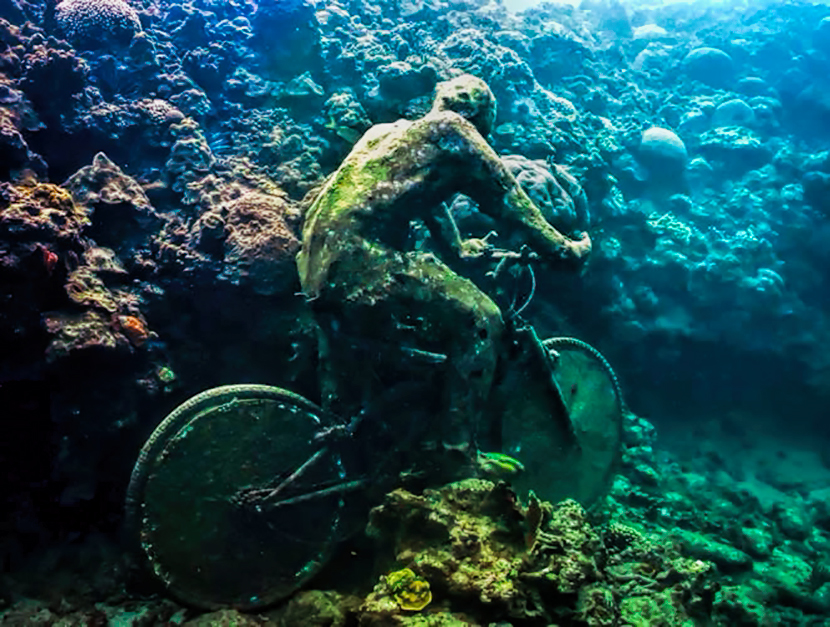 This 3 hour tour provides you with a 45 minute snorkel experience in the museum where you will also see the schools of fish, turtles, rays etc etc. After this, subject to timing and weather conditions, we will stop off at a second site which is full of marine life. El Farito is a famous snorkel area just off the coast of Isla Mujeres where you will enjoy a 20 minute visit; the perfect way to round off your MUSA experience.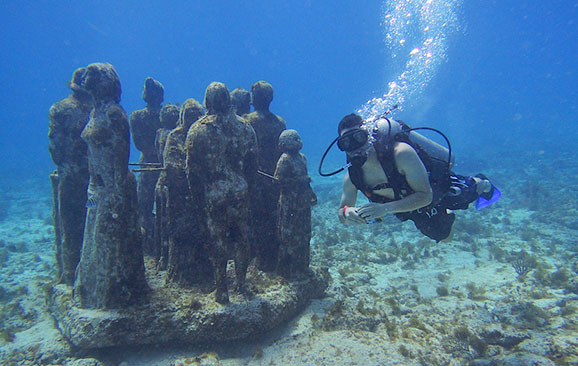 The sculptures that you could see in this area include; The Cross of the Bay, Man on Fire, Dream Collector, El Bacab, Antropocene (VW Car), Silent Evolution (450 statues), Thing Blue (Beetle Car) and The Promise. We will do our utmost to make sure you see the majority (weather and visibility permitting). This ever changing environment alters the appearance of the statues constantly, the sculptures require algae to provide a base for the fragile coral as well as food for the fish. Some of the sculptures are already showing coral growth and we look forward to more in the near future.
Most of these models were locals from Puerto Morelos, a nearby fishing village to the south of Cancun. A 5 year old boy sat for over an hour whilst he was covered with marine cement, other statues were made from a pregnant lady, a nun, a local fisherman as well as a model and a famous British TV presenter.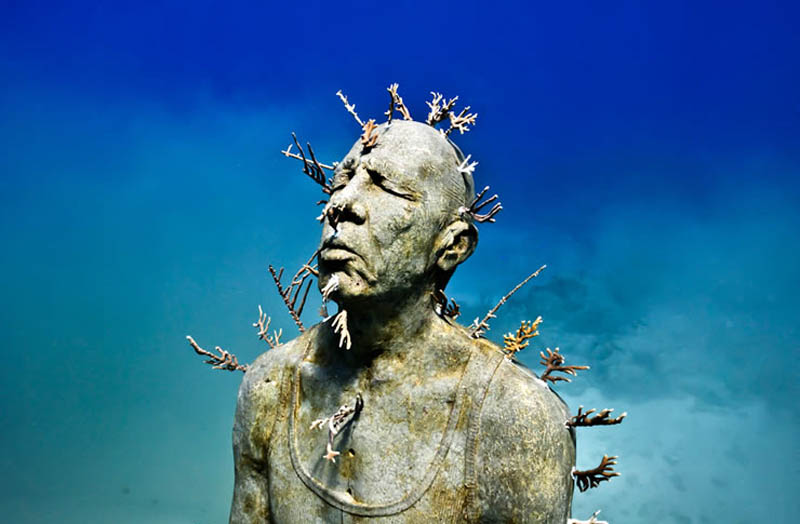 Today these eerie statues are covered with algae and polyps of Coral, the plan worked and Cancun is now home to the biggest artificial reef in the world.
By:aquaworld.com