With about 1,200 miles of coastline, Florida is a year-round travel destination for many on the East Coast. Plus, the diversity of the shores – from family-friendly to party-focused – helps draw all different types of travelers.U.S. News took factors like aesthetics, atmosphere and convenience into account to rank the best Florida beaches. We compiled user votes and expert insight so you won't have any trouble choosing your next Florida vacation.
St. Petersburg, FL
Why go: The Sunshine City offers the best of both worlds. Visitors get both miles of relaxing shorelines and an urban cityscape – perfect for those looking to escape to the beach without feeling disconnected. What's more, the city holds the world record for having the most consecutive days of sunshine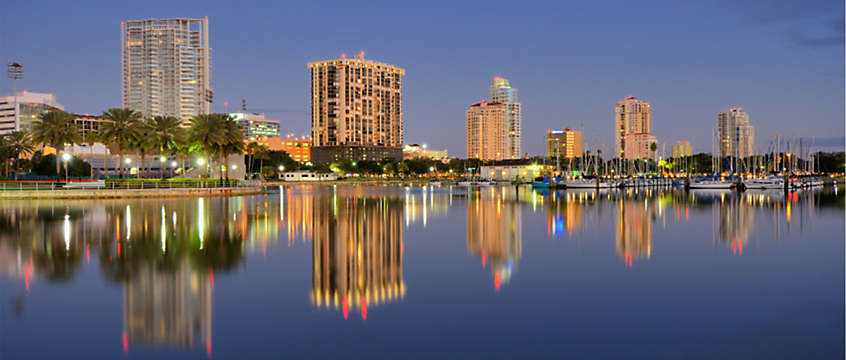 Destin
Why go: Families flock to Destin for its white sands, gorgeous Gulf waters and frequent sunshine. This Florida mainstay is one of the state's most affordable beach towns, though temperatures, visitor volume and room rates are at their highest in the summer.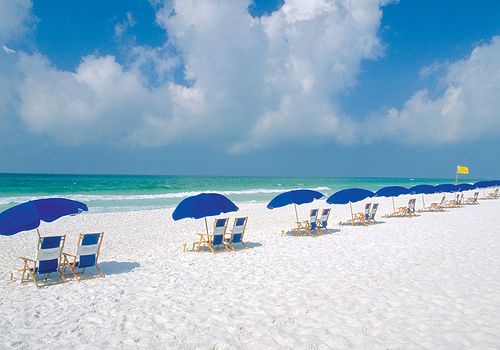 Naples
Why go: Overflowing with golf courses, gourmet restaurants and boutique shops, Naples offers travelers an upscale Florida retreat. The luxury resorts and costly activities can make a Naples vacation quite expensive. But luckily, the beaches are completely free to enjoy.

Sanibel Island
Why go: You'll be hard-pressed to find a place in Florida with quieter and calmer shores than Sanibel Island. Here, the pastime is "shelling" – collecting assorted colorful seashells along the sand – rather than partying, making this beach an excellent choice for families.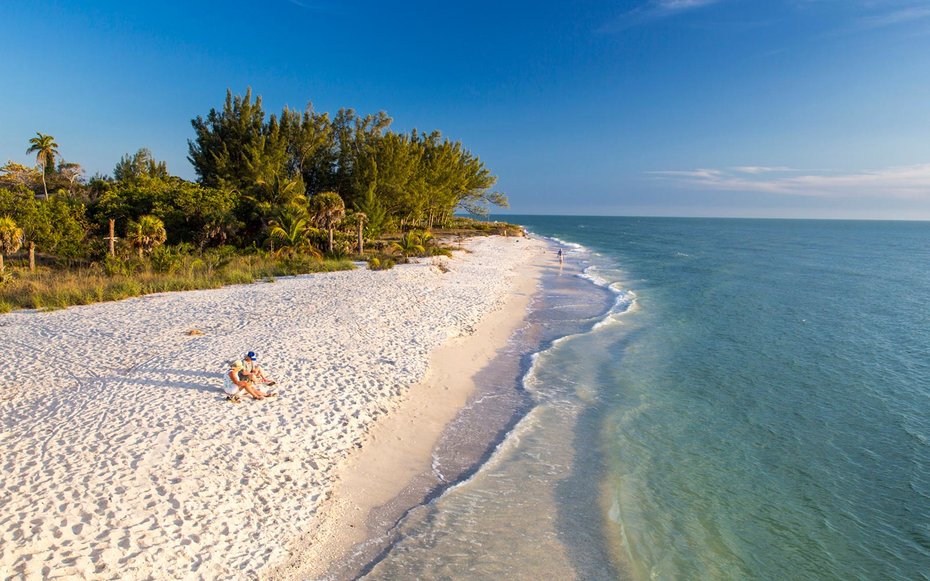 Fort Lauderdale
Why go: Often overlooked for Miami, Fort Lauderdale's less chaotic, less crowded beaches are its greatest asset. Fort Lauderdale is both family- and budget-friendly, offering significantly lower hotel room rates than other nearby Florida beach towns

Key West
Why go: This tiny island might be at the end of the Keys, but it should also garner a spot at the top of your list. This little refuge will knock your socks off with exciting festivals, laid-back bars and fascinating people. However, the shores themselves can also be a bit overcrowded.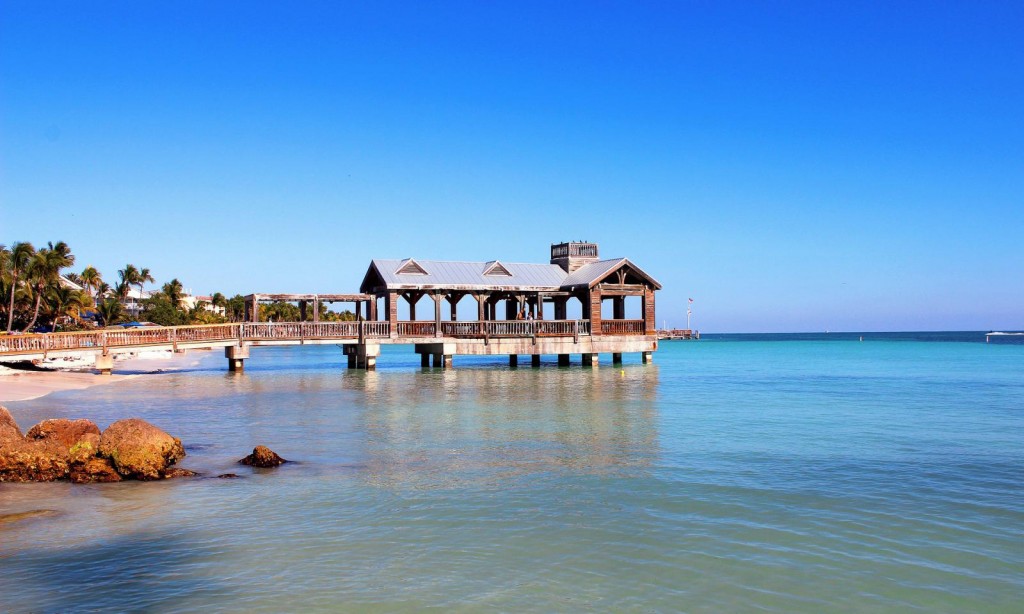 Fort Myers
Why go: Fort Myers may lack the see-and-be-seen sands of Miami Beach or the clean coast of nearby Sanibel Island, but it does feature a unique composition of both saltwater and freshwater. Plus, Fort Myers exudes a small-town feel that many vacationers enjoy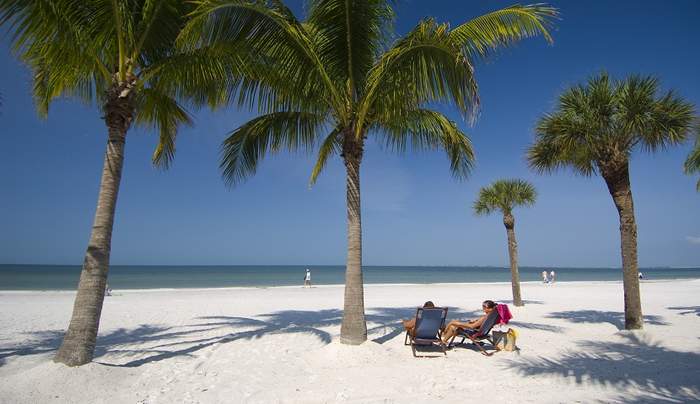 West Palm Beach
Why go: Though West Palm doesn't boast any beaches, staying here will put you within 2 miles of Palm Beach's sands, plus its ritzy residents. Popular area beaches include Municipal Beach and Peanut Island, a man-made island where president John F. Kennedy's Cold War bunker resides.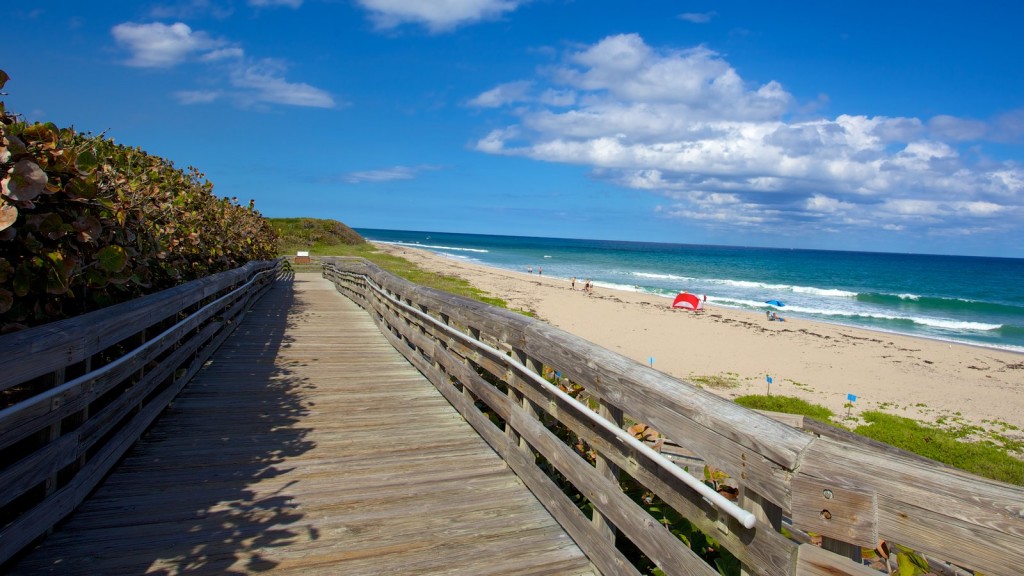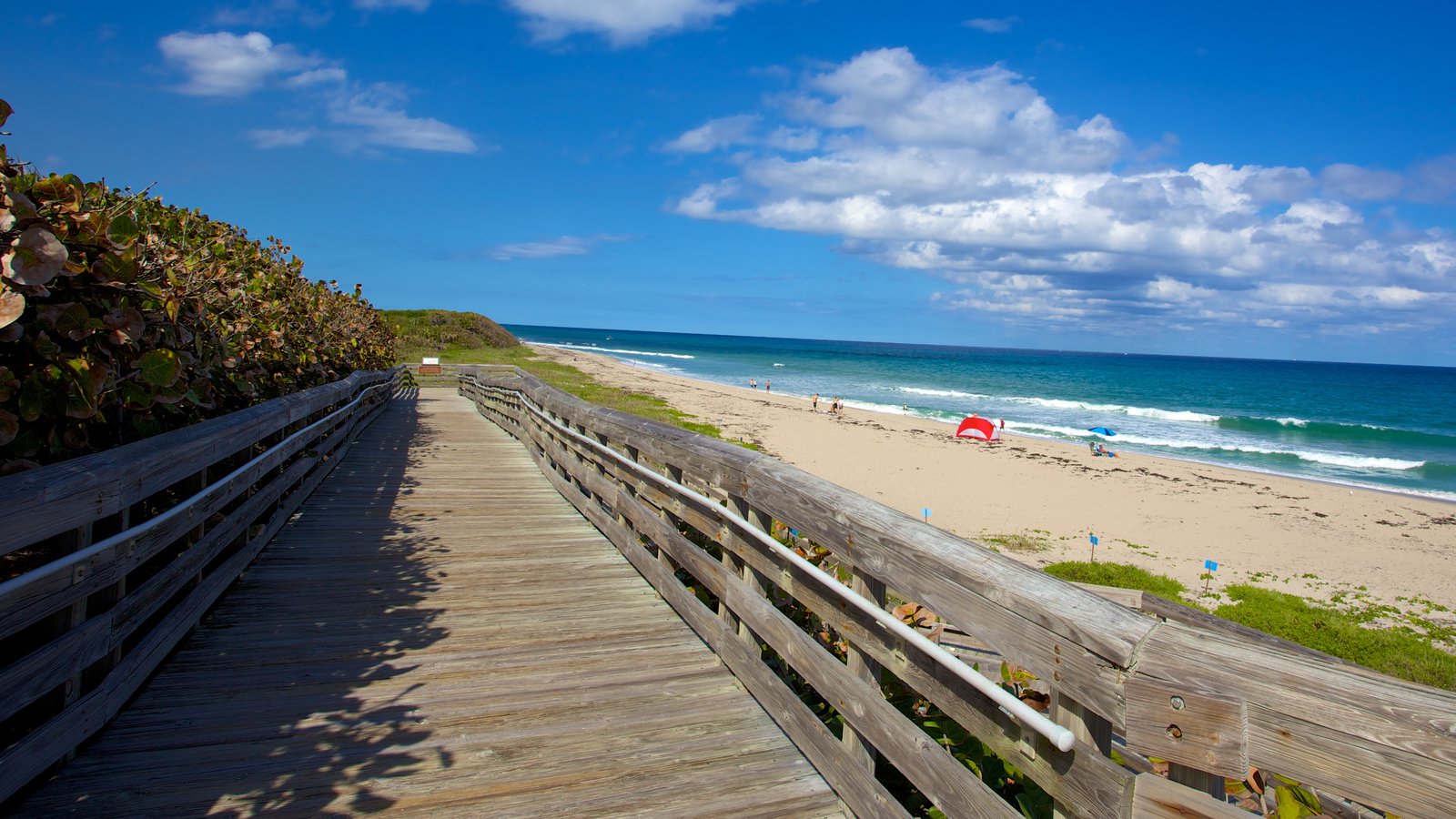 By: travel.usnews.
1) Flamenco Beach, Culebra – Here, during sunny days, the blue tones of the sky and the sea will leave you breathless. Flamenco Beach is located in the small Culebra Island, recently named by Travel & Leisure magazine as one of the best thirty secret Islands in the world for its natural beauty. The water is crystal clear and calm, the sand soft and white like snow. It is surrounded by green mountains and palm trees and adorned with beautiful coral reefs. Add to this its facilities: camping area, bathrooms, kiosks, and lifeguards. So spacious that even in busy weekends, you will find a peaceful spot. It is definitely the most beautiful beach in Puerto Rico and one of the most beautiful in the world.

2) Luquillo Beach – La Monserrate Beach or Luquillo Beach is one of the most popular beaches on the island and for many reasons. It has all the facilities necessary for a perfect day at the beach: showers, kiosks, parking, gazebos, camping area and facilities for people with disabilities. Its spacious coast faces a crystalline and peaceful sea where you can practice sports and aquatic exercises. You will notice an impressive mountain to the West. It is the Puerto Rico's largest tropical forest: El Yunque. The beach is surrounded by vegetation and provides shade for all its visitors. A few steps from the beach you will find a famous area of kiosks with Caribbean goodies that will delight your palate. This beach is one of the four beaches in Puerto Rico under the Blue Flag classification.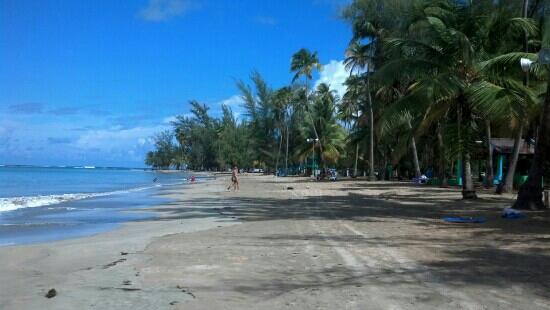 3) Escambrón Beach, San Juan – Beach in the city! How does that sound? Perfect. That is the reality in El Escambrón Beach, located in the metropolitan area, just steps from the historic city of Old San Juan, one of the oldest in America, and the most frequented tourist area of the island. It is surrounded by hotels and restaurants and nearby there is a small bridge that connects with the Luis Muñoz Rivera recreational park, an excellent choice if you go with children. It is perfect for water sports and if you like surfing, walk to the West and you'll find "La Ocho" beach. This beach is one of the four beaches in Puerto Rico under the Blue Flag classification.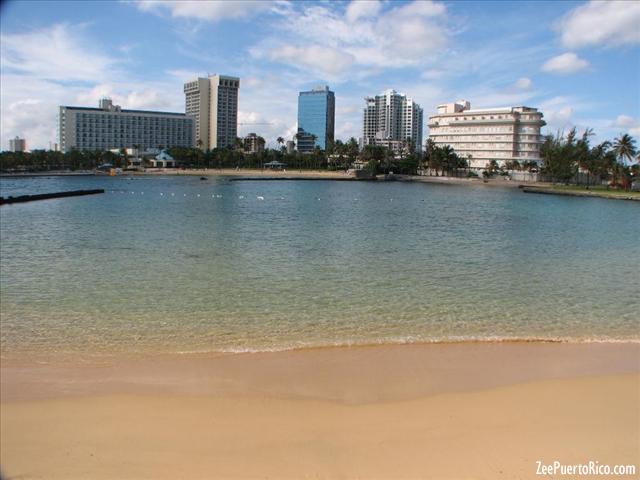 4) Boquerón Beach, Cabo Rojo – We selected this beach for his joyful atmosphere, family enjoyment, the many beach festivals they celebrate, and its panoramic view. Also, it has excellent kiosks of Puerto Rican delights and drinks. Hundreds of people from the metro area of Puerto Rico visit this beach during the long weekends.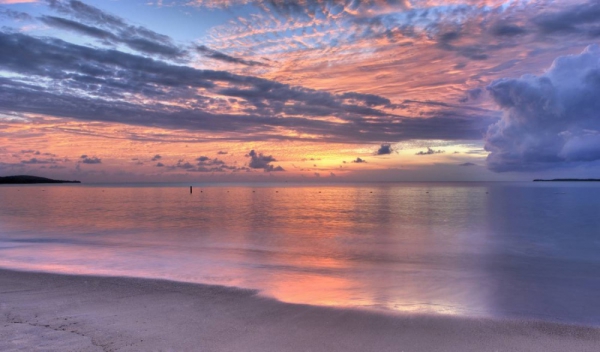 5) Sun Bay, Vieques – This beach is considered one of the best of the island. It is well-known for its extensive coastline, camping area and its panoramic view. The beach is also the entry to other very famous beaches and the famous Vieques Bioluminescent Bay.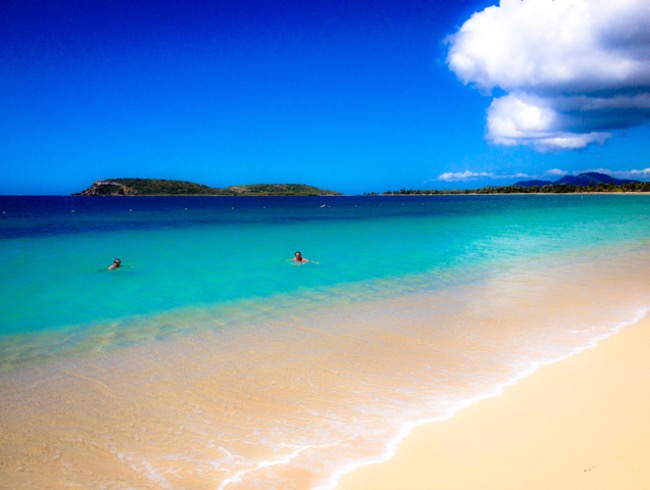 6) Crash Boat, Aguadilla – You have not yet arrived and already feel a pleasant emotion, because the street down to the Crash Boat beach has a paradise-like panorama. You will notice a small island on the horizon: is Desecheo Island. We selected this beach because everyone loves it. Who is not going to love that immense and tranquil turquoise sea? It is excellent for diving and snorkeling, especially around of its iconic bridge. There is usually a festive atmosphere of young people and families. There are showers, tables, and kiosks of food and beach items. It is not only a place to have fun, is where some fishermen find the livelihood of their families. With a little luck you will see one of them returning in his colorful boat.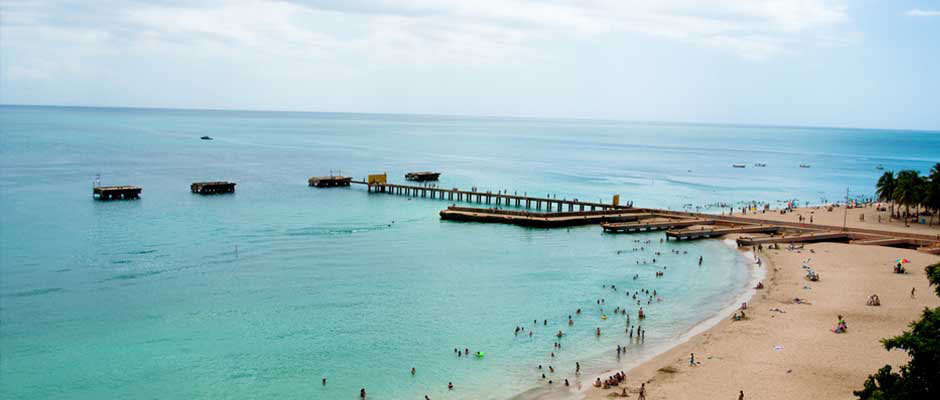 7) Seven Seas Beach, Fajardo – This beach is famous for its crystal clear water, facilities for people with disabilities, camping area, BBQ, facilities for RVs or campers.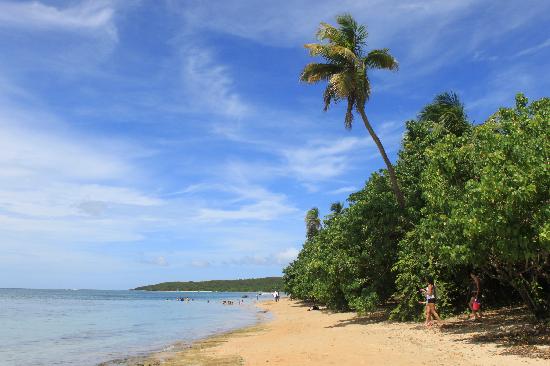 8) Vega Baja Beach – Recognized as one of the most popular beaches in the north area of Puerto Rico, this beach is frequented by families and young people on weekends to enjoy its atmosphere, food, water and sun or just to relax.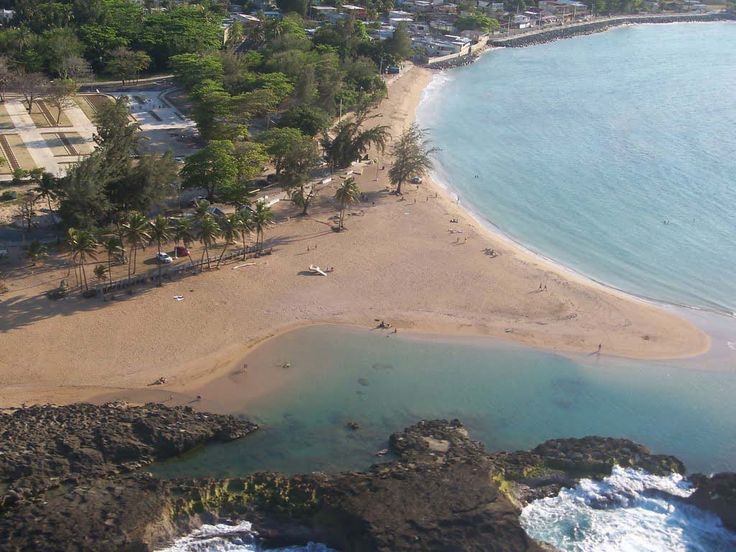 9) Guilligan Island, Gúanica – Aurora's Key or Guilligan's Island is part of the Dry Forest Reserve of Guánica. As in all beaches, you will find palm trees, but here the beautiful mangroves dominate the area. It is known for its famous channels perfect for snorkeling, swimming, or just to relax in a raft. The calm and crystal clear water of this place will make you feel in a swimming pool. To get there you have to get transported by boat, but that is part of the fun. It has several gazebos and BBQ's, but if you not have food, you can order it in the restaurant where the boat leaves and for free they will bring to you at the requested time.

10) Jobos Beach, Isabela – Located in Isabela, this beach is the most famous on the northwest area of Puerto Rico. It is frequented during the week ends by multitudes of young people and families who wish to spend a day under the sun and to enjoy the jovial atmosphere. At the moment this beach is in danger of closing since developers want to make a tourist complex here.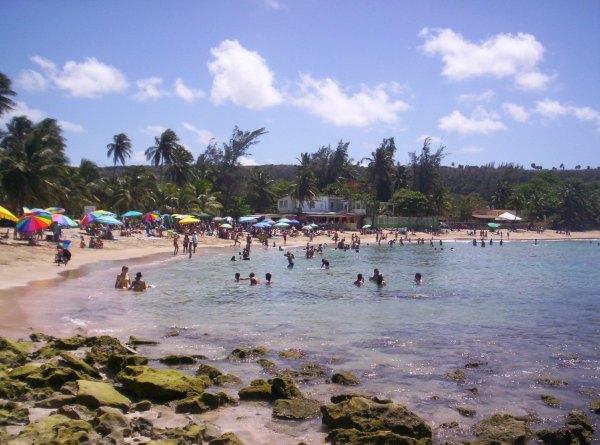 By: zeepuertorico
The best Miami beaches are where locals and visitors go to socialize, sunbathe, surf, swim, see and be seen—or avoid all of that, and just relax. Our favorite bits of South Florida coastline extend as far north as Delray Beach, technically not Miami but still only a short drive away, to the southernmost tip of Key Biscayne. They're as diverse as they are sprawling, so no matter which way you head you'll find a spot to fit what you're looking for—a fun thing to do with the kids, something free to do in Miami, a reason to head to South Beach for more than partying.
Lummus Park Beach
Volleyball, thatched huts and people-watching. There's also a gay beach at 12th Street and plenty of topless tourists and friendly bird feeders, which provide a good source of entertainment. Keep an eye out for the funky lifeguard stands: the one at 14th Street, which sports a circular roof crowned with AstroTurf, is our fave.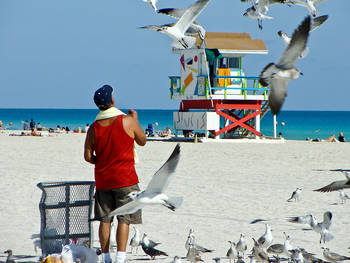 Haulover Beach
These dozen miles of white sand, ocean surf, landscaped dunes and shaded picnic areas rank as one of the area's most scenic stretches of beachfront. Worth the drive or bus journey (take the S from Lincoln Road), the beach is fringed with dense vegetation that blocks out the visual pollution of nearby high-rises. There's a nude beach (between the two northernmost parking lots) and a gay nude beach (north of the lifeguard tower). Tuesday nights bring a small food truck festival, with local vendors, live music and programming for the whole family.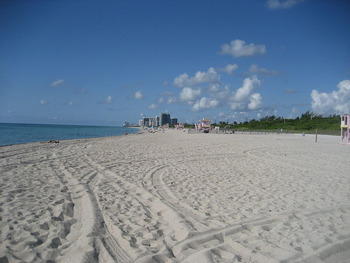 South Pointe Park
This verdant spot on the very tip of Miami Beach is part of a 17-acre park with picnic areas, a playground, a fishing pier and great views of cruise ships. Surrounded by the Atlantic Ocean and Government Cut channel, it makes for a wonderful respite from the urban madness. During stone crab season, you'll find plenty of locals hoisting bags of claws and other goodies from nearby Joe's Takeaway for a beachside picnic at the park.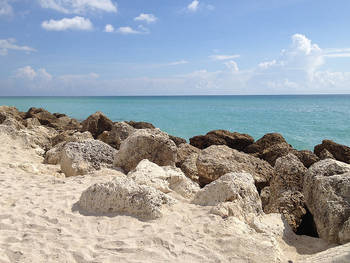 Surfside
A sleepy residential enclave less than a mile square, Surfside exudes a small beach town vibe. Everyone knows each other and there's a true neighborhood feeling to the town. Every first Friday of the month there's a communal beach picnic that happens on the sand near the lifeguard station on 93rd. It's mostly residents who gather to listen to music, drink wine (No glass!) and participate in kid-friendly activities.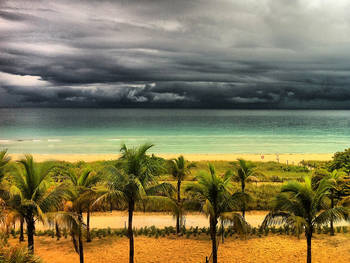 Bill Baggs Cape Florida State Recreation Area
Occupying the southern tip of Key Biscayne, this park's wide beaches regularly make the national top-10 lists. But this is more than just a place to catch some rays: there's history, wildlife and plenty of activities too. You can tour the Cape Florida Lighthouse, the oldest building in south Florida; explore native wildlife planted in the aftermath of 1992's Hurricane Andrew; and try your hand at shoreline fishing, windsurfing, cycling and in-line skating. Covered pavilions are available for picnics, and the Lighthouse Café offers good food.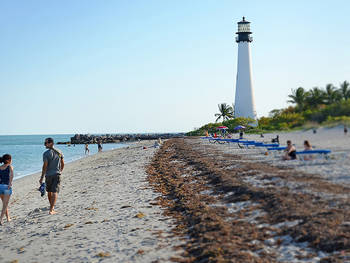 Crandon Park
Palm trees line Key Biscayne's Crandon Park, and shallow waters, barbecues and picnic tables make it a favorite destination for families. A winding boardwalk and convenient parking complete the picture.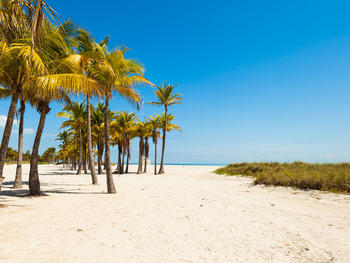 By: timeout